Sun Country Airlines Leaves Over 200 Passengers Stuck in Mexico, Senator Demands Answers
Updated | Angry passengers have been joined by a U.S. Senator in their condemnation of Sun Country Airlines, after cancellations left more than 200 people stranded in Mexico with no offer of alternative flights home.
Two flights—one from Mazatlán and the other from Cabo San Lucas—to Minneapolis-Saint Paul International Airport were canceled on Saturday (April 14) on account of a blizzard in the Midwest. The day also marked the end of Sun Country's seasonal service to Mexico, meaning the company was unable to offer passengers later flights once the storm had passed, Reuters reported.
This meant more than 200 passengers were forced to find their own way home, booking flights with other carriers or making alternative travel plans.
The resulting furor has now attracted Senate attention, with Minnesota Senator Tina Smith demanding the U.S. Department of Transportation investigate the airline. In a letter sent to the department on Monday and made public on Smith's Twitter account, the senator said, "It is troublesome to see a domestic carrier abandoning its passengers in a foreign country, forcing them to find their own way home and to incur further expense of time and money."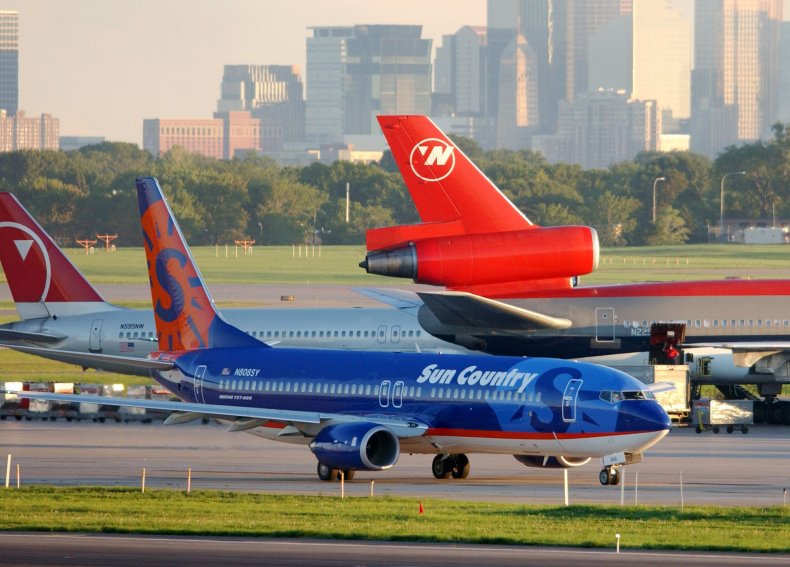 After the flights were canceled, the airline announced that passengers were stranded via a Facebook post. "These were our last flights for the season, so we do not have another flight to re-accommodate passengers on. You will receive a full refund," the post read. "Flights will need to be purchased on another carrier. We apologize for any inconvenience this may cause."
Angry passengers, unable to get through to the company's customer service line, vented their frustration on the airline's social media pages. Following the backlash, Sun Country released a second apology, but took no additional measures to assist those who were stuck.
"We cannot apologize enough to those passengers who were hit by the one-two punch of an April snowstorm and the seasonality end-date of our winter schedule," airline vice president of marketing Kelsey Dodson-Smith said. "Our fleet was already allocated to fly other operations and unfortunately, we were unable to send additional aircraft to Los Cabos and Mazatlán without canceling more flights, causing further disruptions to more of our passengers."
One stranded passenger, Abby Pettit, told local news station WCCO that to be sent an email telling passengers to find their own way home "doesn't seem right." Although Pettit and her family eventually found tickets with another carrier, "to get the four of us home costs us more than our round-trip tickets to get down here," Pettit said.
On Tuesday, Sun Country Airlines president and CEO Jude Bricker sent an email to employees explaining what had happened. In the email, which was provided to Newsweek, Bricker admitted: "We need to find ways to improve our customer communications as we failed in that area."
He added that, in addition to refunding passengers's original roundtrip tickets, the airline will also cover any additional reasonable transportation costs incurred as a result of the cancellations. Bricker said the company had been working hard to contact all stranded passengers, and that Sun Country is "committed to finding them a way home."
This article has been updated to include comments from Sun Country Airlines president and CEO Jude Bricker.