Two Shot, 31 Arrested Overnight in Ferguson After National Guard Steps In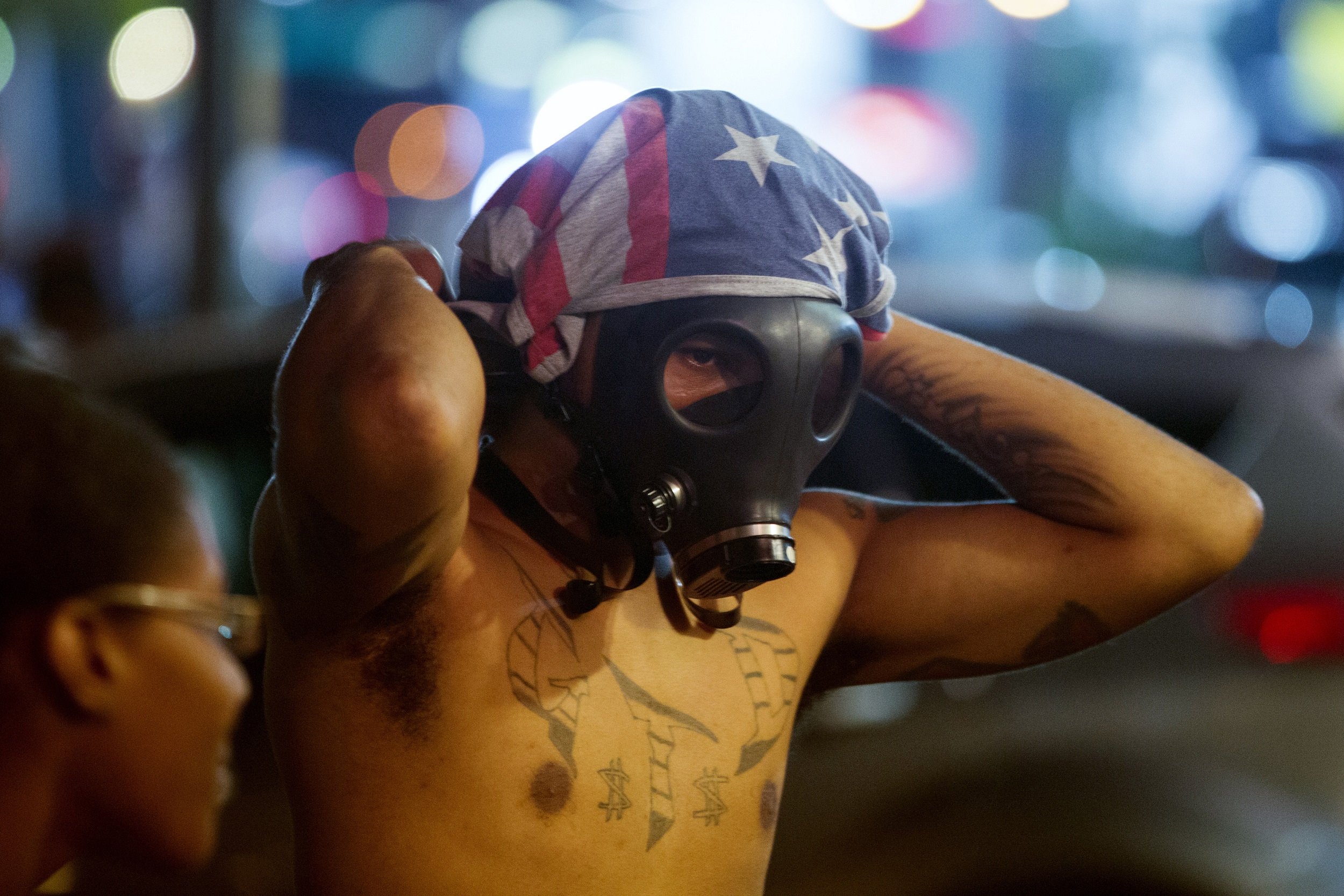 The National Guard was supposed to make things better. When Missouri Governor Jay Nixon announced on Monday that he was deploying the state's militia to Ferguson, it was with the purpose of restoring peace and order. But the situation has grown more chaotic since then, with 31 arrests and 2 shootings overnight. At least four journalists were also detained by police, including The Intercept's Ryan Devereaux.
Protests and riots have rocked the small city of 21,000 since last Saturday, when police officer Darren Wilson stopped Michael Brown, an unarmed black 18-year-old, and shot Brown at least six times. The reason for the stop was jaywalking, police said.
Some of those arrested were from California and New York, police said, which supports the claim by police and activists that outside agitators are at least partially responsible for recent violence. Some also came from Chicago and Detroit. "We are jobless men, and this is our job now — getting justice," one told The Washington Post. "If that means violence, that's okay by me. They've been doing this to us for years."
Amid the chaos, two men were shot and fires were reported in two places. Police came under "heavy gunfire" but did not fire their weapons, Capt. Ron Johnson of the Missouri Highway Patrol said. Capt. Johnson was put in charge of securing the protests by Gov. Nixon after many criticized local law enforcement agencies' heavy-handed response. On the subject of detaining journalists, "[W]e may take some of you into custody," Capt. Johnson said. "But when we do take you into custody, and we have found out you're a journalist, we've taken the proper action. But in the midst of it, we cannot -- in the midst of it, in the midst of chaos, and trying to move people on, we have to be safe. We have to be safe."
On the ninth night of protests in Ferguson, Missouri, the temporary curfew was lifted and National Guard troops arrived. But with another journalist arrested Monday and more protesters detained by authorities — including a Holocaust survivor — tensions between police and protesters on Ferguson's streets remained. At the corner of Florissant Avenue and Ferguson Avenue, the epicenter of Ferguson's peaceful demonstrations, protesters were asked to keep moving in circle to avoid clusters of people forming, Mashable reported. So far, so calm. Protesters also handed out red roses to passersby.
But despite the best efforts for a peaceful protests, it was another night of tear gas in Ferguson. There are also reports of rubber bullets being fired and whizzing over the heads of journalists. Tim Pool, a journalist running the Vice News livestream in Ferguson, was gassed and shot at while reporting live.
Monday saw a major development in the Ferguson case: the release of the autopsy results of Michael Brown, the 18-year-old fatally shot by police nine days ago. An independent, preliminary autopsy shows Brown was shot "at least six times," according to Dr. Michael M. Baden, an expert who Brown's family requested perform the examination. Brown was shot twice in the head.
Sybrina Fulton, the mother of Trayvon Martin, the 17-year-old unarmed black teenager who was shot and killed in Florida in 2012, penned a letter to Michael Brown's family, which was published by TIME Monday evening. Lesley McSpadden, Brown's mother, said today the officer who killed her son should be arrested.
"If they refuse to hear us, we will make them feel us. Some will mistake that last statement as being negatively provocative," Fulton wrote. "But feeling us means feeling our pain; imagining our plight as parents of slain children."
Hedy Epstein, a 90-year-old Holocaust survivor, was arrested earlier for allegedly blocking an office building in St. Louis, where Missouri Gov. Jay Nixon's office is located, St. Louis' KMOV reports. Epstein was one of eight people arrested in a downtown St. Louis protest. Her court date is set for October.
It was another difficult day for media covering the demonstrations. Scott Olson, a Getty Images photographer, was arrested earlier this afternoon. Olson has taken some of the defining photos of the unrest so far.
Olson can be heard in a video posted to Instagram giving the possible reason for his arrest: media were supposed to stay in a certain area. He has already been released from jail, but says he plans to stay in Ferguson, according to a tweet from his son.
CNN's Don Lemon was also pushed back by police live on air Monday as he was filing a report from the site of the demonstrations.
Following the lead of other media outlets, The Washington Post started giving gas masks to its employees covering developments in Ferguson. Photographers for The Post are also wearing blue bulletproof vests with "PRESS" clearly marked on them, the organization reported, noting the similarly to gear usually worn by war correspondents.
As night falls and the curfew is lifted, Ferguson residents have an extra voice with them tonight. St. Louis-born rapper Nelly marched through Ferguson Monday as protesters chanted, "Hands up, don't shoot," which has become the rallying cry of the protests.
President Barack Obama is sending Attorney General Eric Holder to visit Ferguson on Wednesday. Holder will meet with FBI and Department of Justice officials who are conducting an investigation into Brown's death. President Obama also called for calm in Ferguson.
"We've seen events in which there's a big gulf between community perceptions and law enforcement perceptions around the country," he said. "This is not something new. It always tragic when it involves the death of someone so young."