Sunday Night Football Schedule 2019: How to Watch Green Bay Packers vs. San Francisco 49ers, TV Channel, Live Stream
The NFL is routinely lambasted for its choice of prime-time games, but few would argue with the decision of make a late schedule switch for Week 12.
On Tuesday, the league opted to move the Green Bay Packers' visit to San Francisco on Sunday Night Football in place of the Philadelphia Eagles home matchup against the Seahawks.
The Packers were originally scheduled to play the 49ers at 4:25 p.m. ET but will now kick-off at 8:20 p.m. ET instead, with the Eagles kicking off at 1 p.m. ET.
Except for fans in Philadelphia and Seattle, the decision will have few—if any—detractors and San Francisco head coach Kyle Shanahan certainly isn't among them.
The 49ers have a number of players banged-up, with tight end George Kittle looking to recover from an ankle issue, while wide receivers Deebo Samuel and Emmanuel Sounders are nursing shoulder and ribs injuries respectively.
Running back Matt Breida didn't practice on Wednesday, while fellow running back Raheem Mostert and nose tackle D.J. Jones were limited.
"I'm just glad we've got four more hours for Kittle and Deebo and Emmanuel to rest and recover," Shanahan was quoted as saying by NBC Sports Bay Area.
"When you have a lot of guys that are banged up, the later it can be better. I think it's a little harder to get going early in the morning."
It's no wonder Shanahan is desperate to get some of his best players back fit as the matchup in San Francisco could have major ramifications for the race to secure home-field advantage in the NFC playoffs.
The 49ers bounced back from their first loss of the season with a 36-26 win over the Arizona Cardinals in Week 11 to improve to 9-1 for the season and retain control of the NFC West.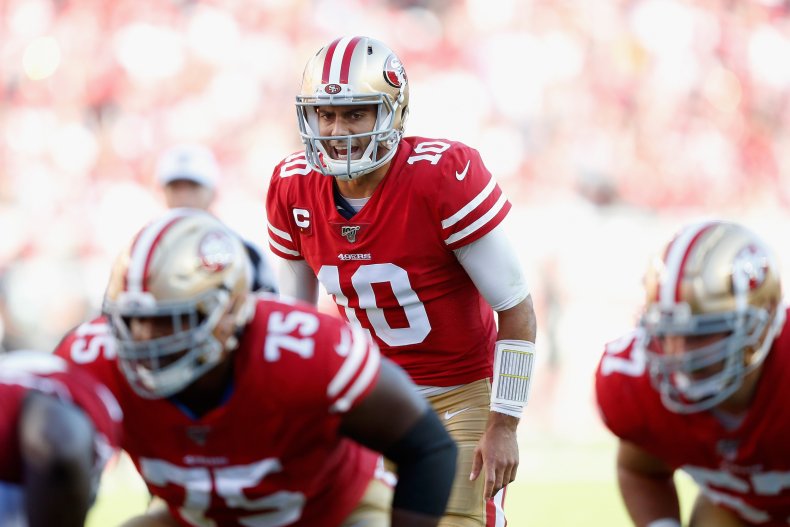 FiveThirtyEight's statistical projections give the 49ers a 93 percent chance to make the playoffs and a 44 percent to earn a first-round bye.
Green Bay's chances of securing a first-round bye also stand at 44 percent and the Packers, who return from their bye week top of the NFC North with an 8-2 record, have a 94 percent chance of reaching the playoffs.
At least one team has won its division the season after missing the playoffs since the league expanded to 32 teams and realigned to eight divisions in 2002, but that doesn't make the Packers and 49ers' turnaround any less spectacular.
The two franchises finished with a combined 10-21-1 record last season and now stand on the brink of a playoff spot.
Sunday's matchup will be a fascinating clash of styles.
So far, the 49ers have relied on a dominant defense—the NFL's second-best in total yards allowed per game and in yards per play—and running game—the league's third best.
Green Bay coach Matt LaFleur is well acquainted with two of the main architects of San Francisco's success as his brother Mike is the passing coordinator for the 49ers, while close friend Robert Saleh is the defensive coordinator.
LaFleur and Saleh worked as graduate assistants on Brian Kelly's 2004 staff at Central Michigan and were then both part of the Houston Texans coaching staff four years later.
"It's extremely difficult to get those big plays on that [San Francisco] defense," LaFleur said of his former colleague.
"That's a credit to Robert and his staff, and there are some pretty damn good players on that side of the ball, too."
The Packers, meanwhile, rank 15th in total offense and 28th on defense and have the third-lowest point differential of the eight divisional leaders.
However, they have found a way of consistently winning games and have won all six games they have played against teams that entered the contest with a winning record, after going 1-11-1 in the same scenario over the last two seasons.
The 49ers are the penultimate team with a winning record left on Green Bay schedule aside from the Minnesota Vikings—whom the Packers will play in Minneapolis on December 23—and Aaron Rodgers is desperate to keep the streak going.
"The way I look at it, we've got to beat them once at their place at some point," the veteran quarterback said in his press conference on Wednesday.
"It would be nice to do it now. We're all aware of where we're at in the seeding going into Week 12 and what's in front of us and the opportunities. There's still a lot of football to be played and a lot can happen."
Here's all you need to know ahead of Sunday.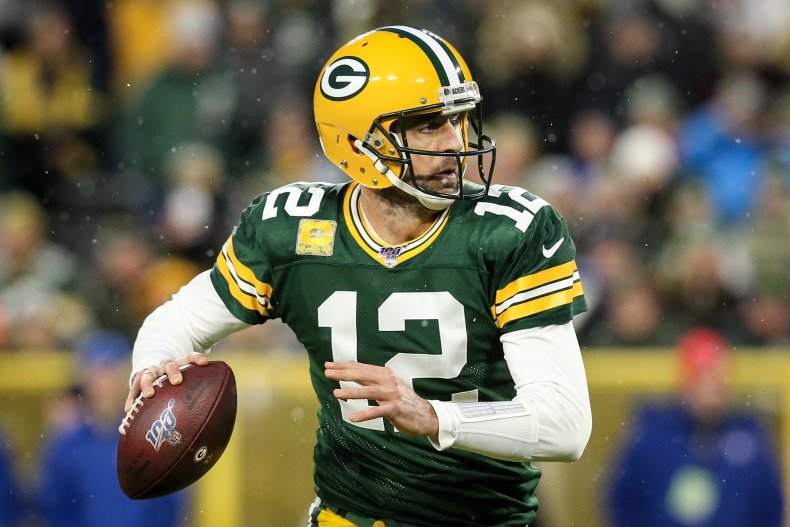 When and where is the game?
The San Francisco 49ers host the Green Bay Packers at Levi's Stadium in Santa Clara, California, on Sunday, November 24.
Kick-off is scheduled for 8:20 p.m. ET.
TV coverage
The game will be broadcast nationally by NBC.
Live stream
A live stream will be available via NBC's digital platforms, the NBC Sports website and fuboTV.
Form
The 49ers bounced back from a loss against Seattle and improved to 9-1 with a 36-26 win over the Arizona Cardinals on Sunday.
The Packers, meanwhile, return from their bye still top of the NFC North with an 8-2 record.
Series record
Sunday will be the 60th meeting between the two teams, with Green Bay leading the all-time series with 32 wins to San Francisco's 27.
The Packers have won the last two meetings against the 49ers, defeating them 33-30 in Wisconsin in October last year. Their last visit at Levi's Stadium ended in a 17-3 win in October 2015.
Odds
According to Oddschecker, the 49ers are three-point favorite and are 17/20 to cover the spread, while the Packers are 3/2 underdogs.
The over/under line in terms of total points scored is set at 36.5.