Sunny Hostin, Jedediah Bila Speak Out After Heated Vaccine Debate on 'The View'
Sunny Hostin and Jedediah Bila have reiterated their opposing positions on COVID-19 vaccination after their heated debate on The View.
Bila, who was a panelist on The View between 2016 and 2017, returned to the ABC show on Tuesday to promote her new book, Dear Hartley.
During the remote interview, co-host Joy Behar said to Bila: "Let's discuss the elephant in the room. You were supposed to join us in the studio weeks ago, but you couldn't because ABC has a very strict policy that you can't get into this building unless you're fully vaccinated… and you made a conscious decision not to get vaccinated."
Citing figures from the Centers for Disease Control and Prevention, Behar said vaccinated people were 10 times less likely to be hospitalized and 11 times less likely to die from COVID-19 than those who had not received the vaccine.
Bila replied that she had a "medical exemption" supported by an "infectious disease specialist" and three other doctors.
The former Fox News host added: "I have sky-high, multi-tiered, multi-faceted natural immunity" to the novel coronavirus.
"I am not anti-vax," Bila went on. "But what I really want is for people to make these decisions for themselves."
As Bila said the vaccine "does not prevent you from getting COVID and transmitting COVID," Behar quipped: "Oh my goodness. You have been at Fox News too long."
Hostin, who lost her father-in-law and mother-in-law to COVID-19, interjected to state that "762,000 people have died of COVID, including [my husband's] parents. We've been friends a long time but I just don't understand why you would prioritize your personal freedom over the health and safety of others."
The panelist then said the U.S. Surgeon General had "debunked" Bila's claims, adding: "I don't think we should allow this kind of misinformation on our website."
The heated discussion was brought to an end when moderator Whoopi Goldberg announced that the show was going to a commercial break.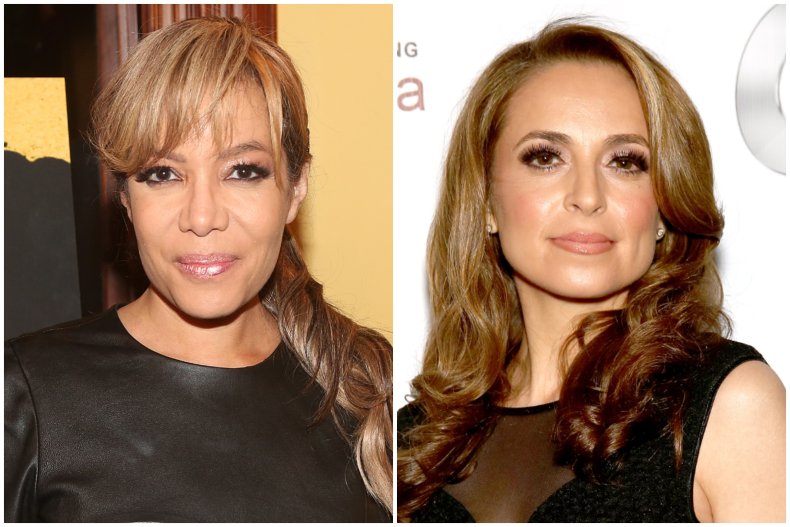 After the show, Hostin shared five Instagram posts debunking Bila's claims, with each upload starting with the words: "The following is misinformation."
Addressing Bila's claim that she had a "sky-high, multi-tier, multi-faceted natural immunity," Hostin wrote: "The Food and Drug Administration does not currently recommend antibody tests to assess immunity.
"That is likely because scientists in the field say there's still considerable uncertainty about what levels of detectable antibodies really mean when it comes to protection. A lack of standardization among the commercially available tests for antibodies makes it even harder to decipher the results."
Next she addressed Bila's assertion that she wasn't putting anybody else at risk because of her immunity.
"There is no such thing," Hostin wrote. "Those who have recovered from COVID-19 who have not been vaccinated might have more than double the chance of reinfection than those who have been inoculated, according to a new study published by the CDC.
"It's increasingly clear that those who recovered from COVID-19 are better protected if they also get vaccinated. Numerous studies have found that vaccination after infection stimulates a substantial antibody response that's more robust than either recovery or vaccination alone."
Quoting Bila's assertion that the vaccine does not prevent people from contracting and transmitting the virus, Hostin said: "COVID vaccines don't stop infection and transmission in 100 percent of cases. No vaccine does.
"However, studies continue to show the vaccines prevent more than 50 percent of infections. Recent studies have also shown vaccinated people are significantly less likely to transmit the virus in the fewer cases in which they become infected. So, vaccines do prevent infections and transmissions."
To challenge Bila's claim that she is "not anti-vax, just against mandates," Hostin posted a Merriam-Webster definition of anti-vaxxer as "a person who opposes the use of vaccines or regulations mandating vaccination."
"So, yeah, you're an anti-vaxxer," wrote Hostin, who added: "Over 760k people have died. Choosing 'natural immunity' over vaccination runs counter to every principle of public health. It makes no sense to risk severe illness and death—not to mention spreading the virus to others. Something you would know if you followed the science."
For her part, Bila shared tweets reiterating her stance and discussed the spat on other talk shows as she promoted her book.
Speaking with Glenn Beck on his Blaze Media show, she said: "The expectation that I would listen to political pundits about my personal health decisions, and not my own doctors, that's kind of fascinating to me."
In an appearance on The First, she told Buck Sexton: "If you are comfortable with that—boosters every six months, that's fine by me. Go do whatever you want. That is up to you. That is your decision to make, your family, your body, your doctor, that's fine.
"But I'm not doing that. I'm not doing that because I don't need to do that, because I have provable immunity via an infectious disease specialist in New York City, who is himself vaccinated. He's not anti-vax. Backed up by three additional doctors. I have a medical exemption.
"There's more risk to me to take this vaccine. I'm not going to put someone else at risk. so I'm tired, I'm tired of being told what to do. And I know there's a lot of people out there who are just tired."
Bila went on: "I think it's really interesting that a lot of these people have been offended by the idea of freedom. Me saying that I want you to make that decision for yourself bothers them. It really gets under their skin.
"They would rather have government make that decision, they'd rather have a corporate bureaucrat make that decision. Listen, if they wanna live in a world like that they can come to New York City, they can live under the likes of Bill de Blasio. That's great for them.
"I'm not living like that, which is why I'm heading to the great state of Texas. But more power to 'em, if that's the life they want. Just don't try to inflict that kind of life on me or my child."
The CDC says COVID-19 vaccines "are safe and effective," adding: "Serious side effects that could cause a long-term health problem are extremely unlikely following any vaccination, including COVID-19 vaccination."
According to the World Health Organization: "It is important to be vaccinated as soon as possible once it's your turn and not wait. Approved COVID-19 vaccines provide a high degree of protection against getting seriously ill and dying from the disease, although no vaccine is 100% protective."