Sunny Hostin Says 'The View' Needs Conservative Voice After Meghan McCain's Exit
The View panelist Sunny Hostin has said the show is in need of a new conservative voice following the departure of Meghan McCain.
McCain made her final appearance on the long-running ABC talk show over the summer. She had been on the line-up for four years and leaves behind Hostin, Joy Behar, Sara Haines and Whoopi Goldberg, who serves as moderator.
The daytime show leans heavily on political debate at the top of the hour, and lawyer and journalist Hostin has conceded that Republican McCain's absence will become an issue until there is a conservative replacement.
Discussing who might fill McCain's seat during an interview with The Cut, Hostin said a panelist representing such values would be an asset to the show, but there are conditions that she would like this person to meet.
"Right now, we still do need a really conservative voice," she said. "I also believe it's really important to not have someone on the panel who spreads misinformation, who adheres to the big lies, who is an anti-vaxxer, because I think that's dangerous."
During the interview, Hostin also gave a breakdown of her co-hosts' political leanings, describing Behar as "very progressive" and Goldberg as less so, explaining that "her big issue is economic and taxes."
Hostin, who describes her own leanings as somewhere between "progressive values and conservative values," went on: "Sara says she's an independent, but statistically there have been studies that show that independent people are just people that don't want to be stigmatized by their own choices.
"Is she really an independent or just somebody that won't commit? We need someone that will commit and we don't have that voice. And we need someone that's not duplicative of anyone else on the panel."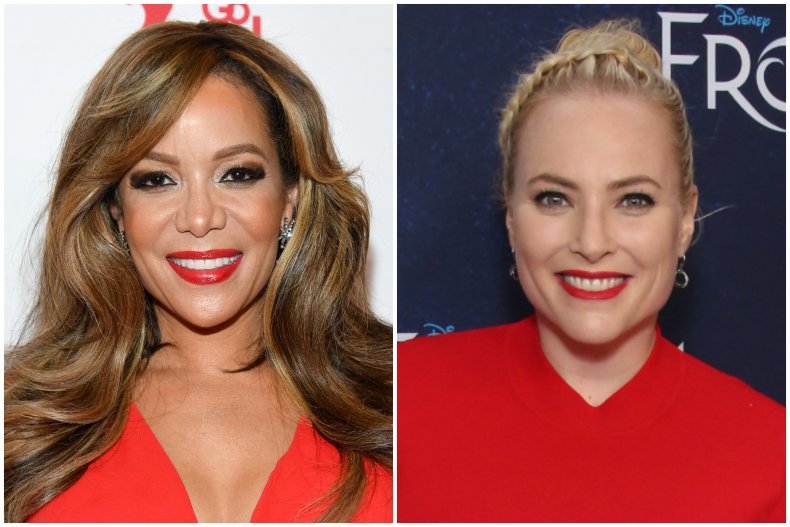 Over the years, panelists including Elisabeth Hasselbeck, Abby Huntsman, and Candace Cameron Bure have provided the right-wing voice on The View.
In August, it was announced that a roster of conservative guests hosts would fill in on the show, which kicked off its 25th season in September.
They include Condoleezza Rice, Carly Fiorina, Alyssa Farah, Eboni K. Williams, Mary Katharine Ham, Cameran Eubanks and Gretchen Carlson.
Since leaving The View, McCain, the daughter of the late Senator John McCain, has been less than glowing in her recollections of the show.
"I believe that all the women and the staff are working under conditions where the culture is so f***** up, it feels like quicksand," she wrote in her recently released memoir, Bad Republican.
Hostin, who describes McCain as a friend, told The Cut about her former colleague: "I think she thinks that people did not like her or treated her a certain way because of her opinions. I certainly don't share any of her opinions … at all … about anything … but I don't feel that way about her.
"I can't claim to understand her because I think she's very complicated. Her experience is her experience. No one can say that she didn't experience it in that way because it's hers. I didn't see it that way. I didn't experience it the way she did. But I'm going to defer to her that she experienced it like that."