SunTrust Bank Shooting: Two of the Five Women Shot and Killed in Florida Identified
Five women were shot and killed at a SunTrust bank in Sebring, Florida, on Wednesday after a gunman opened fire and barricade himself inside before calling 911.
Police said that 21-year-old Zephen Xaver entered the SunTrust Bank and shot the five victims around 12:30 p.m. on Wednesday. Xaver allegedly called 911 on himself and told dispatchers her had killed five people.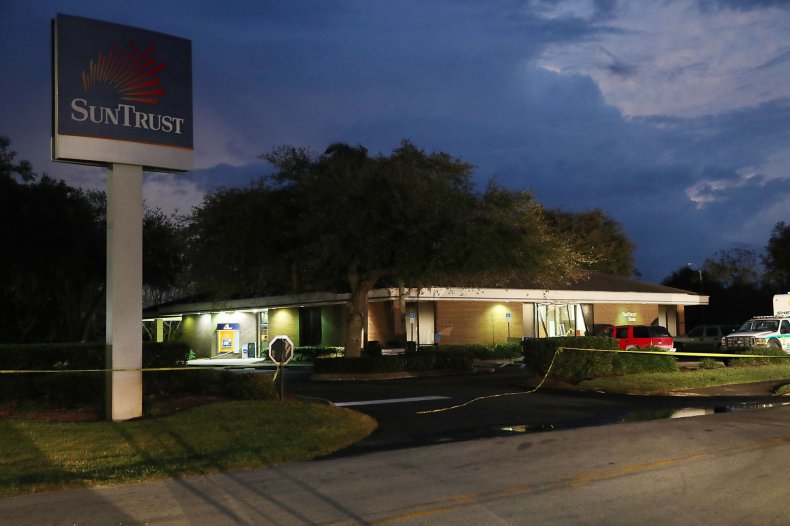 The suspected gunman then barricaded himself inside the bank and refused to leave. When negotiations between law enforcement and the suspect failed, a Highlands County Sheriff's Office SWAT team broke into the bank.
Four of the victims were bank employees and the fifth victim was a bank customer, authorities said. Only two of the victims were identified after their families told officials they wanted their names released to the public, WFTS reported.
Authorities identified 55-year-old bank employee Marisol Lopez and 65-year-old customer Cynthia Watson as two of the victims of the shooting.
The names of the remaining three victims were withheld in accordance to Marsy's Law, a legislation aimed to protect the victims of crimes and their families, according to WFTS. All three women were employees at SunTrust Bank.
Authorities revealed that all five victims were found lying face down in the bank's lobby, Florida Today reported. The victims had gunshot wounds to the back of their heads and upper torsos. They had succumbed to their injuries by the time the SWAT team entered the bank, Sebring Police Chief Karl Hoglund said during a press conference on Thursday.
Xaver, who was wearing a bulletproof vest and has a 9 mm handgun, surrendered to the SWAT team and was taken into custody at 2:28 p.m. Hoglund said that there was no apparent motive for the shooting, calling it "a random act."
The 21-year-old was charged with five counts of first-degree premeditated murder during his first court appearance on Thursday. He was being held at the Highlands County Jail without bond. Xaver, who was assigned a public defender, may face the death penalty.