Sununu Slams 'No Exception' Abortion Ban Backed by Fellow GOP Gov. Noem
New Hampshire Governor Chris Sununu on Sunday criticized his fellow GOP Governor Kristi Noem over her stance on abortion bans.
During an interview on CNN's State of the Union, host Jake Tapper asked the governor: "What's your response when you hear someone like South Dakota Republican Governor Kristi Noem, who said...that her state's law would make no exception for a young girl who got pregnant after being raped?"
"I don't agree with that at all. I just don't," Sununu responded. "Governor Noem and the folks of South Dakota have to reconcile that."
His remarks come after Noem last week spoke about her stance on exempting rape victims from South Dakota's abortion ban after learning that a 10-year-old girl, who was raped, was denied an abortion in Ohio after the overturn of Roe v. Wade, the 1973 landmark decision that allowed women to have abortions nationwide.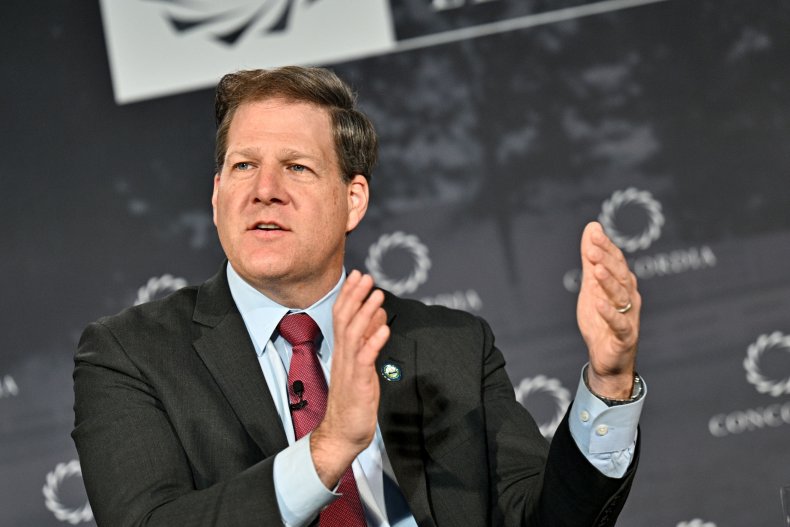 Noem was asked on State of The Union whether or not abortion will be banned if the same situation happened to a child in her state. However, instead of answering the question, she said that "nobody's talking about the pervert, horrible and deranged individual that raped a 10-year-old."
She also held her stance late last month when asked on CBS' Face the Nation about considering an abortion ban exception to rape and incest cases in her state. South Dakota bans all abortions except when the mother's life is at risk.
Meanwhile, Sununu said Sunday that this is not the "rule of law" in New Hampshire where abortions are banned after 24 weeks of pregnancy, and ultrasounds are required before the procedure, according to the Associated Press. The state also provides an abortion ban exemption to cases where the fetus is diagnosed with "abnormalities incompatible with life."
"We're going to keep it accessible, we're going to keep it available and make sure that folks have that choice," Sununu said Sunday, who previously said that he is open to signing a law codifying the protections of Roe v. Wade in his state, according to NBC Boston.
"I'm a pro-choice governor and as long as I am governor, we are going to remain a pro-choice state," he said in May, according to local news station WMUR.
Meanwhile, Tapper asked Sununu whether he is concerned that members of the Republican Party are "overreaching" as they crack down on reproductive rights in GOP-controlled states by imposing a full abortion ban and possibly limiting access to contraceptives.
"It's a state issue now. And every state is going to really try to find their path," he responded. "For a long time, states had that backdrop of Roe v. Wade, that protection, if you will, of not the full abortion bans. But some states are going to have some very tough discussions coming forward, without a doubt."
There are 13 states with so-called "trigger laws" that make abortions illegal or restricted due to pre-Roe provisions in their statute books. South Dakota and Missouri were among the first states to immediately enact their laws following the overturn of Roe.
The GOP governor confirmed that nothing is changing in New Hampshire, adding that the "access that women had to abortion today is the same as it was two months ago," and added that "we're not changing anything. Republican leadership here in this state has stated as such."