Best Super Bowl Commercials 2018: Budweiser, Mountain Dew, Amazon Alexa And More Ads to Watch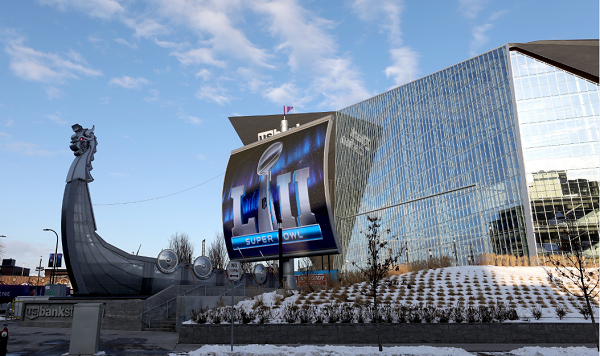 Despite the shaky ratings the NFL has suffered during the football season this year, millions of people are still expected to tune into Super Bowl LII on Sunday. But not all viewers will spend the evening glued to their TVs just to watch the New England Patriots and Philadelphia Eagles go head to head on the football field. There are some folks who will watch the big game simply for the commercials.
Brands like Pepsi and Budweiser are considered champions of the Super Bowl's ad blitz, thanks to their impressive catalog of commercials that have aired during the annual football game. (Rremember the Budweiser frogs?) But a few companies are looking to give them a run for their money during this year.
Here are a few Super Bowl LII ads worth your attention:
Moutain Dew and Doritos
If you've always wanted to see Morgan Freeman and Peter Dinklage rapping Missy Elliot and Busta Rhymes songs, this minute-long Doritos Blaze and Mountain Dew ad is just what you need.
Budweiser
Anheuser-Busch has a portfolio full of creative and hilarious Super Bowl commercials, but this the company that owns Budweiser, Stella Artois and several other brands will debut two ads focused on disaster relief. Budweiser's commercial features a brewery being transformed into a water-canning facility to help deliver cans of water to hurricane-affected areas, while a Stella Artois ad sees Matt Damon asking people to buy the beer's signature chalice to help provide water to people in need.
Amazon Alexa
What happens when Alexa loses her voice and can't answer users's questions anymore? Cardi B, Rebel Wilson, Gordon Ramsey and Anthony Hopkins come to her rescue. The only problem, which viewers will see when the 90-second ad airs, is that none of the superstars are actually as helpful as Amazon's AI assistant.
Pepsi
Viewers will see the likes of Michael Jackson, Britney Spears, Jeff Gordon, Cindy Crawford and a slew new Pepsi promoters in the 30-second soft drink commercial, honoring the many generations of Pepsi commercials and drinkers.
Lexus
The Black Panther moves fast, as moviegoers will see when his Marvel film premieres in theaters on February 16. But if you can't wait that long to get an idea of just how swiftly T'Challa (Chadwick Boseman) gets around when chasing after bad guys, Lexus will give viewers a sneak peek in a minute-long Lexus LS 500 F Sport commercial featuring the superhero.
Groupon
Tiffany Haddish gushed over her love of Groupon while appearing on Jimmy Kimmel Live last July—and her fawning over the online coupon service paid off. The breakout comedian was chosen to star in the first Groupon Super Bowl commercial since 2011.
M&M's
If Red M&M was a human, he'd be actor Danny DeVito. In the candy company's 30-second spot, Red gets his biggest wish—to become a human—and is magically transformed into none other than DeVito.