How to Live Stream Super Bowl 2019 Halftime Show: Watch Maroon 5 and More Game Day Performers
It's the biggest game day of the year, and you don't want to miss the most talked-about spectacle of the season—the Super Bowl halftime show. The only problem is, you don't have access to a TV. No worries, you don't have to miss the main performance, because CBS is offering a live stream of the entire Super Bowl LIII, including the halftime show, on Sunday.
The game kicks off at 6:30 p.m. EST live on CBS, but folks with smart devices can view a live feed of the festivities via the CBS Sports website and app. Super Bowl LIII will also be available for live streaming on CBS All Access.
Typically, the halftime show starts about two hours after kickoff, so it will likely air around 8:30—9 p.m. EST on Sunday.
Viewers will need a cable provider login to access the streams. Those who do not already have the app or CBS All Access can sign up to purchase subscriptions, which come with a one-week free trial.
So who is the big performer of the night? Award-winning pop rock band Maroon 5 will headline the halftime show at the Mercedes-Benz Stadium in Atlanta. Although specific details on their set have yet to be revealed—there's been rumors Christina Aguilera may pop up on stage—at least two other performances have been confirmed. Rapper Travis Scott is expected to hit the Super Bowl stage as well as Atlanta native Big Boi, one half of the former and critically acclaimed rap duo OutKast.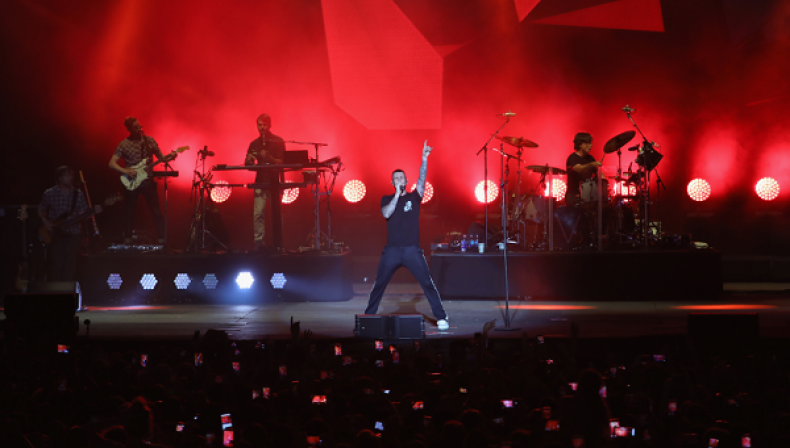 Maroon 5's performance at the big game follows the likes of superstar musicians including Justin Timberlake, who headlined the 2018 Super Bowl, Lady Gaga, Coldplay, Katy Perry, Bruno Mars, Beyoncé and several others.
While Maroon 5, Scott and Boi are expected to deliver performances during the halftime show, legendary singer Gladys Knight was tapped to sing the national anthem during the pre-game show. Meanwhile, twin singers Chloe x Halle will perform "America the Beautiful." Representing the National Association of the Deaf, activist and performer Aaron Loggins will sign both performances.