Miller Time and Bey Watch: The 10 Best Super Bowl 50 Highlights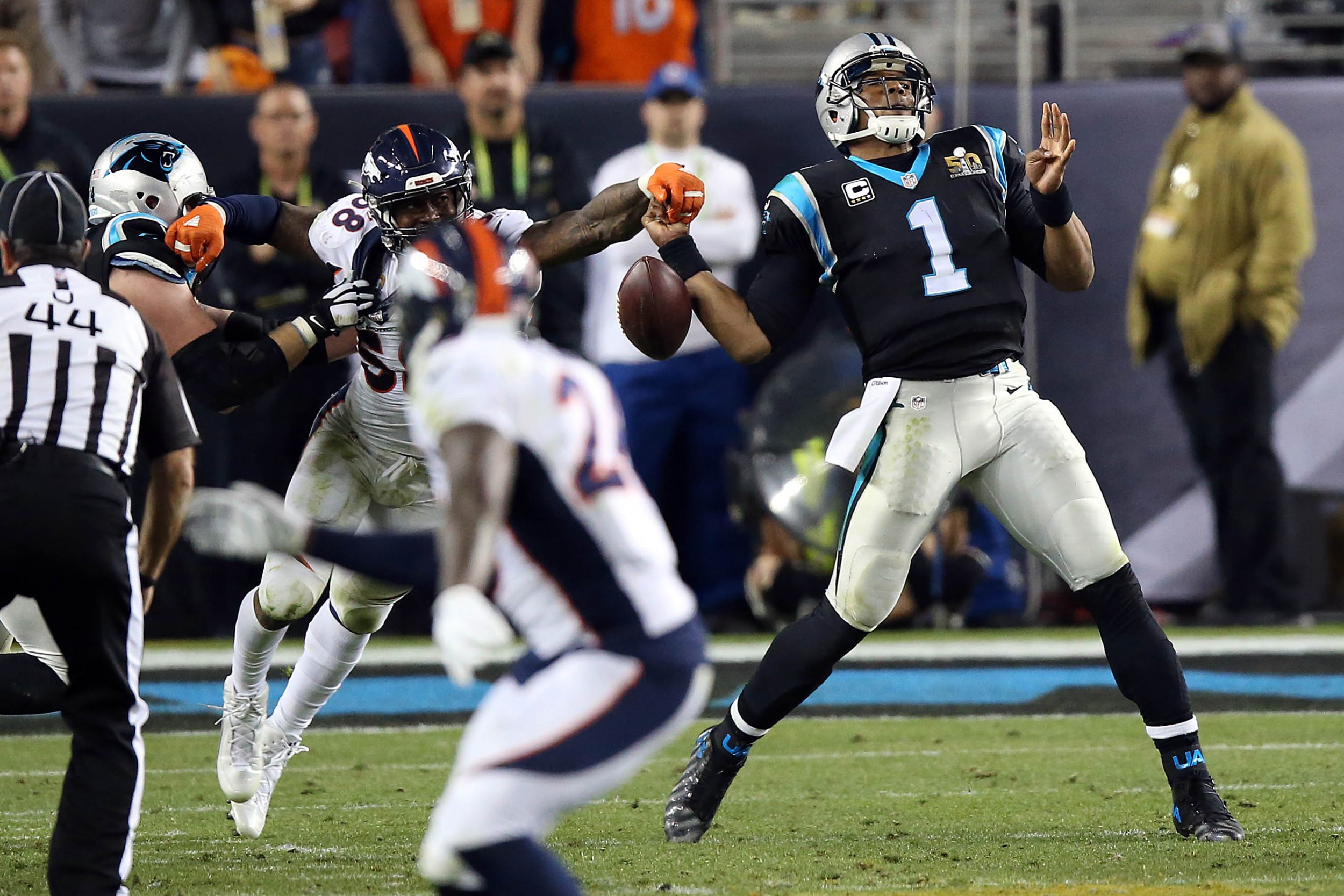 It was not Super Bowl L, but was it Super Bowl Zzz?
Super Bowl 50, from Santa Clara, California, featured 18 penalties, 15 punts and six turnovers. The Carolina Panthers and the Denver Broncos combined to convert just four of 29 third downs. Both offensive touchdowns were up-the-gut running plays from within 2 yards of the end zone. Will this game ever catch on in America?
The Broncos won, 24-10, in a golden-anniversary NFL spectacle that will be remembered as much for Lady Gaga's sublime rendition of the national anthem and Beyoncé's halftime performance as anything. The game itself will be remembered most likely as Peyton Manning's final time in uniform. It was his 200th career victory, placing him atop the career list, one ahead of Brett Favre, for all-time victories among quarterbacks.
And yet the game's highlights were supplied not by Manning, 39, but almost exclusively by the Broncos' pass rush. Led by outside linebackers Von Miller and DeMarcus Ware, the league's No. 1–rated defense harassed Panther quarterback Cam Newton all afternoon and into the evening. Miller incited the game's signature play, in fact, less than nine minutes into the proceedings, as he sacked Newton while stripping the football from his clutches. The ball rolled into the end zone, where Miller's teammate Malik Jackson pounced on it for a 9-0 Denver lead.
Miller was chosen second overall in the 2011 NFL draft, while Newton was taken first. Newton, who was named the league's most valuable player on Saturday night, would be strip-sacked by Miller twice, leading to both of Denver's touchdowns. Miller would be named the MVP of Super Bowl 50.
Sam Spence, who scored so much of the iconic music that accompanies NFL Films video, died on the eve of Super Bowl 50 at the age of 88. Spence's passing was symbolic, as there wasn't much that was lyrical about Sunday's contest. It might go down as Peyton's final bow, but Manning played a pedestrian game at best. At least credit the NFL for awarding the most deserving player, Miller, who is now a free agent, with the MVP trophy.
Here are our 10 most memorable moments from Sunday's 50th edition of America's Greatest Excess.
10. The Parade of Super Bowl MVPs: About half an hour before kickoff, the NFL paraded, one by one, almost every MVP from the previous 49 Super Bowls onto the field at Levi's Stadium. The exceptions were former Green Bay Packers quarterback Bart Starr, the MVP of Super Bowls I and II, and former Dallas Cowboys linebacker Chuck Howley, the MVP of Super Bowl V. Both Starr and Howley appeared live and on-screen, however, from their respective homes in Alabama and Texas. While the presentation had somewhat of a Hunger Games feel, it was still incredible to see the likes of Joe Namath, Larry Csonka, Roger Staubach, Lynn Swann, Marcus Allen, Joe Montana, Jerry Rice and Tom Brady—and that's not even half of them—all assembled in one spot, as if the Pro Football Hall of Fame was on tour. And while many of them walk rather slowly now, all of them are still alive.
9. Lady Gaga's National Anthem: With her red, white and blue platform heels, satin-painted eyelids and blue nails, the chanteuse not widely known as Stefani Germanotta appeared at midfield to ensure that the small-p patriots would be represented at the Super Bowl. Then she belted out a truly memorable, unique and delicious rendition of "The Star-Spangled Banner" that slowly escalated to its dramatic finish. The Blue Angels flew over the field as Gaga struck her final notes, but it was she who had provided the sonic boom.
8. It's Miller Time, Part I: With 6:27 remaining in the first quarter, Von Miller, rushing from the left end, made a double move on Panther left tackle Mike Remmers and flashed right past him like a car on the nearby Interstate 880 in the HOV lane. Miller crashed into Cam Newton, whose head was turned downfield, like a shark attacking, except that he reached for the football instead of wrapping up the 6-foot-5, 245-pound Newton. The ball tumbled out of Newton's hands and rolled across the goal line, where Malik Jackson cradled it for a 9-0 Denver advantage.
7. Norwood's Punt Return: Early in the second quarter, Carolina punter Brad Nortman booted a short kick of just 28 yards to Denver's Jordan Norwood. Sensing that the Panthers expected him to call for a fair catch, Norwood, standing at his own 25-yard line, opted not to call for one. "It was a short punt, and a lot of times guys will just run past it," Norwood said. "And they didn't, but I just decided to roll with it." Norwood fielded the kick with three Panthers surrounding him—one touched him—none of whom realized that the play was live. He raced to the right sideline, got the corner and went 61 yards to the Carolina 14 before being dragged down from behind by Panther Mario Addison. It was the longest punt return in Super Bowl history and also the longest of Norwood's career at any level. It also led to a Bronco field goal.
6. Ealy's Interception: In the second quarter, Peyton Manning dropped back to pass as Carolina's 6-foot-4, 275-pound defensive end Kony Ealy dropped into coverage. Manning's pass spiraled right into Ealy's arms—his first career pick—and the massive man proved to be quite nimble in returning the interception 20 yards. For Manning, it meant that he has thrown an interception in each of the four Super Bowls in which he has played. The only other player to hit that dubious mark is John Elway, the Broncos' general manager. Ealy would tie a Super Bowl record with three sacks and force another turnover. A forgotten star on this day.
5. Bruno and Beyoncé Hijack Halftime: In early December, the NFL announced that British rockers Coldplay would helm the halftime show. Social media threw a challenge flag, and, one month later, the league announced that Beyoncé and Bruno Mars would also appear—which is like saying that Sir Laurence Olivier has been added to the cast of your production of Hamlet. Chris Martin and Coldplay were their usual enthusiastic selves, but Bruno and Queen Bey were musical Millers, strip-sacking the intermission away from the band.
4. Turnover Tussle: A Super Bowl that saw six turnovers nearly had two on the same play. In the third quarter, Newton targeted wide receiver Ted Ginn Jr. on a crossing pattern, but his pass had too much sizzle on it for Ginn, whose forte is speed, not sure hands. The ball screamed past Ginn and into the arms of the Broncos' T.J. Ward, who stumbled, took a step, stumbled again, and then was hit and fumbled the ball. A Denver teammate outraced three Panthers to recover the ball at the Broncos' own 7-yard line. Had Carolina, trailing 16-7 at the time, recovered, this game would have taken on an entirely different look.
3. It's Miller Time, Part II: Fourth quarter, just over four minutes remaining, and Carolina is facing third-and-9 from its own 25. The Panthers trail 16-10: This is potentially Carolina's game-winning drive. Instead, Miller again beats Remmers around the right end and strip-sacks Newton. The ball lands on the turf, and Newton, for reasons still unknown (a "Never Say Dive" attitude?), takes one step toward it and then chooses not to dive after it. Denver recovered at the Carolina 5-yard line and scored the game-clinching touchdown a few plays later.
2. Eli Manning Face: As Peyton finally secures a second Super Bowl victory despite a forgettable outing—Denver failed to convert a Super Bowl–record 13 consecutive third downs—the CBS cameras panned to the Manning family luxury box. There, as the rest of the NFL's quarterback-royalty family jumps for joy, two-time Super Bowl MVP Eli Manning, Peyton's little brother, stared stone-faced into the distance, as if he could not believe that the public still thinks that his brother is a "gee-whiz" good guy.
1. The Post-Game Theatrics: Peyton Manning twice mentioned that he would "drink a lot of Budweiser" as the domestic beer monolith insisted that it had not paid him for the free plug. Manning also hugged Papa John on his way to the awards stand. Bronco teammate Aqib Talib raced over to the NFL Network field-level set, slipped and fell, and then leaped up like the champion that he is. Cam Newton went, as Yahoo! Sports' Eric Adelson described it, "from Superman to the Incredible Sulk," as the disappointed MVP was laconic throughout a brief press conference from which he left the stage early.