Why You'll Be a Rihanna Fan by the End of the Super Bowl Halftime Show
Rihanna will make a fan out of you by the time her Super Bowl halftime show is over, says the man behind this year's event, Adam Blackstone.
While Rihanna will be taking center stage at Super Bowl LVII, songwriter and producer Blackstone has been collaborating with her as music director of the show. Speaking to Newsweek 24 hours before the big day, he said he hopes audiences will be "shocked" by the amount of "excellence" on display.
Super Bowl LVII will see the Kansas City Chiefs take on the Philadelphia Eagles at the State Farm Stadium in Glendale, Arizona. After the first half has been played, Rihanna will make her highly anticipated return to the stage in one of the biggest shows of the year.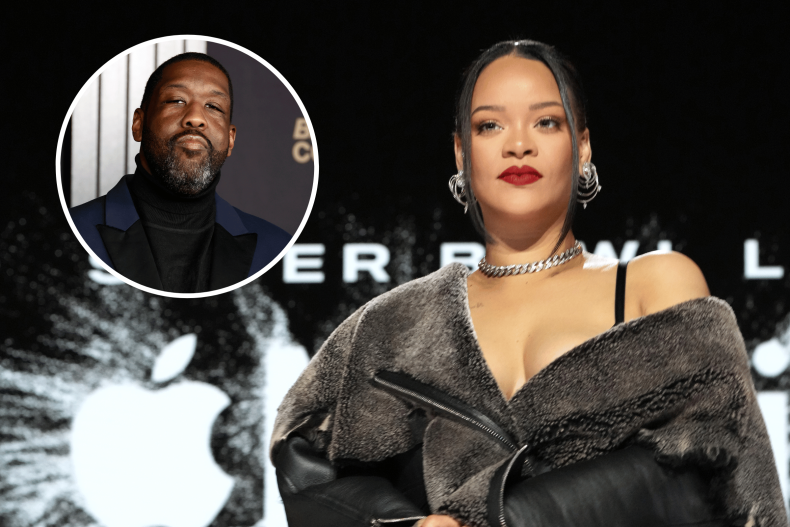 Rihanna's last major live performance came in January 2018 at the 60th Grammy Awards. While five years have passed since that day, Blackstone says neither he nor Rihanna are feeling rusty.
"She's a friend so it hasn't seemed like such a hiatus," multi-talented musician Blackstone told Newsweek. He also explained that he and co-musical director Omar Edwards have worked with Rihanna on four Savage X Fenty shows where she's made cameo performances.
"So we've seen her on stage internally. The Super Bowl halftime show just seems like smaller, bigger pivot. We've not necessarily looked at it as a hiatus because we continue to stay creative with her throughout all of these different musical/business endeavors that she has going on."
This will be Blackstone's fourth Super Bowl halftime show. He worked on 2018 with Justin Timberlake, 2020 with Shakira and Jennifer Lopez, and 2022's massive collaboration with Dr. Dre, Snoop Dogg, Eminem, Mary J. Blige and Kendrick Lamar.
Blackstone says the biggest compliment he can receive is someone enjoying the show, despite not being a fan of the artist.
"Last year, Dr. Dre, I can't assume everyone's a hip hop fan, but by Monday morning people told me, it wasn't just a great Black show, it wasn't just a great hop hop show, it was a great overall entertaining music show.
"So I am going for that same sentiment come Monday. Whether you are a fan of Rihanna, whether you are a fan of her music, or her artistry, I would love for you to have been entertained. I want your take away from watching us to be: that music and live shows are very much alive and well, and that you are now a fan of what you just saw," Blackstone said.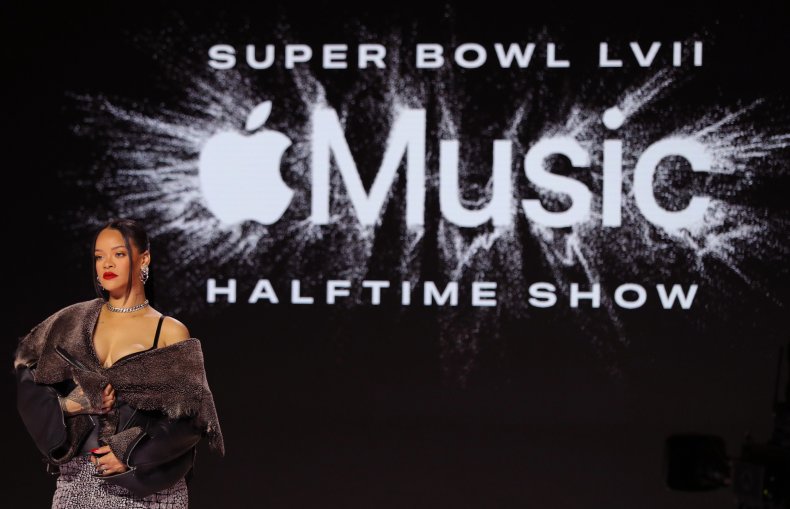 Halftime shows have become known for the amount of surprises packed into the performances. From Beyoncé and Bruno Mars joining Coldplay in 2016, to 50 Cent appearing in last year's massive line up, a cameo appearance is always a crowd pleaser.
"Oh people like that?" Joked Blackstone when Newsweek asked if there'd be any surprise appearances. "Very easily, I can say I hope that everyone has a great great time, let alone with her performance, but I think they'll be shocked by the amount of excellence that she brings forth from not having been on the stage for a while.
Keeping the secrets safe for now, he continued, "what I will say is, everybody is in for an incredible treat, an incredible show. This is the first time she's been on stage since becoming a new mother, since becoming an established business owner with Savage X Fenty. It's just elevating her incredible artistry. All of that will be on display in the show."
Blackstone is experiencing a huge career month, which started with the Grammys last weekend, ending with the NAACP Image Awards on February 22. He admitted he was late for the call with Newsweek because Friday night was the first time he'd actually slept in a while.
"Grammys last week. Super Bowl this week. NBA All Star next week, and then the NAACP Image Awards the week after, so February is jam packed. But I am so blessed and thankful that people are recognizing me and my artistry."
Blackstone is often behind the scenes working on other artists' songs, but he felt "blessed and thankful" to be recognized as an artist in his own right, when his album Legacy became Grammy nominated.
The 2023 Super Bowl LVII airs on Fox on Sunday, February 12. The game kicks off at 6:30 p.m. ET, with the halftime show expected to begin at a little after 7:45 p.m. ET.