How Long Does the Super Bowl Halftime Show Last? Broadcast Length Info for Patriots, Rams Game
The big game on Sunday has everyone sitting down to watch the game, the advertisements, and the half time show.
While not everyone is going to sit down and watch the game, there are those who enjoy watching the halftime show. But how long will the halftime show for Super Bowl LIII last, and how long will the half last?
During this year's halftime show, Maroon 5 will headline the event and there will be performances by rappers Travis Scott and Big Boi from Outkast when the New England Patriots and the Los Angeles Rams face off on Sunday at Mercedes-Benz Stadium in Atlanta, Georgia. The halftime show is sponsored by Pepsi.
Halftime during regular season runs for about 13 minutes, but the halftime for the Super Bowl could last for about 30 minutes, according to SBNation. The actual halftime performance is usually 13 to 14 minutes, but with game analysis and airing advertisements, the halftime is about half an hour, Mic previously reported.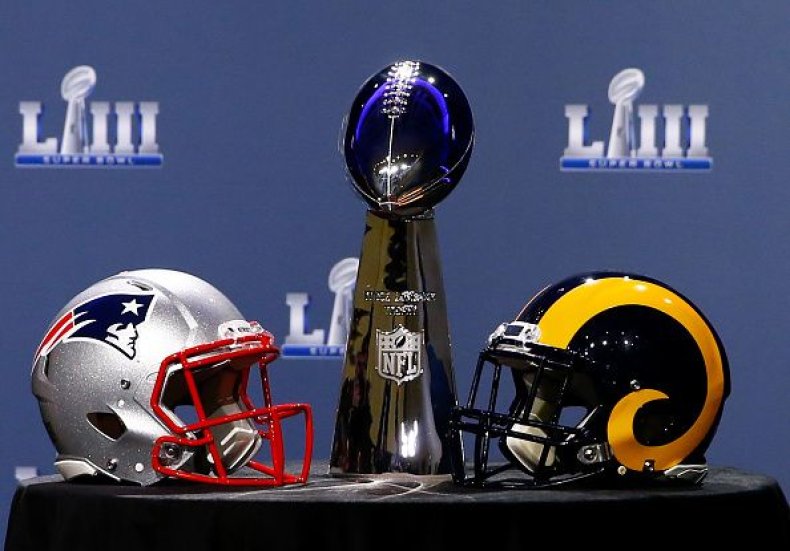 New England Patriots coach Bill Belichick has previously told reporters that he prepares his team for the long halftime by giving them a pep talk.
"It really gets into a whole restarting mentality," Belichick told The Star-Ledger in 2012. "It's not like taking a break and coming out in the second half. It's like starting the game all over again. It's like playing a game, stopping, and then playing a second game."
The average length of a football game is about three hours and 12 minutes, according to Quartz. A report from The Verge in 2016 found that the average Super Bowl can last up to three hours and 44 minutes. Kickoff for the big game on Sunday starts at 6:30 p.m. and can last until 10:14 p.m.
In a previous report by The Wall Street Journal, "60% of total airtime, excluding commercials, is spent on shots of players huddling, standing at the line of scrimmage, or just generally milling about."
There are also other strange bets about the halftime show, like what color Maroon 5 lead singer Adam Levine will wear on stage and what songs the band will play, according to Oddsshark.com. The band's hit song "One More Night" is the +300 favorite to be the first song, which means that if you bet $100 to win $300, according to the website. Other songs by the pop band to bet on include "Makes Me Wonder" at +500 and "Sugar" at +550, according to Oddshark.com.