Super Bowl LIII Hits 11-Year Ratings Low With 98.2 Million Viewers
Super Bowl LIII became the lowest-scoring game in the history of the contest on Sunday after the New England Patriots beat the Los Angeles Rams 13-3. Now, the game has hit another historic mark, bringing in an 11-year low in viewership.
At 98.2 million television-only viewers, Super Bowl LIII was at a 5% decline compared to last year when the Philadelphia Eagles beat the Patriots 41-33. That game netted 103 million viewers.
This year's viewership is slightly above the 2008 audience for Super Bowl XLII between the New York Giants vs. the Patriots. That game drew 97.5 million viewers.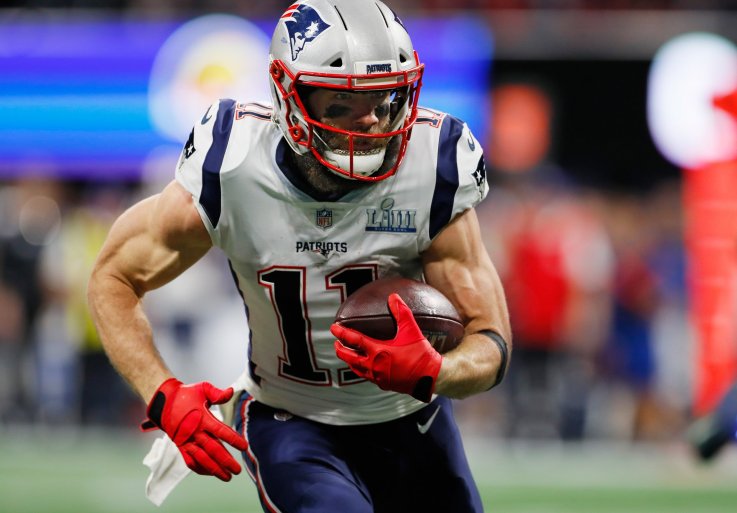 When other streaming services and other broadcast mediums—CBS, NFL and Verizon digital platforms and Spanish-language broadcast and streaming from ESPN Deportes—are accounted for viewership for Sunday's broadcast rises to 100.7 million.
The various streams had an average minute audience of 2.6 million, up 30 percent from last year. Streaming also accounted for a slightly larger percentage of the total audience: 2.6 percent vs. 1.9 percent a year ago, according to The Hollywood Reporter.
Programming after the big game also saw a slight dip in viewers. The World's Best, CBS' new reality talent competition, garnered 22.2 million viewers—4.78 million short of the premiere of This Is Us in 2018.
"The World's Best is a first-of-its-kind global talent competition that features acts from every genre imaginable, from every corner of the planet," the show's description reads. "[Contestants] not only have to impress the all-star line-up of American judges, but the acts will also need to break through the 'wall of the world,' featuring 50 of the world's most accomplished experts from every field of entertainment."
Though not the largest after-game programming, The World's Best did become the highest-rated series debut of the 2018-2019 season to date. The competition topped the Golden Globen by almost 4 million viewers.
"What a super combination – the world's biggest sporting event paired with the world's biggest talent competition," said Kelly Kahl, President, CBS Entertainment. "The World's Best is perfect post-Super Bowl programming for viewers of all ages. It features elite acts from around the world delivering jaw-dropping performances, a talented mix of fan-favorite judges and is produced by the most innovative minds in television, Mike Darnell (American Idol, Ellen's Game of Games), Mark Burnett (Survivor, The Voice), Ben Winston (The Late Late Show with James Corden) and James Corden, who also serves as our brilliant host."
Super Bowl LIII Hits 11-Year Ratings Low With 98.2 Million Viewers | U.S.