Super Bowl LIII could see a number records broken on the field, but the event has already made history off it. Quinton Peron and Napoleon Jinnies will become the first male cheerleaders to appear on America's biggest sporting stage when they perform in Atlanta on Sunday night.
The duo became the NFL's first male cheerleaders earlier this season and Peron, who started dancing when he was 16 years old, admitted it hasn't been an easy ride to be accepted in a sport where cheerleaders have traditionally been females.
"I caught some flack. But if this is what you want to do, then do it because it's your life," he was quoted as saying by Reuters. "No one can live your life for you. Dream your dream, live your truth and if there's something out there that you want to do, do it. Go out there, attack it and get it."
Jinnies echoed his colleague's stance, suggesting knowing how to brush off criticism was crucial to succeed in an environment like the NFL, which routinely faces criticism over the treatment of cheerleaders.
"You always have to have thick skin no matter what you're going for," he explained. "You just need to go for it."
Along with the New Orleans Saints—who also welcomed a male dancer in their cheerleading team this season—the Rams are the only NFL team to have male dancers.
To Jennies, that speaks volumes for Los Angeles' diverse background. "We have a lot of people in Los Angeles from different cultures and different backgrounds. I think it's really important that everyone on the team reflect that, from our boys on the field to the people on the sideline and even our cheer team."
While there are male cheerleaders in college football—President George W. Bush was a cheerleader during his days at Yale—male dancers in the NFL represent a major breakthrough.
Peron hopes he and Jinnie will set an example that might inspire more men to follow in the future. "I think we can both say we have both been reached out to by so many men that are so excited to try out, and not just men our age but young men trying out for their junior high school dance team or cheer team and high schools, and it's exciting to see society change a little bit," he told " Good Morning America" last week. "We are extremely excited to see what is going to happen next year."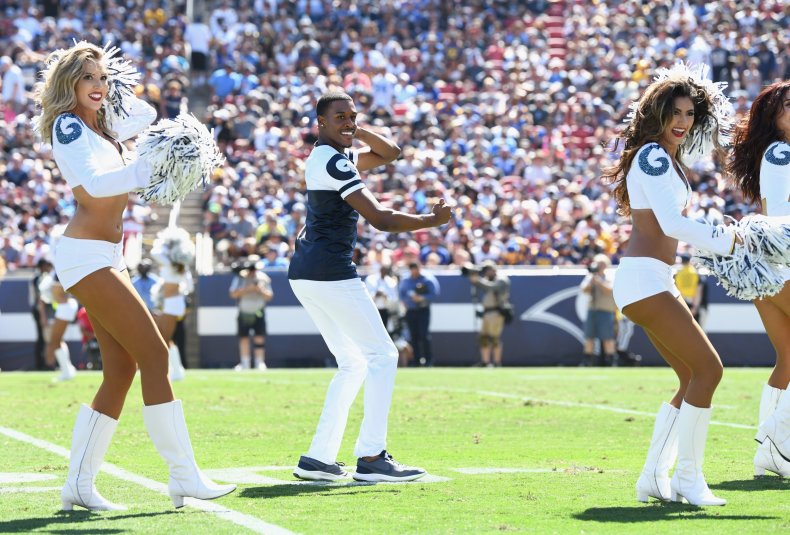 Uncommon Knowledge
Newsweek is committed to challenging conventional wisdom and finding connections in the search for common ground.
Newsweek is committed to challenging conventional wisdom and finding connections in the search for common ground.
About the writer
Dan Cancian is currently a reporter for Newsweek based in London, England. Prior to joining Newsweek in January 2018, he was a news and business reporter at International Business Times UK. Dan has also written for The Guardian and The Observer.