Rams vs. Patriots Super Bowl LIII: Who Is Going to the Super Bowl?
Every year, football fans nationwide prepare snacks and settle into couches to watch two football teams battle it out on the gridiron for the title of Super Bowl Champion.
This year, the game will be played on February 3 and kickoff is set for 6:30 p.m. ET. The 53rd Super Bowl will be played in Atlanta at Mercedes-Benz Stadium, which is home to the Atlanta Falcons.
The stadium is relatively new and only opened in 2017, so this will be the first Super Bowl game played on the turf. However, it's not Atlanta's first time hosting the big game. Super Bowl XXVIII, which was played in 1994, and Super Bowl XXXIV, which was played in 2000, were also hosted by the Georgia city.
Who's Going to the Super Bowl?
On Sunday, the New Orleans Saints faced off against the Los Angeles Rams. The game was played in New Orleans and kick off began at 3:05 p.m. EST. The Saints, who were the number one seed in the National Football Conference, lost to the Los Angeles Rams, who were the second seed.
The hard-fought game went into overtime after a controversial lack of a pass interference call by the referees. Tied at 23-23, the Rams intercepted a pass from Saints quarterback Drew Brees. Ultimately, the Rams won the game after scoring a 57-yard field goal, bringing the final score to 26-23.
The Rams have been located in three different cities during their time in the NFL and have played in three Super Bowl games. While in St. Louis, the Rams won the Super Bowl against the Tennessee Titans in 2000.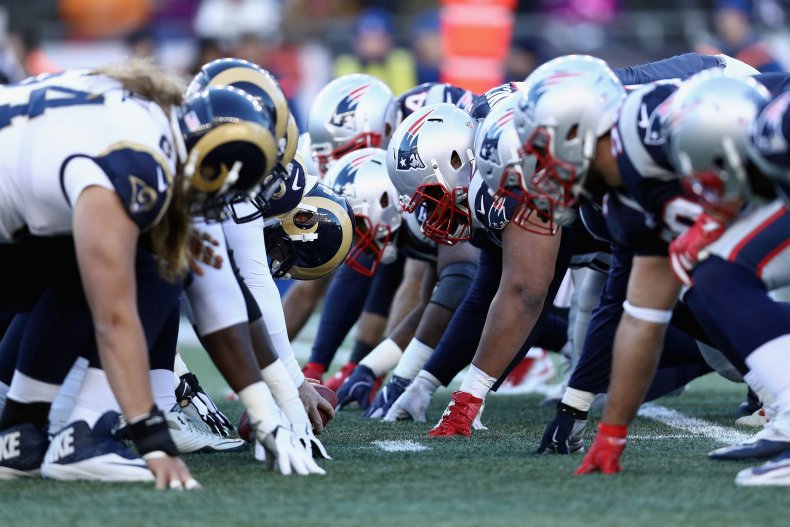 It wasn't the only game played on Sunday, though. The Kansas City Chiefs, who were the number one seed in the American Football Conference, played the New England Patriots, who were the second seed in the conference. The game, which began at 6:40 p.m. EST, resulted in the Patriots winning the game against the Chiefs.
The game ended with a final score of 37-31 after a strong back and forth between the two teams that forced the battle into overtime.
The Patriots are headed to their eleventh Super Bowl game, having previously won five of them. The New England team went to the Super Bowl in 2018 but lost by eight points against the Philadelphia Eagles. Their last win was during the 2017 Super Bowl against the Atlanta Falcons.
As the winners of their conference championship games, the Rams and the Patriots will be traveling to Atlanta to battle it out in the Super Bowl.
This article has been updated with the AFC seedings, Super Bowl LIII matchup and 2017 Super Bowl Winner.