Super Bowl Odds 2020: Best Prop Bets for Chiefs vs. 49ers
Just like the Super Bowl itself, prop bets surrounding football's showpiece event have come a long way over the last three decades. According to the American Gaming Association, this Sunday's Super Bowl LIV will be the most legally bet on in history.
Approximately 26 million Americans will place bets, worth a combined $6.8 billion, on Super Bowl LIV, a 15 percent year-on-year increase.
Hundreds of different prop bets—covering a range of markets, from the first scorer to how long the halftime show will last and the color of Gatorade dumped on the winning coach—are available across various bookmakers.
It is a far cry from 1985, when prop bets made their Super Bowl debut as Caesar's Palace offering 20/1 odds on Chicago Bears defensive lineman William Perry to score a touchdown.
"The Refrigerator" duly did, but by then the line had been cut to 2/1 due to the number of bets that had flooded in. While it's unlikely a defensive lineman will get to score in Miami on Sunday, there are plenty of other markets available to bet on.
Here's a roundup of the best prop bets for Super Bowl LIV.
MVP
According to William Hill, Patrick Mahomes is 5/6 to be named Super Bowl MVP, followed by Jimmy Garoppolo at 5/2 and 49ers running back Raheem Mostert at 8/1.
First touchdown scorer
Kansas City running back Damien Williams is a 6/1 favorite to be the first player to score, while his 49ers counterpart Raheem Mostert is a 7/1 shot.
In the history of the Super Bowl, a quarterback has been named MVP 29 times, including seven times in the last decade.
Length of the national anthem
Demi Lovato will sing the national anthem in Miami, but will it last for longer than 1 minute and 59 seconds? The over is a 2/5 favorite, while the under is at 17/10.
Lovato has previously sung the anthem on four other sporting occasions. In 2008, she performed it before the Dallas Cowboys played the Seattle Seahawks. In 2011 and 2015 she sang it ahead of Game 5 and Game 4 of the World Series respectively and in 2017 she performed it ahead of the fight between Conor McGregor and Floyd Mayweather.
The latter performance was the only one to extend over the two-minute mark, with the previous three averaging 1 minute and 53 seconds.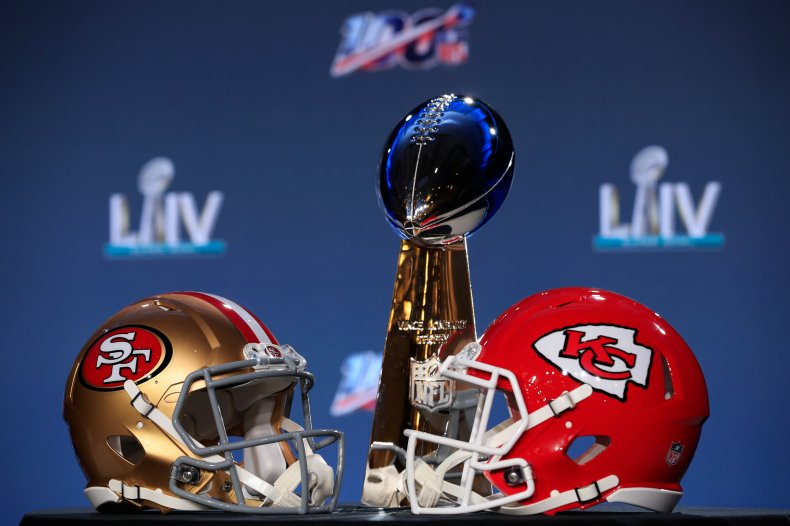 Coin toss
Just like any football game, the Super Bowl can't get underway without a coin toss. Heads is at 19/20 with BonusCodeBets, while tails is at 9/10.
Halftime show
Back on the entertainment front, Shakira and Jennifer Lopez are the stars of this year's halftime show.
"Let's Get Loud" and "On The Floor" are 3/1 joint-favorites to be the first song performed by J-Lo, while "Whenever, Wherever" is a 5/2 favorite to be Shakira's first song.
Either artist to first address the audience in Spanish is 3/2.
Gatorade color
Dumping Gatorade on the winning coach is one of the most famous Super Bowl traditions, but what shade will be used this time out? With red being the main color for both franchises—the 49ers will don a white uniform in Miami—it's not surprising to see it as the 6/4 favorite.
Lime, green and yellow follow at 5/2, followed by clear and orange at 3/1 and 7/2 respectively.
In the last five years, blue was used twice with orange and yellow doused on the winning coach once each—Bill Belichick escaped a shower after the New England Patriots defeated the Atlanta Falcons in Super Bowl LI.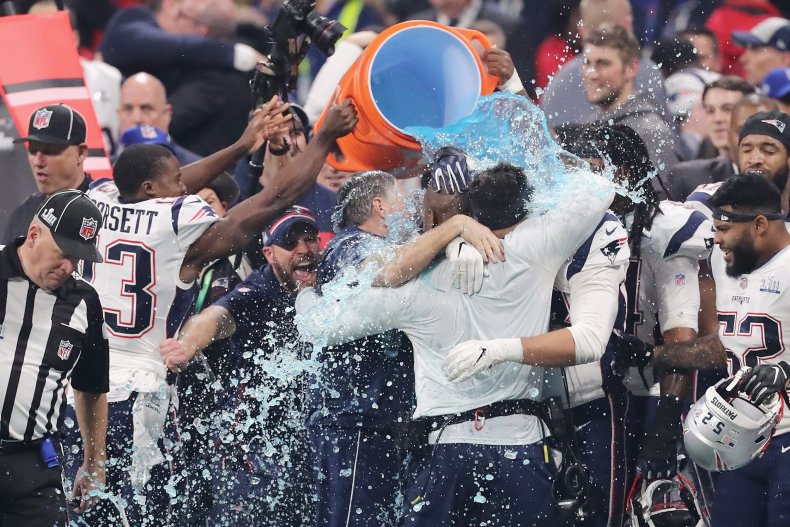 President Donald Trump
Politics always play a big part in the Super Bowl and bookmakers have not missed the opportunity to wheel out a number of prop bets specifically for the occasion.
Surprisingly for a man who's never short of an opinion and is fond of Twitter, President Donald Trump is 5/1 to predict the winner before kickoff and 3/2 to tweet during the game.
He is, however, 5/6 to congratulate the winning team on Twitter and the winners of Super Bowl LIV are 2/3 to visit the White House.
The words "Super Bowl" are 1/2 to appear in Trump's commercial, while Michael Bloomberg's commercial is 1/2 to contain the words "climate change" and evens to say the word "impeach."
Commercials
Doritos and Bud Light are a 5/4 favorite to be the first food and drinks commercials to be aired, followed by Snickers and Budweiser at 3/2 and 5/2 respectively.
According to BonusCodeBets, the over/under line for commercials including a dog is 3.5, with the over at 10/11 and the under at 11/10.
TV broadcast
For only the second time in five years New England won't feature in the Super Bowl, but odds on Tom Brady being mentioned are as low as 5/11.
Surprisingly enough, however, the FOX commentary team of Joe Buck and Troy Aikman is only 2/1 to mention the Patriots.
Colin Kaepernick is 2/1 to get a mention during the broadcast. NFL commissioner Roger Goodell is 2/3 to be shown on TV, with Drake and Jay-Z at 3/1 and 2/1 respectively.