Hyundai, Little Caesars and These Other Brands Are Skipping Super Bowl Ads This Year
Don't bother looking out for Budweiser's famous frogs or Clydesdale horses during Super Bowl LV—the Anheuser-Busch company won't be airing commercials for its flagship brand during the big game on February 7.
The mega-brewer is just one of the many major companies that have decided, this year, to scale back from the typical sort of blockbuster Super Bowl ads. Anheuser-Busch reportedly still has four minutes of airtime to fill, according to the Associated Press, and will use it to focus on its other brands, which include Bud Light, Bud Light Seltzer Lemonade and Michelob Ultra. But the company will actually use the money that would've been spent on a proper Budweiser ad to spread COVID-19 vaccine awareness. Monica Rustgi, Budweiser's vice president of marketing, told the AP that the company will be making a "multi-million dollar" commitment to vaccination efforts, by donating commercial airtime throughout 2021 to the COVID-19 Vaccine Education Initiative, a collaboration between the nonprofit Ad Council and the COVID Collaborative.
There will also be some Budweiser messaging airing digitally in the days leading up to the Super Bowl. Rashida Jones was tapped by the brewery to narrate a commercial that "champions the resilience of America and the promise of the future," Anheuser-Busch said in an official statement.
"Budweiser is foregoing its iconic in-game Super Bowl airtime and reallocating the media investment to help support recovery in the on-premise through COVID-19 vaccine awareness and education throughout the year," the statement reads, before noting that the ad "celebrates the individual acts of resilience that sparked hope during the last year and spotlights a group of first responders who were among the first people to receive a COVID-19 vaccine."
As we mentioned earlier in this article, Anheuser-Busch isn't the only company rethinking its Super Bowl ad strategy. Below, we've assembled a running list of the others doing so, and we'll update as necessary.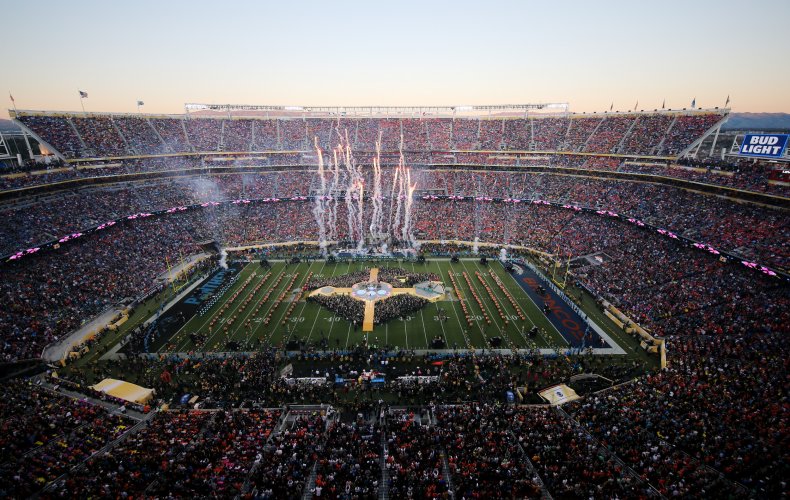 Coca-Cola
In a statement to Newsweek, Coca-cola confirmed that it's not going to be running any ads during Super Bowl LV.
"The Coca-Cola Company has made the decision to sit this year out of the Big Game. This difficult choice was made to ensure we are investing in the right resources during these unprecedented times. We'll be toasting to our fellow brands with an ice-cold Coke from the sidelines," the statement reads.
Hyundai
Hyundai announced plans to skip its Super Bowl ad at the top of the year. In an AdAge report published on January 8, a company spokesperson said that the car company's decision was "based on marketing priorities, the timing of upcoming vehicle launches and where we felt it was best to allocate our marketing resources."
However, Hyundai's planning for its absence to be temporary. "We will certainly be back," the spokesperson added.
Newsweek has reached out to Hyundai for additional comment.
Audi
Don't expect a luxury car commercial from Audi at the Super Bowl this year—in a statement to Newsweek, a company spokesperson said it would be using this year to focus on its future endeavors.
"For more than a decade, Audi has been proud to bring our brand's story to one of America's biggest cultural stages—the Super Bowl. This year, we've made the decision to not return to the Big Game. As our brand looks to the future, we're excited to share the next chapter of our story—one just as thrilling as our fans have come to expect from Audi, and one also grounded in our core values and an electrifying vision of what's possible. We've got more to come," the statement reads.
Olay
The women's beauty brand has aired Super Bowl commercials for the past two years. However, this year, Procter & Gamble, Olay's parent company, will reportedly sit out the Super Bowl. According to an AdAge report published in early January, the company has not purchased airtime; instead, it's apparently focused on running promotions related to the International Day of Women and Girls in Science, on February 11.
Newsweek has reached out to Procter & Gamble for additional comment.
Avocados From Mexico
Avocados From Mexico [AFM] has aired heartfelt commercials during the past six Super Bowl games, but its streak will end with this year's bout.
"We are taking this year to reinvent ourselves and redefine our strategy," Alvaro Luque, President and CEO for AFM, said in a statement to Newsweek. "AFM has an aggressive promotional and marketing plan in place to reinforce the sale of avocados for this important event. In fact, we broke our own record importing 78 million pounds of Avocados From Mexico in one week! We will return with an ad in the Super Bowl in 2022."
Little Caesars
The pizza company joined the Super Bowl commercial wave in 2020, and already it's taking a timeout. Little Caesars's chief marketing officer Jeff Klein said the company would skip this year's game, telling AdAge in a January podcast interview that the company doesn't have a major new message to share.
"I think you've got to have something really important to say," Klein said. "We're not a brand that has a problem with unaided awareness."
While there are no plans to treat customers to a commercial during this year's game, Little Caesar's is still planning something special for game day.
"We hope to be back soon, but we're sitting this one out this year. We're still super excited about the big game, so we're treating everyone in America to free crazy bread that day with any pizza purchase when they order on our app and use the code FREECB," a spokesperson for the pizza company told Newsweek on Monday.
Pepsi
While there will be no official Pepsi commercial during the Super Bowl itself, the beverage company is busy hyping its annual halftime show, which this year features the Weeknd. Recently, the soda giant shared a TV spot built around the "Blinding Lights" singer's upcoming halftime performance, and launched an accompanying website.
"Over the past decade, the Pepsi Super Bowl Halftime Show has become one of the most anticipated, viewed, and talked about moments in music and entertainment. So, this year, instead of buying a traditional 30-second in-game Super Bowl ad, we decided to double down on the 12 minutes Pepsi already has in the middle of the game – the Pepsi Super Bowl Halftime Show," Todd Kaplan, Pepsi's vice president of marketing, said in a company announcement shared on January 11. "Coming off of a year that was mostly void of live music, we are reimagining the Pepsi Super Bowl Halftime Show to ensure fans can experience The Weeknd's performance in new ways that have never been done before, with tons of exclusive access and content leading up to the show."
Pepsi Co. will also still run ads during the Super Bowl advertising some of the other brands under the company's umbrella, including Mountain Dew and Frito-Lay.