Super Bowl 2019 Pizza Deals: Pizza Hut, Domino's and More Offer Specials for Game Day
The big game is finally here. Football fans and their friends will gather around the TV on Sunday, February 3 to watch the New England Patriots and the Los Angeles Rams face off for Super Bowl LIII.
Whether you're there for the football, the halftime show, or to watch Super Bowl ads, everyone can agree on one thing: the food is one great reason for everyone to come together and watch the game.
While there are plenty of restaurants and recipes to make for the big game, the ultimate Super Bowl food everyone can agree on is pizza. Newsweek has created a round-up of chain pizza restaurants that are serving some deals just for the big game:
Papa John's: The pizza chain is offering five different party deals ranging from $45 to $70. The $45 option called the MVP includes five large one-topping pizzas and two Pepsi two-liter sodas that can feed 10 to 15 people. The largest pizza deal option called the Fan Feast includes five large one-topping pizzas with three bread sides and three desserts for $70.
"With party deals to choose from, the game is in your hands. Call up your friends and enjoy the games this weekend," the pizza chain tweeted.
Pizza Hut: If you or someone who know could go into labor this deal might be perfect. Pizza Hut is giving away a free pizza and two Super Bowl tickets to the first family who gives birth to their child right after kickoff, according to a press release.
"If there's one thing we're more passionate about than pizza and football, it's the family we get to enjoy it with," said Marianne Radley, chief brand officer, Pizza Hut. "Family celebrations and Pizza Hut have gone hand in hand for more than 60 years, so in our first year as the Official Pizza Sponsor at Super Bowl LIII, we wanted to show up for our fans who are in the unique position of expanding their family during the biggest NFL game of the year. And as a mother of four, I would've jumped at the idea of free, post-delivery pizza at the hospital!"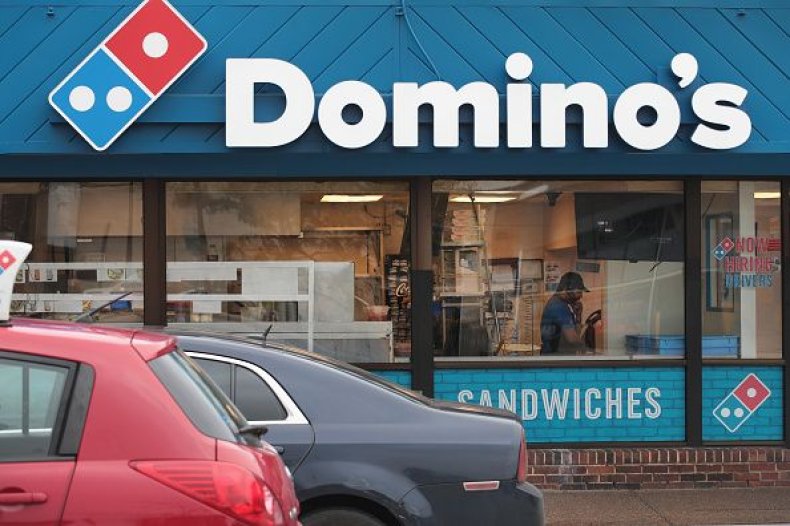 Domino's: A representatives from the pizza chain told Newsweek that they will be serving their evergreen deals, which you can find here. The pizza company has also launched Points for Pies which will offer customers loyalty points for consuming any kind of pizza, starting February 2.
"Instead of advertising during Sunday's game, we decided to invest in a breakthrough program that rewards everyone who loves pizza as much as we do," said Art D'Elia, Domino's senior vice president and chief brand officer in a statement. "We know everyone is asking themselves, 'Did Domino's just say they will award points for eating ANY pizza? Even from a competitor?' You read that right; oh yes we did!"
Pilot Flying J: The pizza chain is offering a free slice of pizza from February 3 to February 10 if customers order through the Pilot J app. First-time app users will also receive a free drink of their choice when they download the app.