Super Bowl Rams vs. Patriots Media Day: Watch Opening Night Interviews Live Stream Online
Ahead of the Super Bowl, players and coaches who earned a spot in the big game answer questions from members of the press in an event dubbed Super Bowl Opening Night.
On Sunday, February 3, the Los Angeles Rams will face off against the New England Patriots in Super Bowl LIII. The game will be played in Atlanta at Mercedes-Benz Stadium, which is home to the Atlanta Falcons.
Both the Rams and the Patriots earned their spots in the Super Bowl after their respective conference championship games went into overtime. However, before the big came can be played, the teams need to dish on the details of what it feels like to have a shot at the Super Bowl and a few more, quirky questions.
When, What Time Is Super Bowl Opening Night?
Get your unlimited Newsweek trial >
Super Bowl Opening Night, which used to be called Media Day, will take place on Monday, January 28. It's the first time the teams will interact with media personnel in a Super Bowl setting and it'll be the only time before they take the field that the teams will be in the same location.
Doors for the event open at 5:30 p.m. EST and spectators will be able to get autographs from NFL players and legends and even snap a photo or two. Mascots and cheerleaders from both teams are also expected to be walking around.
The first round of interviews will be with the Rams, who were the NFC champions, and will begin at 7 p.m. EST.
Following a question and answer session with the Rams, the Patriots will face their time in front of the press, beginning at 9 p.m. EST.
Get your unlimited Newsweek trial >
"We are taking steps to make this a fan experience rather than just a press conference," Jon Barker, NFL vice president of event operations and production, told the Boston Herald. "Don't get me wrong — this is a press conference, and that's what it should be. But what we have done is take steps to make sure fans are engaged and having a positive experience."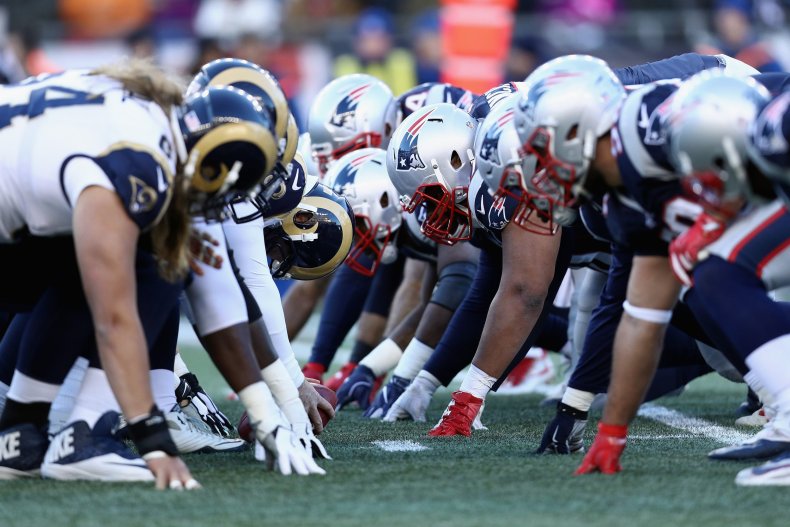 What TV Channel Is It On?
The event, which will take place at the State Farm Arena in Atlanta, will be streamed on television on CBS and the NFL Network from 7:00 p.m. EST until 10:00 p.m. EST. The NFL Network will also replay the Super Bowl segment from 11:00 p.m. EST until 2:00 a.m. EST.
How to Livestream
Both CBS and the NFL Network offer live streams of events that people can watch on television. However, for both services, viewers have to have access to the programming through either their television provider or a subscription.
Those with access to the NFL Network through their television provider can watch live programming through the NFL App on their smartphone or compatible connected devices or with the Watch NFL Network application for tablets. Live programming is also available to watch through a web browser via NFL.com/Watch.
Super Bowl Rams vs. Patriots Media Day: Watch Opening Night Interviews Live Stream Online | U.S.