Super Bowl Reporter, 93, Nabs Raise, Stafford Exclusive After Newsweek Story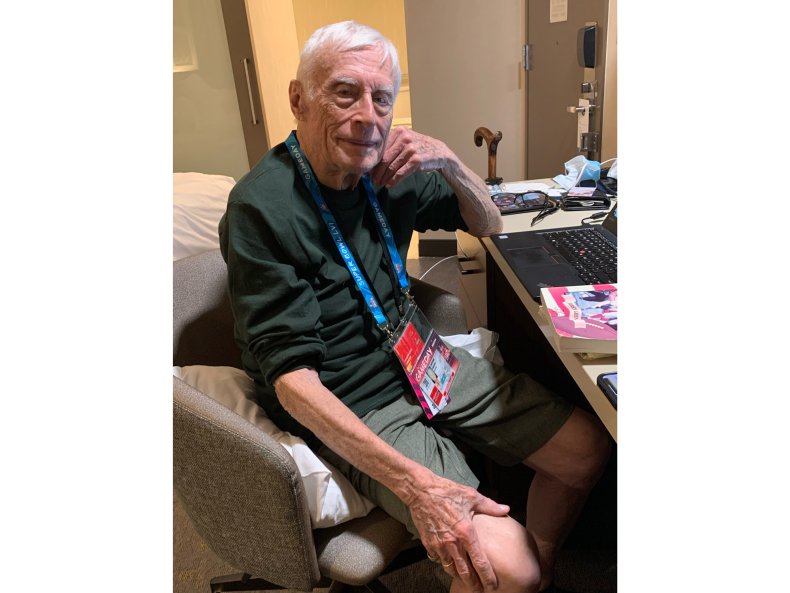 Following a social media outcry and a GoFundMe campaign prompted by a Newsweek story this week about the only reporter to cover every Super Bowl since its inception, Jerry Green, 93, nabbed a raise, an offer to write for a top sports website and an exclusive interview with L.A. Rams quarterback Matthew Stafford, competing against the Cincinnati Bengals in the Big Game in Los Angeles this Sunday.
Green, 93, is about to cover his 56th Super Bowl—and possibly his last—all for the Detroit News, where he was on staff from 1963 to 2004. After retirement, the paper continued to send him to the Big Game, but stopped reimbursing him for his travel costs about a decade ago. Green told Newsweek he lost money on the deal but continued to go because he loved covering the game and wanted to keep his unbroken streak alive. Since 2020, he's been the last of the 338 credentialed print reporters at Super Bowl I to have attended and written about every game.
Following the story, readers and fellow journalists expressed outrage on social media that Green had to pay his own way and set up the GoFundMe campaign to raise $5,000 to cover travel, lodging and meal expenses for the sportswriter and his daughter, who travels with him these days. After that, The Detroit News agreed to increase Green's pay per column to cover his travel expenses (but not his daughter's) for his stories about Sunday's championship face-off.
"I was not aware he was losing money on our agreement," The News managing editor Kevin J. Hardy told Newsweek via email on Friday. "Once I learned he was, I immediately sought to rectify the situation."
The paper has benefited, too, since Green subsequently scored his exclusive interview published Saturday with Stafford, competing in the Super Bowl in his first year with the Rams after playing 12 futile years for the long-hapless Detroit Lions. In the Newsweek article, Green said Stafford was his dream interview but that it was unlikely to happen given how tightly controlled media access is around the game. Publicists for the NFL and the Rams then scrambled to get Stafford on the phone with Green for five minutes on Thursday.
"The last one-on-one Super Bowl [interview] I conducted could have been with the great Coach Vince Lombardi in the aftermath of the First Annual AFL-NFL World Championship—now recognized as Super Bowl I," Green writes in The News. (Green tells Newsweek that was an exaggeration "for effect.")
The Newsweek story also caught the eye of Barstool Sports founder Dave Portnoy, who on Friday offered to cover Green's expenses and asked him to write about the game for the popular website. By then, however, Hardy had contacted Green to ensure, as he told Newsweek, "his words continue to grace our pages."
Hardy says, "It's been an honor for Jerry Green's byline to be inked under our nameplate for decades. His legacy is more than just endurance. He's been an essential historian and wordsmith in telling the story of the NFL."
Green says he's honored and touched by the hoopla but wants the GoFundMe contributions ($1,305, as of Saturday morning) to "go to a worthy cause, and I am not a worthy cause." Instead, he's instructed Amy Turner, the Las Vegas reader hosting the campaign, to offer donors refunds or ask them if they'd like their contributions to go instead to the Writers Emergency Assistance Fund, an effort managed by the American Society of Journalists and Authors that provides grants "to professional freelance writers who, because of illness, disability, natural disaster, or extraordinary professional crisis, are unable to work."
As for which team he's rooting for in the Super Bowl on Sunday, Green says neither, upholding a policy of impartiality he's held since becoming a reporter decades ago. One other distinction he holds: Of all the original Super Bowl reporters, Green is the only one whose hometown team, the Detroit Lions, have never played in the Big Game.