What is a Zaghrouta? Shakira's Super Bowl LIV Halftime Show Meme is a Traditional Arabic Chant
Shakira performed with Jennifer Lopez in the Super Bowl LIV halftime show yesterday and one moment of the performance has fans talking.
The 43-year-old Colombian pop star, whose father is Lebanese, did a "tongue-wag" which quickly became a meme, but Twitter users were quick to point out that the sound she made is actually a zaghrouta, a traditional Arabic celebration chant.
Shakira belly danced to Arabic music, but it was the zaghrouta that caught the attention of fans watching the Super Bowl. The clip of Shakira performing the zaghrouta began circulating on Twitter and users were quick to come up with explanations behind the sound.
Kevin Skaff predicted that the moment would become a meme in a tweet: "Shakira doing the tongue thing should be a meme in 5...4....3....2...."
Benjamin Butterworth referred to how Shakira is accused of avoiding paying her taxes: "Spain: Why haven't you paid us €12m in tax that you owe?" with the zaghrouta as a response.
Jordan Moreau likened the sound to a Turkey and said: "The turkey who gets pardoned on Thanksgiving".
Shane Speights tweeted: "Me trying to get the last peach out the fruit cup".
Mark Daniels joked on Twitter and said: "When I ask my 2-year-old if he's ready for bed".
What is a zaghrouta?
According to Arab America, a zaghrouta is "a form of a long, wavering, high-pitched vocal sound representing trills of joy. It is produced by emitting a high pitched loud voice accompanied by a rapid back and forth movement of the tongue.
"Ululation is usually used by women in the Middle East and North Africa (MENA) and is commonly performed in weddings, parties, celebrations and sometimes in funerals to honor someone and to express strong emotions."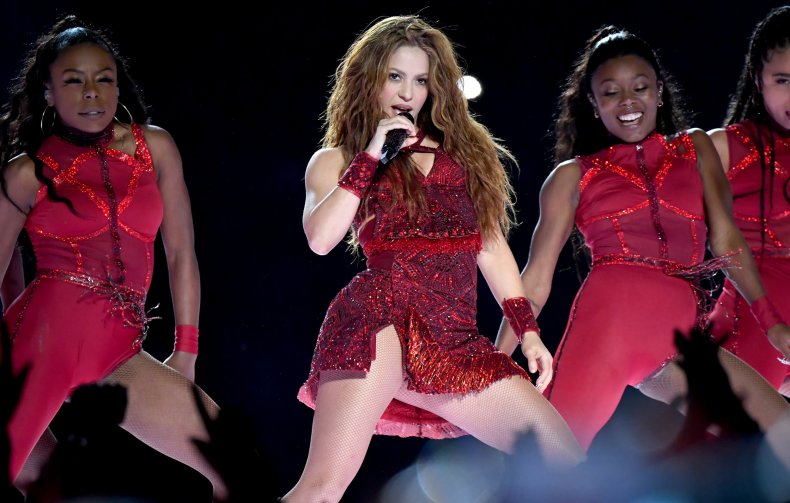 Following the memes and jokes, other Twitter users explained Shakira's zaghrouta, its origins, and its cultural meaning.
Rowaida Abdelaziz tweeted: "Wait was that a ZAGHROUTA"
Twitter user @fatijnoubeye said: "Shakira's Lebanese side snapped today".
Rawan said: "Everyone is making fun of this but it's a traditional Arabic celebration chant, referred to as 'zaghroota'."
Twitter user Bozi Tatarevic explained the meaning behind a zaghrouta: "This is called zaghrouta. It is a way to express joy or happiness in Arab culture. Elements of it can also be found in other cultures even as far as music in the Balkans."
Lula Ramadan praised Shakira for including the zaghrouta and said: "Chiming in because I know everyone will be making jokes about this for days — this is a popular Arab tradition, called zaghrouta, used to express joy at celebrations. In the melting pot that is Miami, you could not have picked a better Super Bowl act and this was a lovely touch."