Super Bowl Spat Leads to Fight Aboard Frontier Plane
A Frontier Airlines flight was about to take off from Cleveland on Wednesday night when a man reportedly lunged at an airline employee, causing another passenger to put him in a chokehold in an incident that was caught on video.
According to Cleveland news station WJW, witnesses said that two passengers were speaking about the Cincinnati Bengals playing in the Super Bowl, when an airline employee approached one of the passengers and said they had too much to drink.
In a statement to Newsweek, Frontier said that before takeoff, "a passenger was behaving disruptively and was asked to exit the aircraft by a gate agent. The passenger became increasingly aggressive, physically assaulting the gate agent. The passenger was subsequently arrested by local enforcement and has been permanently restricted from flying with Frontier in the future."
As the man was leaving the plane following the altercation, he said, "I was a Bengals fan, I was the only Bengals fan. I'm not a bad person, bro, I drank a little too much, and one guy back there had a problem that I was drinking too much."
A passenger who recorded the incident, Jason Brake, said that the man who put the disruptive passenger in a chokehold could have made the situation "worse."
"When I watched that, I was like, 'OK, this guy is assaulting somebody that they're trying to remove from the plane.' The guy is not qualified to handle that situation and it could have made it worse, and you've got all these people that are stuck there and there's going to be a stampede to try to get out of a little small door," he said.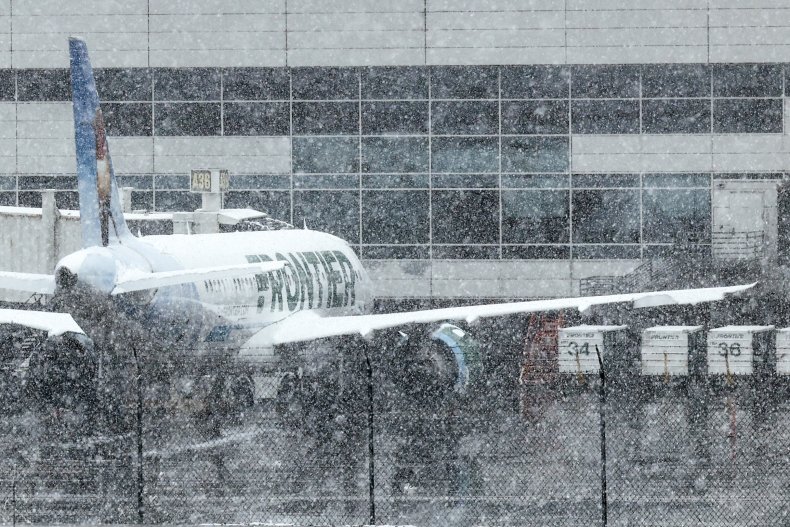 The charges against the man who reportedly assaulted the employee are pending.
Newsweek reached out to police in Cleveland for more details about Wednesday night's incident, but did not receive a response before publication on Friday morning.
In a separate incident on Wednesday, a Frontier flight from New York to Orlando had to make an emergency landing in Raleigh because of a "disruptive passenger."
The man allegedly threatened passengers on the flight, including a baby. The FBI told Newsweek that it is investigating the incident.