Super Bowl Wisdom: Seahawks Coach Pete Carroll at His Best After His Worst Moment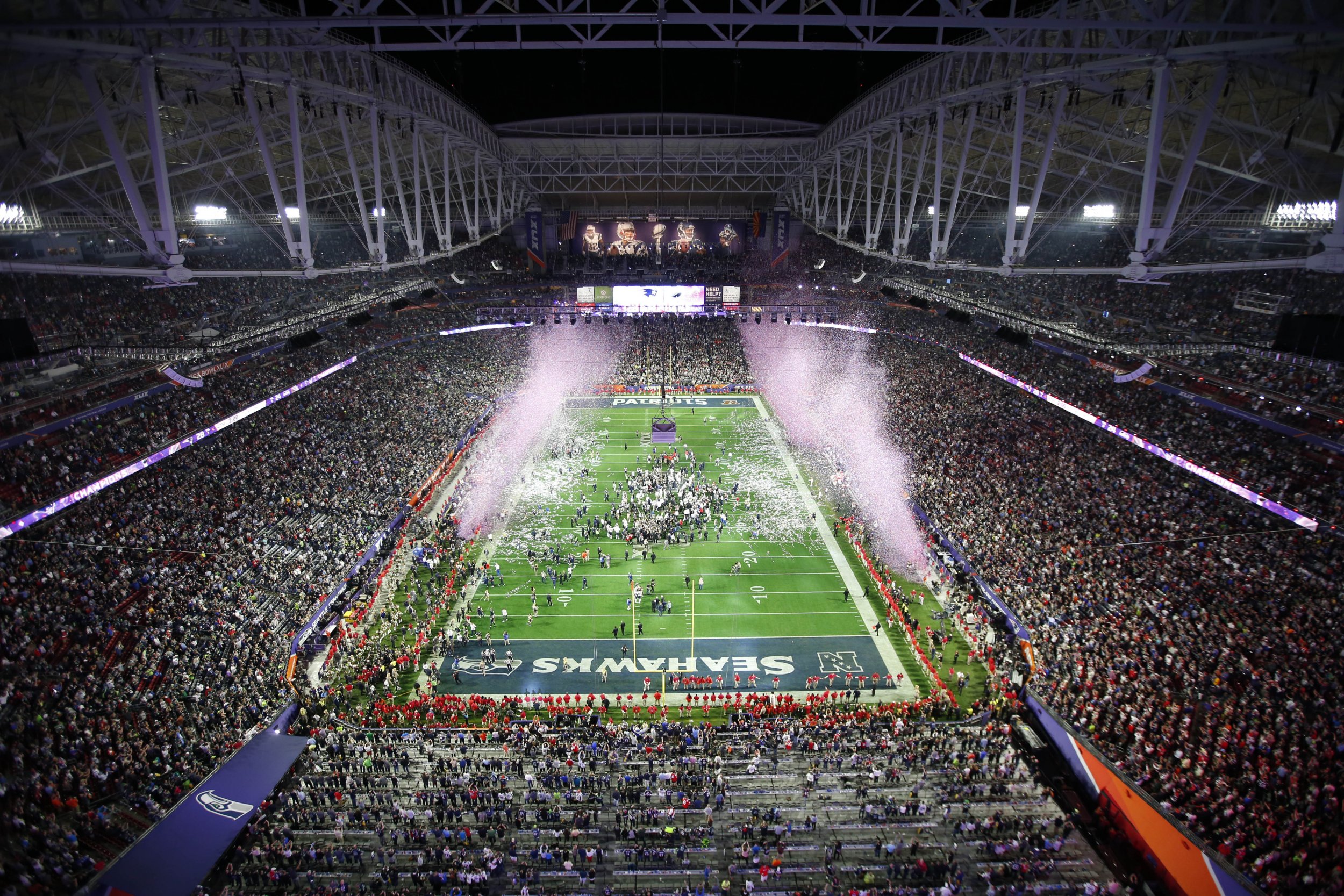 Before we close the book on Super Bowl XLIX, and the roof on University of Phoenix Stadium, let's take a look back at one of the most memorable contests in the game's history, an event that provided newly minted stars out of heretofore unknowns Chris Matthews, Malcolm Butler and Left Shark. Oh, and it turned out that the Seattle Seahawks' entrance song, "Bittersweet Symphony" by the Verve, was an apt choice.
On with the insights and observations…
The Play's the Thing
We must begin with what deserves to be one of the five most memorable blunders in Super Bowl history. They include Jackie Smith's dropped touchdown catch in Super Bowl XIII ("He's got to be the sickest man in America"); Garo Yepremian's failed toss on a blocked field goal that turned into a pick-six in Super Bowl VII (this is why no one names their children "Garo" any more); and Atlanta Falcon Eugene Robinson, who on the eve of Super Bowl XXXIII was presented with the Bart Starr Award (for "outstanding character") and was later arrested for soliciting a prostitute. (Robinson, a Pro Bowler that season, stunk up the field the following night.) Then there was Dallas Cowboy Leon Lett's premature celebration in Super Bowl XXVII and, of course, Dan Patrick asking New England Patriots tight end Rob Gronkowski "Did you forget what that feeling [winning a Super Bowl] was like?" when it was Gronk's first Super Bowl win.
I kid. Slightly. Let's assess as many aspects of Seattle's 2nd-and-goal call from the one yard-line as humanity is able to digest here…
--Yes, Seattle quarterback Russell Wilson's pass was slightly high and ahead of Ricardo Lockette. And yes, New England Patriot defensive back Malcolm Butler made a fantastic break on the ball. Both factors are irrelevant. Your best weapon is Marshawn Lynch, and at this moment, after Jermaine Kearse's ridiculous, all-four-limbs-touch-the-ball-before-he-secured-it-33-yard-catch, and then Lynch's four-yard burst on first-and-goal from the five, the Patriots' will was all but broken. Lynch was going to barrel into the end zone on the next play, or at worst, the one after that.
--Yes, Lynch was one of five this season in rushes from the one-yard line. Who cares? Seattle also had allowed only one fourth-quarter touchdown pass in the previous 10 games and yet had just surrendered two to Julian Edelman, a former seventh-round draft pick who looks as if he should be putting a new roof on your garage. The point being, you toss out those stats in moments such as these. There's a reason they refer to Marshawn Lynch as "Beast Mode." He may be the most punishing runner since Larry Csonka. No one was going to stop him.
--Has there ever been a single play in Super Bowl history that altered more legacies? Russell Wilson was about to go down as the first quarterback in Super Bowl history to win two Super Bowls in his first three seasons (while earning less than $700,000 per year), as well as upping his career record to 11-0 against quarterbacks who have won a Super Bowl (an even more impressive feat, perhaps). Pete Carroll was about to become the first coach to win two Super Bowls and at least a share of two college football national championships. Tom Brady, as sublime as his 15-year career in New England has been, was about to have lost his third Super Bowl in a row (only Jim Kelly of the Buffalo Bills lost more, four). Same for head coach Bill Belichick.
The unsung hero would be Seattle wideout Chris Matthews, the former Foot Locker employee who had never caught an NFL pass before this day, instead of New England nickelback Malcolm Butler, the former Popeye's cook who was also a rookie. Marshawn Lynch, the most laconic and truculent Super Bowl participant since Duane Thomas of the Dallas Cowboys ("If it's the ultimate game, how come they're playing it again next year?") was about to be the go-to quote and perhaps Super Bowl MVP?
Legacies, bling and speaking endorsement fees all changed on that one play. Yes, I remember St. Louis Ram Mike Jones's tackle of Tennessee Titan Kevin Dyson on the one yard-line on the final play of Super Bowl XXXIV (a highly underrated Super Bowl moment), but I would say this is the most significant single play in the contest's history because of the legacies at stake.
--Foraging for an analogous pop culture and/or sports moment, the closest one I could conjure was the climactic moment of Hoosiers, with a few colossal exceptions. It's the final play of the Indiana state championship game between tiny Hickory High and mighty South Bend Central.
Unlike the Seahawks, Hickory calls timeout to discuss strategy.
Just like the Seahawks, Hickory's coach, Norman Dale (Gene Hackman. Would this have made Dennis Hopper's "Shooter" the offensive coordinator? And had he been on the bench instead of in the hospital, wouldn't he have snorted at Dale's play call?), overthinks the moment, choosing to use his Beast Mode, Jimmy Chitwood, as a decoy for the game-winning play.
Unlike the Seahawks, and again, because they had the luxury of a timeout, Hickory's players exchange what would not then (in 1954) be known as "WTF?" looks until Dale notices their discomfort. "What's the matter with you guys?" asks Dale. And can't you just imagine Lynch, if given the opportunity, assuring Pete Carroll, "I'll make it."
--Let history remember that offensive coordinator Darren Bevell, who starred as quarterback at Scottsdale (Arizona) Chaparral High School 25 years ago, made that play call. Not Carroll. Football historians may remember Carroll as the Captain Edward J. Smith of this gridiron Titanic, but Bevell was the man operating the switchboard who missed the iceberg warnings.
--Imagine if Russell Wilson had overruled the call in the huddle and just called Lynch's number—and why not run the same play that just gained you four yards again? Imagine if Lynch had scored. Would anyone ever even have learned that? What Seahawk would have the temerity to tell the media, "Yeah, coach Bevell wanted to pass and Beast Mode said, "The [bleep] with that!"
--How much money did Skittles lose by Lynch not scoring the game-winning touchdown?
--Imagine this Snickers ad: Darren Bevell calls a pass (or makes any decision that seems hopelessly wrong), is then advised to "bite into a Snickers" and then morphs into Pete Carroll and calls a run.
--The Seahawks squandered what would have been the ultimate troll moment in sports (at least since the term troll entered the vernacular as a verb). If only Carroll and/or Bevell had conceived of a goal-line play in which Seattle used an unbalanced line and a tackle-eligible play to beat Belichick and the Pats on a Fat Guy Touchdown pass. The Internet would have exploded.
--After four seasons in Seattle in which Golden Tate increased his catch totals by at least 10 per year (21 to 35 to 45 to 64), the Seahawks chose not to re-sign him. This year with Detroit, Tate caught a career-high 99 passes and was voted to the Pro Bowl. I've followed Tate's career closely since his freshman year at Notre Dame and have rarely seen a receiver who wins more 50-50 balls. You can see evidence of that here in college, versus Southern Cal All-American safety Taylor Mays, or here two years ago in Seattle in the epic Monday Night Football "Fail Mary" game-winning catch. If Golden Tate is running that slant route instead of Ricardo Lockette, I believe Seattle is celebrating today.
--No city can match Boston for miraculous and incongruous reversals of fortune in epic contests: "Havlicek stole the ball!" Carlton Fisk's home run in Game 6 of the 1975 World Series. Larry Bird's steal of a Detroit Pistons inbounds pass that altered the tide of the 1987 Eastern Conference finals. The Tuck Rule. David Ortiz's grand slam in Game 2 of the 2013 American League Championship Series that came with the Sox trailing 5-1, and having been one-hit through seven innings. I think we can put the Bill Buckner story to bed now (and how odd that another Bill B. has given Boston sports fans so much to, well, revere?).
--I still don't understand what Bill Belichick was doing in that final minute, and again, history will spare him the scrutiny. Yes, Kearse makes what is the first four-limbs catch that I can ever recall seeing at the 1:06 mark, after which Seattle calls timeout just five yards shy of the game-winning touchdown. New England has two timeouts remaining. On first down, Lynch carries the ball off-tackle left for four yards. If you are Belichick, the genius, how do you not call timeout here with about :55 seconds left? Instead, the play clock runs so that Seattle next snaps the ball with about :30 remaining.
What good would two timeouts have been if Seattle had scored, or even if that pass had fallen incomplete and the Seahawks had scored on the subsequent play? Either way, New England is getting the ball back—following a Seattle squib kick—with about :20 remaining?
Was Belichick really astute enough to know that calling timeout might have given Seattle enough time to think twice about a bonehead play call by Bevell?
-- Hopefully, we can now all appreciate just how irritated Belichick had been eight days earlier, having his Super Bowl prep interrupted by a second Ball-ghazi presser? What do coaches do with all that preparation time? They have their assistants break down an opponent's tape; then categorize plays, formations and personnel packages; then sub-categorize them; and then, after all that is done, the most difficult part: feeding as much of this information to their players as the players can reasonably be expected to digest. It's too much to assume that every player will have the intelligence and, more important, the motivation to retain everything a coach does, but it's Belichick's job to see that they retain as much as possible.
New England ran that very Seattle goal line play out of that same formation in practice earlier in the week. Jimmy Garoppolo, in the role of Wilson, had connected with Josh Boyce, who played the role of Ricardo Lockette. Butler had been beaten on the play because he had hesitated. When he saw and recognized the same three-receiver formation (Butler had actually been on the sideline the previous play after being beaten by Kearse on the catch two plays earlier), he jumped the route and made the play of his life.
What do they say? Failure to prepare is preparing to fail. New England, Belichick and Butler all prepared. They won Super Bowl XLIX, as most football teams do, earlier that week in practice.
--Finally, the final 35 seconds of Super Bowl XLIX were not Pete Carroll's finest hour. In fact, you may call them his most ignominious. Couple this play call with the decision to keep Heisman Trophy winner Reggie Bush on the bench for a game-clinching fourth-and-two in the 2006 BCS national championship game versus Texas—a game the Longhorns would go on to win—and you can argue that two inscrutable play calls cost the Peter Pan-like coach a pair of championships.
Those 35 seconds were not Carroll's finest hour. But the 30 minutes afterward were. Carroll, speaking to NBC minutes after the most crushing defeat of his life, said, "That's my fault, totally." Carroll argued that Seattle was playing for third or fourth down, to "waste the clock," but if Seattle had wanted to do that, why run the quickest pass play possible, where the results would only be a touchdown, an incompletion (stopping the clock) or what actually occurred? And how cute do you really want to be with time management when there are 30 seconds remaining and the task of taking the lead in the biggest game of your life is still before you?
In short, it was not Carroll's fault. And his "waste the clock" line was a nice rationalization, but it holds less water than Belichick's "Mona Lisa Vito" line. But Carroll gets all the accolades, and so he rightly felt that he deserved to take all of the blame. At the lowest moment of his professional career, Pete Carroll gave the ultimate lesson in sportsmanship. As much as leaders at business schools and management seminars will point to Seattle's last-minute blunder as a learning moment in the future, here's hoping they also shine a light on how Carroll handled it. Every bit as instructive.