Super Nintendo World Direct: Start Time and How to Watch Online
The ongoing global pandemic canceled a lot of events in 2020, one being the opening of the Super Nintendo World theme park inside Universal Studios in Japan. However, more information about the Nintendo-themed park is on its way, and fans looking to visit will want to check out Nintendo's latest Direct.
Late Thursday, Nintendo announced that a brand new Nintendo Direct will take place Friday night. But instead of a game like Super Smash Bros. Ultimate being spotlighted, the company will put the focus on Super Nintendo World.
With the theme park slated for a February 2021 opening, here's how and when you can watch the Nintendo Direct to learn the latest information on Super Nintendo World.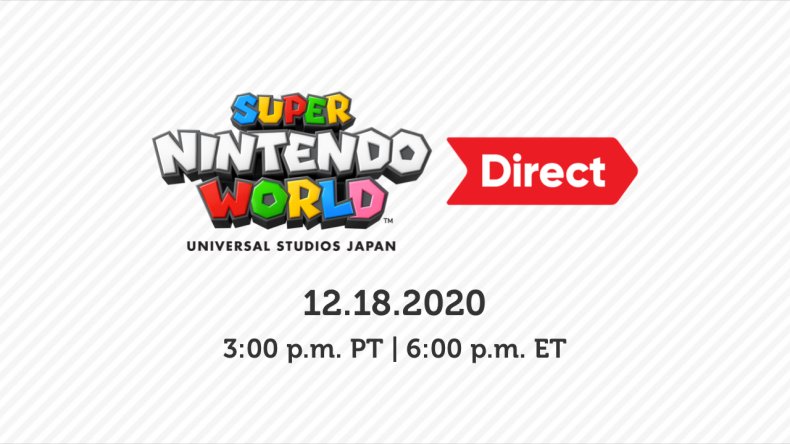 SUPER NINTENDO WORLD DIRECT START TIME
The Super Nintendo World Direct online presentation will begin Friday, December 18, at 6 p.m. EDT.
Nintendo has confirmed that the presentation will be roughly 15 minutes long and, no, there won't be any gaming content during this stream.
HOW TO WATCH SUPER NINTENDO WORLD DIRECT ONLINE
The first place where fans can watch the Super Nintendo World Direct online is on the official Nintendo site. This site will host its YouTube stream of the presentation and will have the upload when the Direct is over, for future viewing.
The YouTube stream has yet to go live, but you can visit the official Nintendo channel to stay up to date. We'll update this section once the video has appeared on the company's official channel.
Nintendo's Twitch channel will also stream the Super Nintendo World Direct.
If you're unable to watch either, you can follow Nintendo's Twitter and Facebook accounts to get up-to-date information on the stream during and after it's completed.
WHAT TO EXPECT
Ever since its announcement back in 2016, there hasn't been a lot of information regarding Super Nintendo World. The most comprehensive updates appeared randomly at the end of November with the reveal of its first ride, based on the Mario Kart series.
This ride will have park-goers sitting in Karts, wearing AR headsets to simulate an actual Mario Kart race. This upcoming Nintendo Direct could give us more information on this ride and perhaps even a demo of how it will look.
With so little information on Super Nintendo World out there, this online presentation is likely to give fans something new to see. Perhaps we'll get the reveal of another new ride, or we'll get a guided tour of some of the restaurants and places to visit inside the theme park.
Whatever they show, it'll likely get fans excited for 2021 and the opening of Super Nintendo World.
Are you excited for the opening of the theme park? What are you expecting to see during the Nintendo Direct? Let us know in the comments section.