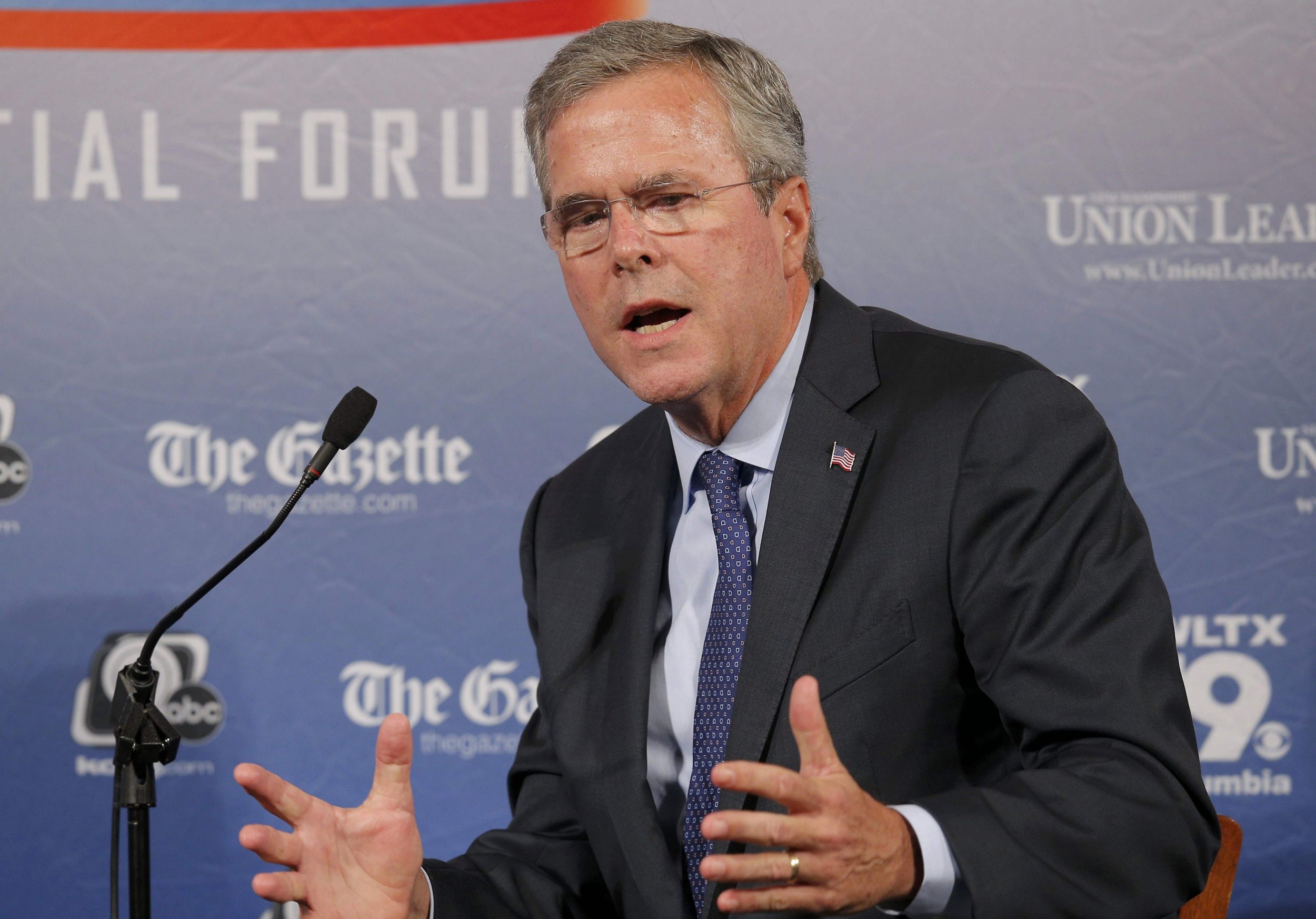 When the Supreme Court struck down campaign fundraising restrictions in 2010, critics feared it would lead to out-of-control corporate and labor union spending in political races, drowning candidates' messages in a wave of outside cash. The latest political fundraising reports, however, show that while an unprecedented amount of money is indeed flooding the campaign system, the candidates are very much in control.
A new analysis by New York University's Brennan Center for Justice, which supports campaign finance limits, found that in the first half of the year, outside groups with explicit ties to the 21 mainstream presidential candidates—the study labels them "shadow campaigns"—raised $273 million ($103 million by Jeb Bush's "Right to Rise" Super PAC, alone). And virtually all of that is going to groups that aren't subject restrictions on how much donors can give, Super PACs, mainly.
Technically, Super PACs are not allowed to coordinate with candidates they back but these groups are staffed by allies of the candidate they are supporting and most have been overtly endorsed by the corresponding campaign. In many cases, the candidate raised money for the Super PAC before officially launching his or her candidacy.
Candidates' official campaigns, where donors can give a max of $2,700, have raised less than half what their unrestricted counterparts did so far this year—just $129 million total. That disparity is just one sign of how much the ground has shifted in four years. Last presidential race, President Barack Obama raised $46 million in the first six months of 2011; a Super PAC affiliated with his campaign raised just $3 million, the Brennan Center points out. Obama's opponent in the Republican party, former Massachusetts Governor Mitt Romney, had a bigger Super PAC haul in the same period, bringing in $12 million. But Romney's campaign still topped that, raising $19 million.
In 2016, however, the fundraising action is clearly in the Super PACs, where mid-year financial reports filed at the end of July reveal that wealthy supporters made single donations of as much as $11 million—how much Robert Mercer chipped in to Republican Senator Ted Cruz's committee. Cruz, of Texas, was one of a dozen presidential candidates whose Super PAC (or PACs) raised more than their campaign, the Brennan Center found.
Super PACs are already starting to spend that money, too. A Newsweek analysis of Federal Election Communications records through July 31 found that the Super PACs tied to presidential candidates spent $7 million in the first seven months of the year on advertising and voter outreach, what's known in technical terms as "independent expenditures." That's 75 percent of the total independent expenditures made by outside groups in the presidential campaign, so far. The biggest spenders were Super PACs linked to New Jersey Governor Chris Christie, Louisiana Governor Bobby Jindal and former Texas Governor Rick Perry, Republican candidates languishing in the low single digits in national polls and in need of a boost going into debate season.
The Supreme Court paved the way for the creation of Super PACs in a 2010 decision in a case known as Citizens United. The court's rationale was that there's no reason to limit donations to outside political committees because they're not controlled by the candidate and thus there's no risk of corruption. Up until this year, the most active and well-funded Super PACs did tend to be unaffiliated with an individual candidate, though they had strong party or ideological ties. Those groups will no doubt continue to play a role in the 2016 race, as will so-called "dark money" groups—non-profit organizations that register under section 501(c) of the tax code and do not have to disclose their donors. The most famous are groups like Americans for Prosperity and Freedom Works, which are affiliated with the conservative Koch brothers.
The balance, however, has shifted in the 2016 cycle, with the rise of the shadow campaign groups. In addition to the gobs of Super PAC money that has already been raised in the presidential race, many allies of 2016 candidates have also formed "dark money" groups, whose fundraising and spending is still unknown. The Brennan Center's Ian Vandewalker, counsel for its Democracy Project, says it's hard to "look at the system we have now and tell me the candidates aren't actually in control" of these Super PACs and other groups. In his research, he found that unless the committee can demonstrate a real connection to the candidate, they're "not going to raise a lot of money."
"This is the entree: we've got the finance director from last time around, or we've got the campaign manager from two weeks ago running the super PAC," Vandewalker continues. "It shows how much the contribution limits [to campaigns] are shot through with holes."