Super PACs Backing Elizabeth Warren Have Far Outspent Those Supporting All Other Democratic Candidates
Super PACs and outside groups backing Democratic presidential candidate Elizabeth Warren have far outspent those supporting her rivals, equaling 33 percent of the total spending by such organizations in the race for the Democratic nomination.
Warren, a senator from Massachusetts, and fellow progressive Democratic contender Bernie Sanders have repeatedly criticized the reality that super PACs and outside groups are allowed to raise unlimited amounts of money from individuals, corporations, unions and associations to, in effect, back political candidates. But Warren has received more financial backing from such committees than any other Democratic contender, while Sanders has benefited from their support as well.
Data compiled and published Monday by Issue One, a nonprofit seeking to reduce the influence of money in politics, showed that groups supporting Warren's candidacy had already spent $15 million. Comparatively, super PACs and outside groups had spent nearly $6 million less to support former Vice President Joe Biden, and only $1.3 million backing Sanders, a senator from Vermont. Notably, anti-Sanders groups have already spent about $5.4 million in an effort to counter his candidacy as well.
Former Mayor Pete Buttigieg of South Bend, Indiana, who suspended his campaign this week, received $3.7 million in support, while Senator Amy Klobuchar of Minnesota, who suspended her campaign on Monday, garnered $2.7 million. In total, $45 million has been spent by super PACs and outside groups supporting or opposing candidates still in the race for the Democratic nomination, including $1.3 million in oppositional spending by conservative committees.
"Outside groups like super PACs and dark money groups have combined to spend $45 MILLION so far in the 2020 Democratic presidential primary, @IssueOneReform analysis finds—with the pro-Warren Persist PAC super PAC alone accounting for 33% of this sum," Issue One research director Michael Beckel tweeted on Tuesday.
Warren previously said that she "won't take a dime of PAC money." But that changed in late February, when she suggested accepting the support was necessary.
"We reached the point a few weeks ago where all the men who are still in this race and on the debate stage all had either super PACs or they were multibillionaires and could just rummage around in their sock drawers to find enough money to be able to fund a campaign," Warren told reporters on February 20. "And the only people who didn't have them were the two women. And at that point, there were some women around the country who said, 'You know, that's just not right.'"
Also on February 20, Sanders sent an email to supporters that said plainly: "We're not going to have a super PAC." But the candidate has been backed to the tune of $680,000 by the Vote Nurses Values PAC of the California Nurses Associations. The Sunrise PAC has additionally spent $110,000, while the Popular Democracy PAC has shelled out $83,000 backing his candidacy. Several other groups have spent tens of thousands in the senator's support.
Newsweek reached out to the campaigns of Warren and Sanders for comment, but they had not responded by the time of publication.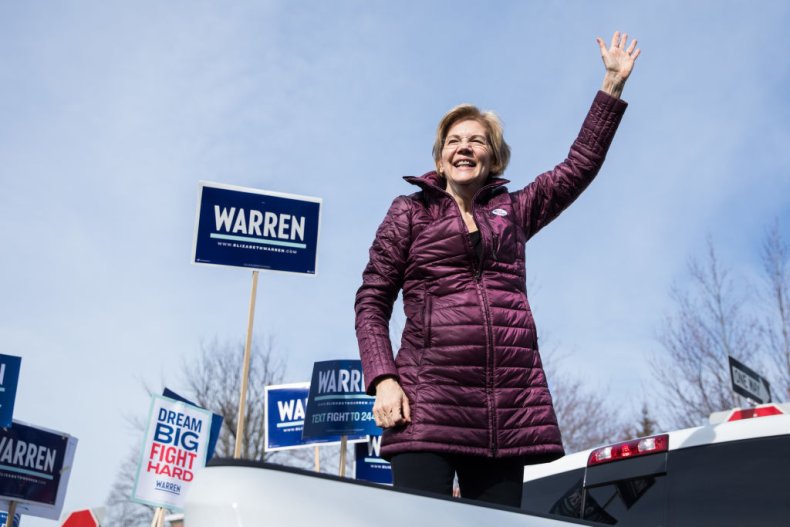 Super PACs arose only after the 2010 federal court decision in the case of SpeechNow.org v. Federal Election Commission. That ruling allowed for such groups to raise unlimited funds to support political candidates, so long as they did not coordinate with their campaigns. These committees must report their contributions on a semiannual basis during off-election years and monthly during the year of an election.
The majority of Warren's super PAC support has come from the Persist super PAC, which made big ad buys across Super Tuesday states. In total, that one committee has spent $14.8 million.
Biden has received the most support from Unite the Country, which has spent $9 million. But Biden, unlike Warren and Sanders, was relatively quick to accept the support of outside groups. The Biden campaign dropped its opposition in October, after exiting the third quarter of 2019 with significantly less donations than four other Democratic contenders.
Meanwhile, the $1.3 million spent supporting Sanders by outside groups is marginal compared with the nearly $170 million his campaign has raised from grassroots contributors. In February alone, he managed to raise $46.5 million from 2.2 million campaign contributions, with the average donation being about $21. Warren's campaign brought in $29 million in February.