Superpod of an Estimated 1,000 Dolphins Filmed Swimming Along Whale-Watching Boat in California
Whale watchers were in for a surprise when they encountered a "superpod" of more than 1,000 common dolphins (Delphinus delphis) during a trip off Laguna Beach, California, on Saturday.
Newport Coastal Adventure, a whale-watching tour agency, shared a video of the event, showing hundreds of dolphins leaping through the waves as the boat sails past.
"We saw this Common Dolphin "superpod" chasing fish off Laguna Beach for our 5:30pm Private Charter Whale Watching trip today," said Newport Coastal Adventure. "Some lucky families got to experience what it's like to be amongst at least 1,000 dolphins."
"The experience was incredible," Ryan Lawler of Newport Coastal Adventure told Newsweek. "Thousands of dolphins tightly packed together, just about an hour from sunset."
Lawler said the super pod was seen during a private charter trip with a single family, explaining the company is currently restricting trips to members of one household and maintaining distance between the captain and whale watchers amid the COVID-19 outbreak.
Dolphins are highly social and gregarious creatures that live in groups. Recent research has highlighted the extent of their collaborative behavior, from the observation that male dolphins sing together (to coerce females into sex) to dolphins' ability to make friends through shared interests, specifically their interest in "sponging," which involves using sponges as foraging tools to find food. Other studies suggest dolphins use different vocalizations, or names, to identify friends and rivals, forge long-lasting alliances and lean on each other when raising their calves.
While common dolphins tend to travel in groups in the hundreds, they have been known to gather in large schools containing thousands of dolphins, dubbed megapods or superpods. Some of the largest contain more than 10,000 individuals. Within these congregations, there are a number of sub-groups, each consisting of 20 to 30 individuals who are connected through relation or factors such as age and sex.
"Super pods of common dolphins are spectacular but not rare. If the conditions are suitable, they can occur anywhere in the world," Danny Groves, a spokesperson for marine charity Whale and Dolphin Conservation (WDC), told Newsweek, noting they have been spotted off the U.S., Scotland, South Africa and many other places.
Large pods like these often form for a short period of time during courtship or in response to prey. Take, for example, the gathering that aggregated near Monterey Bay, California, on Labor Day last year. According to Monterey Bay Aquarium, hundreds of common dolphins came together "hot on the tails of billions of baitfish." Something similar appears to be occurring here—according to Newport Coastal Adventure, the dolphins were spotted chasing fish.
"I would say we see this phenomena a few dozen times a year. Sometimes we go months without seeing it. Other times we will see it a few times in one week," said Lawler. "Common dolphins often travel and live in groups of 20-200 here, but if there is enough food around they will form a super pod such as this one for a small amount of time to take advantage of the strength in numbers in pursuing their prey, anchovies."
"If prey are plentiful, then hunting in big pods can be beneficial. Likewise if there is a predator threat to the dolphins, then being in a large group provides security," said Groves. "If they are just being sociable, then we might expect dolphins to get similar benefits that humans get from getting together in large groups—a sense of community and enjoyment, ironically something they are able to do right now whilst we are isolating."
Groves added: "Whilst we humans are locked down, the seas are quieter and less polluted, and nature seems to be reclaiming its territory."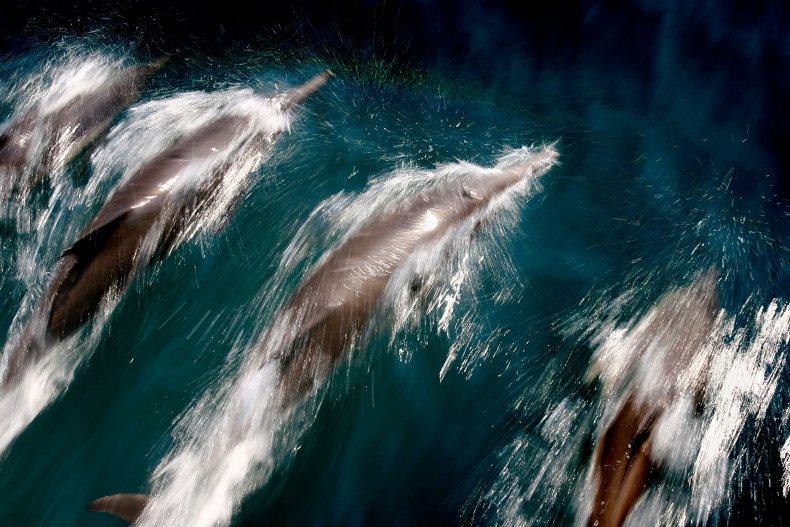 It is not clear from the video what type of common dolphin is being filmed. Though initially considered a single species, since 1994 it has been split into the long-beaked common dolphin and the short-beaked common dolphin.
According to WDC, advances in science suggest the initial classification was correct and the short-beaked and long-beaked dolphins are variations of the same species, which can be identified by their different sized beaks and their coloring.
This article has been updated to include comments from Ryan Lawler and the WDC.