The Super-Rich Haven't Reined in Their Excesses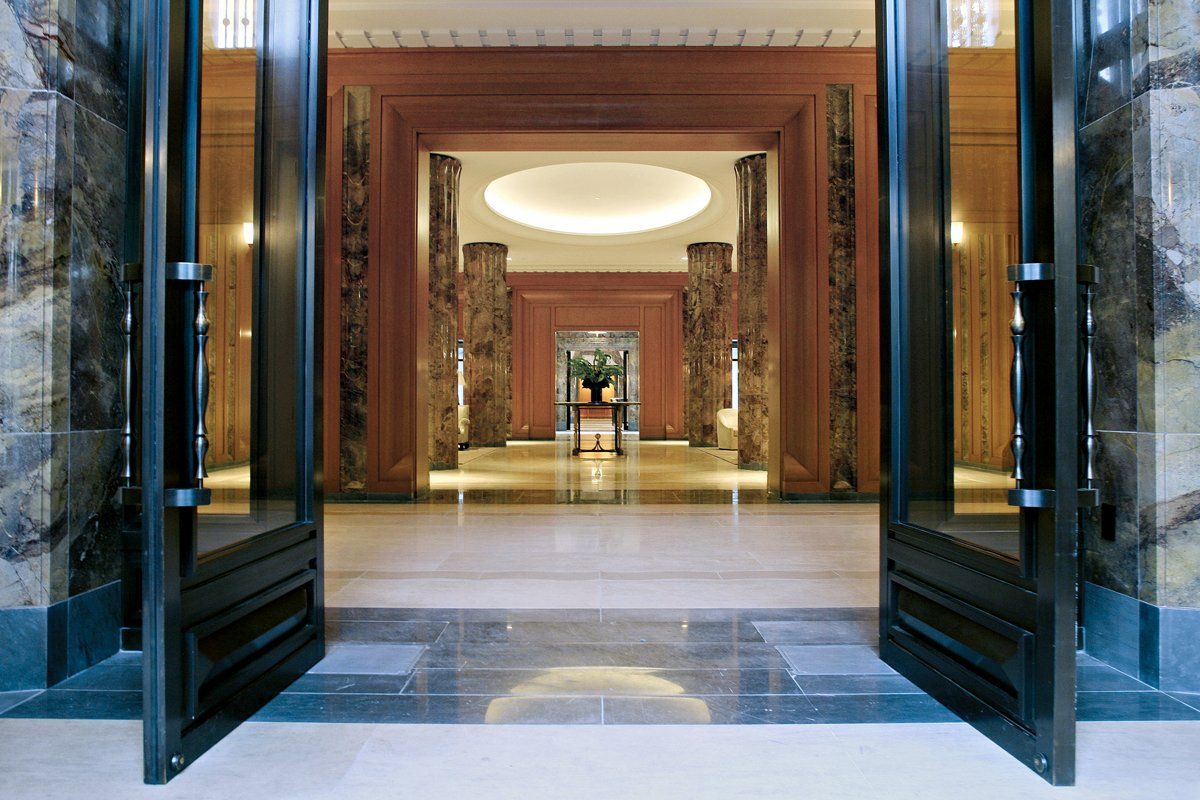 Sandy Weill is a lucky man. When the financier who built Citigroup decided to sell his penthouse at 15 Central Park West, one of the most lavish and exclusive buildings in Manhattan, The Wall Street Journal wrote a story about how he was listing it for a record sum—and planned to give the proceeds to charity. There should be plenty to go around. Back before 15 opened for business, Weill and his wife paid $43.7 million for the four-bedroom, six-and-a-half-bathroom floor-through condominium. Lately, the recession notwithstanding, similar apartments in the building across from Central Park's southwest corner have sold for more than $10,000 per square foot. The Weills are asking $88 million.
The article calls it "downsizing," but the Weills will still own several other homes and a yacht, and will even keep a toehold in 15, with its private restaurant, screening room, health club, and 75-foot lap pool. Ten floors below the penthouse, they'll hold onto a 1,084-square-foot one-bedroom apartment that cost a mere $979,000. Should we take this as a sign that, as the Journal would have it, the wealthy are beginning to curb their excesses in the face of America's new populist rage? Don't believe it. Just like when the auto executives left their private jets at home to avoid a congressional scolding, it's all for show. The rich may not want to talk about it, but they're richer than ever.
The falling economic tide of the past few years hasn't lowered all boats. And 15 Central Park West is Exhibit A. It also offers compelling evidence of how financial types favor their friends. As the real-estate bubble was bursting, a group of bankers, insurance executives, and CEOs—many of them employed by the Wall Street brand names (Lehman Brothers, Morgan Stanley, AIG, Goldman Sachs) that were the poster children of the financial meltdown—bet huge on the building's success and have seen those wagers pay off bigger than a hedge fund in 2006. Apartments at 15 have done nothing but appreciate in value since it opened in 2007.
What's 15 got that your place doesn't? Besides all those amenities, its location—the last big piece of buildable land bordering Central Park below 96th Street, at least for the foreseeable future—couldn't be better. The building's starchitect, Robert A.M. Stern, the classicist and Yale architecture-school dean, is excellent, too. He consciously mimicked the style of the greatest Manhattan apartment houses like 820 Fifth and 740 Park to the east, and the Majestic, Beresford, and San Remo to 15's north. But inside, it's all luxury and convenience.
Downstairs, there are two separate lobbies—one detailed in English oak and three colors of marble—each staffed with several doormen, underlings, and a concierge; a walnut-paneled library; a game room; a conference room; and a waiting room for chauffeurs near the private garage. Upstairs, the rooms are big, the ceilings high, and big windows offer vast views of Central Park, the skyline, and across the river to the land of the 99 percent. On a clear day, 15's residents can see their neighbors' Gulfstreams taking off from Teterboro Airport in New Jersey 12 miles to the west. But the main value of living in such a building, and the primary justification for the staggering price of its apartments, is surely (to update Fitzgerald's Gatsby) the consoling proximity of other billionaires. The halo effect of the right address isn't priceless, but it comes close.
Yes, the rich got worried after the Great Recession's arrival, but you can't keep a good fortune down for long. "The very wealthy are spending," says Richard J. Kurtz, a New Jersey developer of estates for the rich. "Everyone below that is holding back." But the rich-rich-rich? "They're so wealthy it doesn't change their lifestyle. If they want a boat, they're gonna get a boat."
And if they want to rent a private island for a birthday party, they'll do that, too. Recently, a client of Sanctuare, a luxury-villa-rental agency, reserved Musha Cay, a private island in the Bahamas, for a nine-night 50th-birthday party with a dozen friends at $40,000 a night. "It made my jaw drop, and I'm in the business," says Sanctuare's president, John Steinle. "That's more than an awful lot of money. I do fewer transactions now, but the ones I do are no less spectacular."
Research confirms the anecdotal evidence that American fortunes are being spent again—albeit sans bling. Retailing's luxury sector was the first to recover. But it's evolved. Aspirational buyers, who consumed low-end products from high-end purveyors, leased fancy cars, or bought on credit, have mostly vanished. Madelyn Hochstein, president of the consumer-research firm DYG, Inc., now calls them the phantom affluent. "They can't do that anymore," she says. "Only the really wealthy are buying now. They've survived, they're still wealthy, and they feel they've earned it, so they deserve the good life as it used to be led. Which is very much at odds with what's going on below them," explaining a parallel phenomenon Hochstein has seen: "some sensitivity to flashing it around."
But that goes only so far. Flashy cars are hard to hide, and they're selling out at Manhattan Motors, which deals in Rolls-Royce, Bentley, Lamborghini, Lotus, and Porsche. There was a brief dip in sales in fall 2007, but things have been looking up ever since. "People found they had to work harder and were entitled to a reward for their effort," says John Kaufman, the general manager. "We're having one of our best years." How good? "Demand exceeds supply," he says, declining to share sales figures.
According to the Survey of Affluence and Wealth in America, produced by the Harrison Group and American Express Publishing, the wealthiest Americans (defined as 668,000 families, or 0.6 percent of the population with median income above $950,000 and median assets of $4.5 million) spent $10,500 on fine jewelry in this past year, with 53,000 households buying more than $50,000 worth. The average price of their last car was $69,000; they spent $17,800 on vacations, $6,500 on home furnishings, and $7,500 on watches alone.
They're feeling good about it, too. Forty-four percent of those families say they expect to spend more money this year than last, and from 2009 to 2011 their reluctance to spend on big-ticket items has tapered off. Two years ago, 49 percent of them reported feeling guilty about buying luxury goods. That figure has since dropped to 40 percent. That reflects an optimism gap between the wealthy and the merely affluent, whose median income is only $275,000 a year and whose assets are worth two thirds less than those of the 0.6 percent. Among the very rich, 71 percent feel good about their own future (vs. 60 percent of the affluent), and 28 percent also feel good about the world's (vs. 18 percent of the larger group). No surprise, then, that 74 percent of the richest describe themselves as very happy and 78 percent as very successful. But they don't want the rest of us to know that. In the last year, the number of super-wealthy who want to be recognized as such by others has dropped 13 percent to under half their cohort. Whether it's because of Occupy Wall Street or the economic suffering that animates it, the Über-rich have begun to enjoy their park-view condos, chauffeured cars, and private planes with a touch of discretion. And nothing makes discretion easier than withdrawing into a (well-appointed) cocoon.
"They hang around with the same type of people; there's a global community of people who've made it to the same point," says Cara David, the senior vice president who oversees American Express Publishing's research. "They only want to be with their peers. It's not flaunting it if you're not offending anybody. But you'd have to be an idiot to walk around not caring. Fingers have been pointed at them. Even if they're not hurting, they've changed. They got their money the hard way. Very few of the wealthy had it handed to them and they know people who've experienced hard times. So they're consuming but they're more careful and conscientious. They want to be able to say something is worth it. There has to be a justification."
Another new concern among the wealthy is getting as much as possible for their money. Buyers who once splurged on a whim now study, ask questions, and even negotiate. After a brief dip in spending after Lehman's collapse, Sherry-Lehmann, the Park Avenue wine merchant, "had tremendous success" selling 2009 Bordeaux, says Chris Adams, its CEO. But when the prices for the equally fine 2010 vintage came in higher, "it got too expensive and they passed. They've developed savvy. That's how they got to be wealthy. They can buy a '96 Mouton Rothschild for the same price and drink it now." Regardless, "people were buying and buying," he concludes. Beginning in 2010, "business was phenomenal compared to a year before."
Concierge services now constitute half the business at Fischer Travel, which caters to the wealthiest. It, too, saw a brief dip in business, but now the rich "are out of the closet," says CEO Bill Fischer, and their demands are extreme. "They need a chef, they need a dermatologist in London on a Sunday, they need an Herm s Birkin bag. You can't get them! In the last month, we've gotten 10 of them. And they want it yesterday. When they can't get it, they want it more. Fifty-yard line at the Super Bowl. The doctors who take care of the president." Fischer says he has arranged for former White House doctors to treat clients remotely using ready rooms set up on yachts and private jets. "When they get accustomed to living this way," they don't change, he says. "They have the money and they're going to do what they want."
At Saks Fifth Avenue, the men's made-to-measure department is doing better than ever, catering to that same customer. "The Über-wealthy want something more, something special, personalized," says Ron Frasch, the luxury chain's president and chief merchandising officer. "We have men who want to go to Italy to our factories to work directly with our tailors. You don't see crazed shopping behavior like you did prior to the recession, but money is being spent in unique ways. Their planes are decorated by Loro Piana. They're buying personal casks of Scotch, tweaked to their tastes in Scotland, and they have to wait 15 to 20 years to drink it. They're not shopping as frequently, but when they do they're laser-focused on what they want and the average [sales] ticket is higher than before."
So the very rich have changed, but not that much. In the Depression, screwball comedies were the equivalent of today's celebrity magazines, depicting the rich as silly, amusing, and unthreatening. If they weren't just like us, neither were they totally abhorrent. Today, still struggling our way out of the Great Recession, Americans aren't so sure. But even though spending looks like a dirty job right now, someone has to do it if we're going to work our way out of the mess. And if, like the Weills, they manage to give some money back, too, then we just might consider calling off the tumbrels to the guillotine.
An earlier version of this article stated that A.M. Stern is no longer dean of Yale's School of Architecture. In fact, his third five-year term runs to 2013.
Michael Gross is the author of Unreal Estate: Money, Ambition, and the Lust for Land in Los Angeles (Broadway Books).