Super-Ripped Cat With Bulging Muscles Due to Rare Condition Stuns Internet
A photo of a super-ripped cat is causing a stir online, with the feline's impressive physique thought to be due to a rare condition.
Redditor bsmith2123 uploaded a photo of a hairless cat to the site's Damn That's Interesting forum.
Otherwise known as a Sphynx cat, the animals usually command attention due to their unusual looks, but this cat steals the show with its bulging biceps.
"House cat suffering from Myostatin-related muscle hypertrophy—a rare condition that causes muscles to grow excessively large," they captioned the post.
It has amassed more than 53,000 upvotes since being shared on Thursday. The photo shows a grey cat reclining on soft furnishings, as it looks out of the window, paw outstretched.
The outstretched limb showcases prominent shoulders, humongous paws and a thick torso, with its muscle structure all the more apparent due to the lack of fur.
The snap caused a stir online, as ZackGalactic commented: "Like a hellcat."
WolfieWins joked: "Poor bro's arms are bigger than mine!"
While 94746382926 said: "I don't think there's any significant health issues associated with Myostatin deficiency, so he should be fine."
TheGoodOldCoder mused: "I wonder what the cat would look like all oiled up."
Suckercuck commented: "We named him mittens— and he stared us down for a while and told us his name is Chad."
AfroJack00 quipped: "This the cat she tells you not to worry about."
Hiurytg added: "He opens the pickle jar for me."
Explaining more about the condition, the National Organization for Rare Disorders says: "Myostatin-related muscle hypertrophy is a rare condition characterized by reduced body fat and increased muscle size. Affected individuals have up to twice the usual amount of muscle mass in their bodies.
"They also tend to have increased muscle strength. This condition is not known to cause any medical problems, and affected individuals are intellectually normal. Myostatin-related muscle hypertrophy is caused by mutations in the MSTN gene. It follows an incomplete autosomal dominant pattern of inheritance."
There are documented cases in humans, while a study published in Scientific Reports in 2016 noted the "desired phenotype of double muscle has been successfully generated in mice, goats, pigs and cattle."
The study also reported the successful generation of MSTN KO (Myostatin knockout) in rabbits.
While the exact cause of the cat's appearance can't be confirmed, separate studies revealed dogs can be affected by the condition.
An article in Nmd-journal shared a photo of a three-year-old whippet, who also displayed increased muscle mass "resulting from a mutation in the myostatin gene."
Newsweek reached out to bsmith2123 for comment.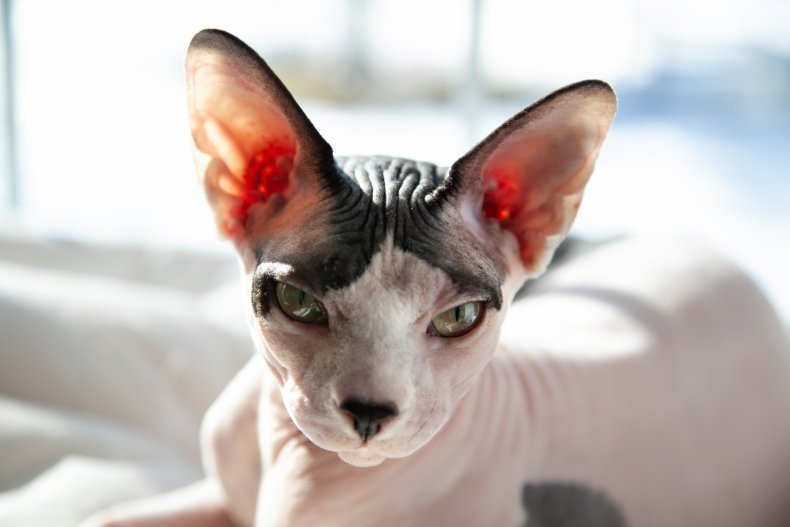 Update 12/3/21, 4:58 a.m. ET: This article was updated with an additional Reddit post.