Super Tuesday Polling Staff In Texas and California Stay Home Over Concerns of Coronavirus Spread
Primary election polling staff in California and Texas counties chose to stay home on Super Tuesday, concerned about the possible spread of the new coronavirus.
About 10 to 15 temporary polling staffers canceled their plans to assist with the election in Sacramento County in California, while Travis County in Texas said Super Tuesday voting got off to a "rocky start" after numerous poll workers and election judges didn't show up out of concern that they could be infected. The separate incidents were first reported by CBS 13 Sacramento and Community Impact Newspaper, respectively.
"We have had 10 to 15 temporary election clerks opt out of this assignment for fear of being in public spaces," Janna Haynes, a public information officer for Sacramento County, confirmed to Newsweek in an email. But she downplayed the impact that the no-shows would have on the election process.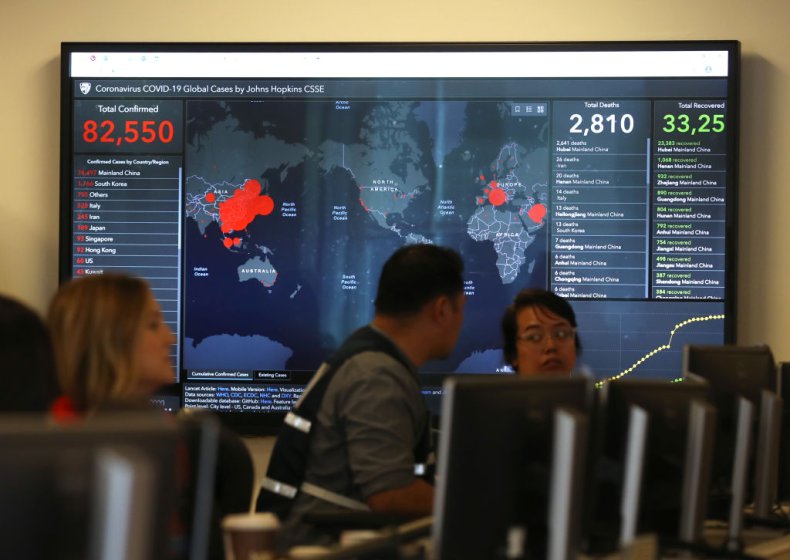 "We hire nearly 700 election clerks for the 84 Vote Centers, so we do not anticipate an impact to the voting experience. We are able to shift and adjust location staffing to accommodate the missing people," she explained.
In Travis County, the no-shows appear to have caused more of a problem.
"To the extent that the Elections Office was given a reason, it seems people were fearful of the Coronavirus," the county clerk's office said in a statement, Community Impact reported.
The statement explained that staff from the clerk's office had stepped in to fill in where needed. "Most locations are up and running now, and we're continuing to work on resolutions to get everywhere fully staffed," the clerk added.
Travis County did not immediately respond to Newsweek's request for additional comment.
Sacramento County's Haynes said that extra precautions had been taken to alleviate any concerns and reassure voters that they could safely cast their ballots.
"We've sent out sanitation supplies to our Vote Centers, including hand sanitizer, antiseptic wipes for the voting booths, tissues and gloves that people using the touchscreens can use," she said. "We've instructed any Vote Center staff to remain home if they aren't feeling well."
Travis County Judge Sarah Eckhardt also attempted to reassure voters and staff that concerns about the coronavirus shouldn't inhibit them from participating in the primary.
"Our public health professionals want to reassure you that your time participating or assisting others as they cast their ballots is valued and will not change your risk of disease as long as you follow the proper hygiene practices, including frequent handwashing, avoiding touching your face, and covering coughs and sneezes," Eckhardt said in a statement reported by Community Impact.
While it's unclear how many other counties across the 14 states (and American Samoa) that are voting on Tuesday may have faced similar challenges, officials in other areas anticipated that there could be issues or concerns.
In Sonoma County in Northern California, Deva Proto, the county's registrar of voters, told The Press Democrat that polling places would have hand sanitizer available. In California's Solano County, John Gardner, the assistant registrar of voters, told NPR that voters would be able to drop off their ballots at a curbside station so they "don't have to get out of their cars if they don't want to."
Dave Bjerke, elections director in Falls Church, Virginia, told NPR that he had double-checked that disinfectant wipes and hand sanitizer would be at polling places. He said that having such products available was already normal practice, but noted that polling staff had been instructed to regularly clean surfaces touched by voters.
Nationwide, there were 102 confirmed cases of COVID-19, the disease caused by the coronavirus, as of Tuesday, according to data compiled by CNN. Experts assess that the death rate from the infection is 2 percent or less, with the rate increasing with age. The disease also appears to be more serious for those with pre-existing health conditions, such as heart disease, diabetes and respiratory problems.
On Tuesday, Anthony Fauci, director of the National Institute of Allergy and Infectious Diseases, told a Senate committee hearing that a coronavirus vaccine would likely not be available for at least a year.