Trump, Clinton, Rubio: Why Everyone's Fighting So Hard for Virginia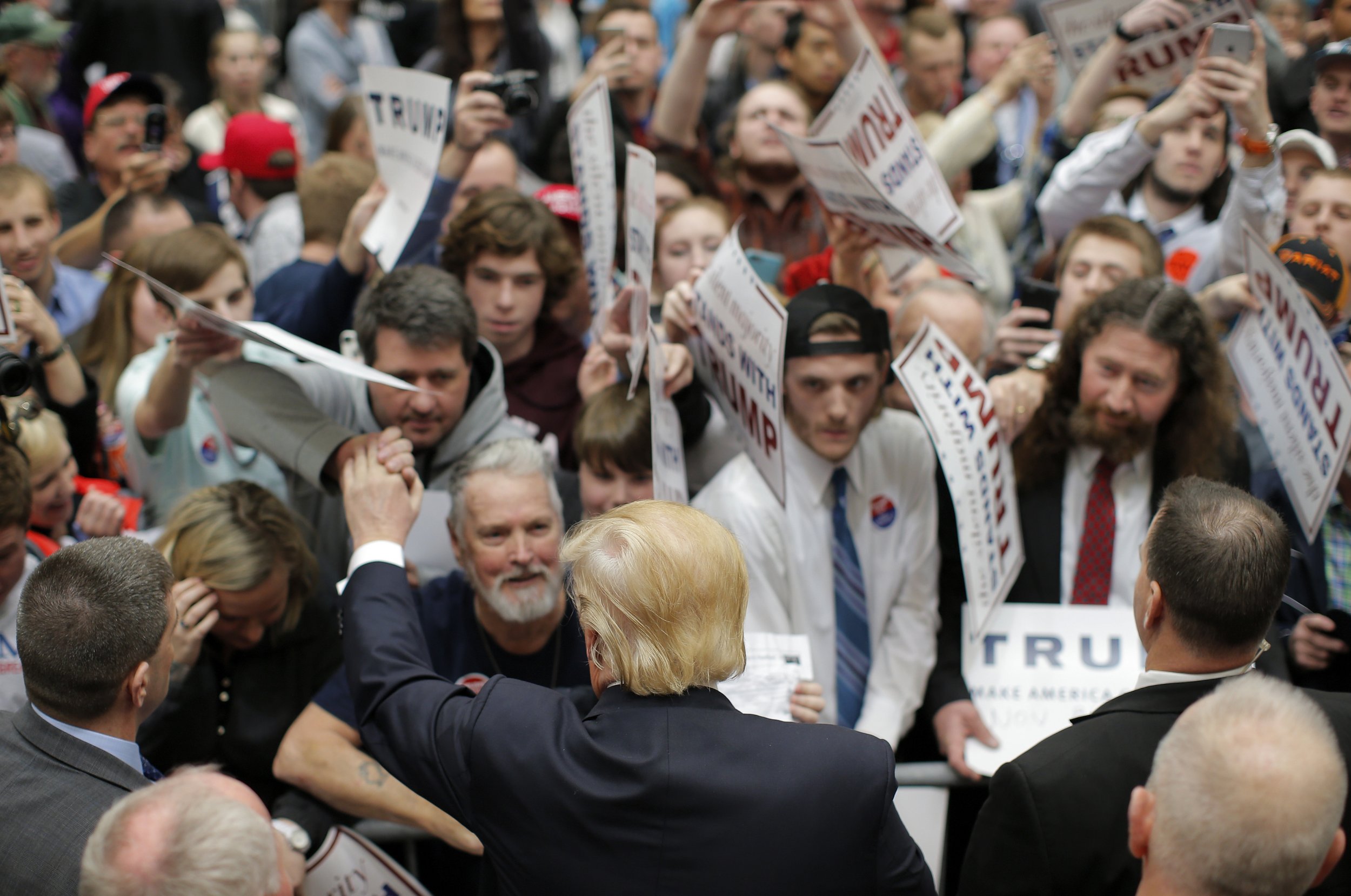 Out of all the states voting on Super Tuesday, Virginia may be the bellwether for the general election. And Loudoun County is ground zero for the battle for the commonwealth's political soul.
This northwestern corner of Virginia is where the plains surrounding swampy Washington, D.C., give way to the crisper altitudes of the Blue Ridge Mountains and where McMansions are replacing the sheep and cattle that once dotted the rolling hills. It is where Democrats fought (and lost) a pitched battle for an open U.S. congressional seat in 2014, after a longtime Republican lawmaker retired. And it is where Florida Senator Marco Rubio fired up an overflow crowd on Sunday at Patrick Henry College gymnasium in Purcellville.
"This is serious. What we are facing today is the most important election in a generation. We need to nominate someone who can win!" the young senator shouted, barely audible over the roar of the crowd. That someone Rubio was referencing was, of course, himself. He made his pitch to Virginia voters on Sunday as the most electable Republican in the field and warned that Donald Trump is a national election wipeout waiting to happen. Virginia is central to this premise.
The boom of Washington, D.C., over the past decade has pushed more and more urban, liberal-minded residents into Virginia's bedroom communities across the Potomac, places like Arlington and Fairfax counties. That's turned northern Virginia into a population center surpassing Richmond and the military communities around Norfolk—and a gold mine for Democratic votes.
The area's emergence and a surge in immigration—the Latino and Asian populations in Virginia have nearly doubled since 2000—have turned a longtime bedrock of Southern conservatism into a genuine swing state. And it has brought big changes to places like Loudoun County, where spillover growth from Fairfax and Arlington is converting the patchwork of sleepy rural communities into an exurbia of highways and strip malls and much more mixed politics.
"The reason I am supporting Marco Rubio is he is the candidate who can win Virginia. He understands your families. He has won in a diverse swing state like Florida, and he can do it in Virginia," U.S. Representative Barbara Comstock, the Republican who won the Loudoun-area district in 2014, told the crowd before Rubio spoke.
Comstock, serving her first term in Congress, pointed out that she won her election by double digits. But two years prior, in 2012, Barack Obama won 52 percent of Loudoun County in his presidential re-election. Obama won the county by an even bigger margin in 2008. Those tallies, in Virginia's third-largest and fastest-growing county, were critical to his successive victories in the state, the first Democratic presidential nominee to win the commonwealth since Lyndon B. Johnson in 1964. Republicans acknowledge that was pivotal to their defeat. "We cannot win the presidency without winning Virginia, period," former Senator George Allen said at the Rubio rally.
So while Virginia does not offer anywhere near the most delegates of the dozen-plus states voting on Tuesday (Texas is the big prize in terms of pure delegate count), it may be the most important in terms of which party wins the White House. And that hasn't gone missing on the campaigns.
After Rubio barnstormed through the commonwealth on Sunday, Republican front-runner Donald Trump jetted in for a rally at Radford University on Monday in Virginia's conservative southwest. The real estate tycoon made an appearance last week in Virginia Beach. Republican Ohio Governor John Kasich has also been in the state. And Democratic front-runner Hillary Clinton held two get-out-the-vote rallies in northern Virginia and Norfolk on Monday afternoon. Before Clinton visited on Monday, her husband, former President Bill Clinton, was rallying voters last week in nearby Alexandria.
Noting that Super Tuesday voting kicked off in just a matter of hours, Democratic Senator Tim Kaine told the Clinton rally at George Mason University in Fairfax, "I think Hillary's here because of the importance you play as Virginians and the importance of Virginia at the national level."
"We were irrelevant 15 years ago," observed Kaine, the former governor. "But now, all of a sudden...Virginia is now the battleground of the battlegrounds."
That shift in political winds is thanks in large part to areas like the one Kaine was speaking in, affluent Fairfax County, Virginia's largest, a half-hour's drive from Washington, D.C. These days, "northern Virginia is so different from the rest of the state," said Melody Williams, a retired Arlington resident and Clinton supporter, after attending the Bill Clinton event. "People in Richmond don't even consider northern Virginia a part of the state of Virginia."
The state's increasing diversity was on display at Clinton's rally at George Mason University, Virginia's largest public post-secondary school, where several young women in hijabs mingled with boys in backward baseball caps and an older woman in a traditional African headdress. Andy Sachs, a 21-year-old junior, said he wanted to hear Clinton speak live, but the environmental science major planned to vote for Bernie Sanders because of the Vermonter's emphasis on combating climate change. Nonetheless, Sachs lamented the lack of a more centrist option.
"It would be nice to see a candidate come to the middle," said Sachs. "If you saw a Republican coming in a little closer on some of these issues," like climate change, "instead of going to the extremes as Trump has, you might see a turn of events."
That's exactly the argument Rubio was making as he stumped in Virginia, one of the few states voting on Super Tuesday the Florida senator has even a small shot at winning. According to a CBS News/YouGov poll released Sunday, Rubio trailed Trump by 13 points in the state. His campaign has invested heavily in the commonwealth, spending more on ads there than any other Super Tuesday state but Texas.
He tried to convince voters on Sunday that Trump would destroy the party by scaring off moderates and minorities in fast-changing Virginia. "We cannot be the party that nominates someone who refuses to condemn white supremacists," Rubio said, alluding to Trump's efforts to duck questions about gaining the support of David Duke, the former Ku Klux Klan grand wizard.
"This is a diverse party with different ideas," he declared to approving cheers, noting that at one point the GOP presidential race featured a woman, an African-American and two Hispanic candidates. However, the crowd that turned out to see Rubio in Purcellville, on the western edge of the county and the state, was virtually all white. Even if the Florida senator wins the GOP nomination, he's going to have to expand his reach to win Virginia.