Super Typhoon Jebi , a Category 5 storm, is forecast to hit Japan next week. Currently, the storm is spiraling off the coast of Guam, The Weather Channel reported.
Jebi was upgraded to a typhoon from a tropical storm this week, as it gained 110 mph of sustained top wind speed within just 48 hours. Because the storm maintains maximum sustained winds of 175 mph and has 20-mile wide eye, Jebi is now considered the most intense tropical cyclone of 2018 thus far.
Meanwhile, authorities in Japan ordered the evacuation of more than 20,000 residents in central and northeastern parts of the country on Friday, as heavy rains led to floods and warnings of landslides.
The government issued an evacuation order for 7,965 people in the city of Nanao, located in Ishikawa Prefecture, due to the Kumaki River overflowing its banks, The Japan Times reported. In the town of Hodatsushimizu, in the same prefecture, 13,337 residents were ordered to evacuate as well.
According to the Asian nation's Meteorological Agency, the storm front is expected to move south through Saturday, hitting Japan's eastern and western regions. Continued flooding and potential landslides have been predicted.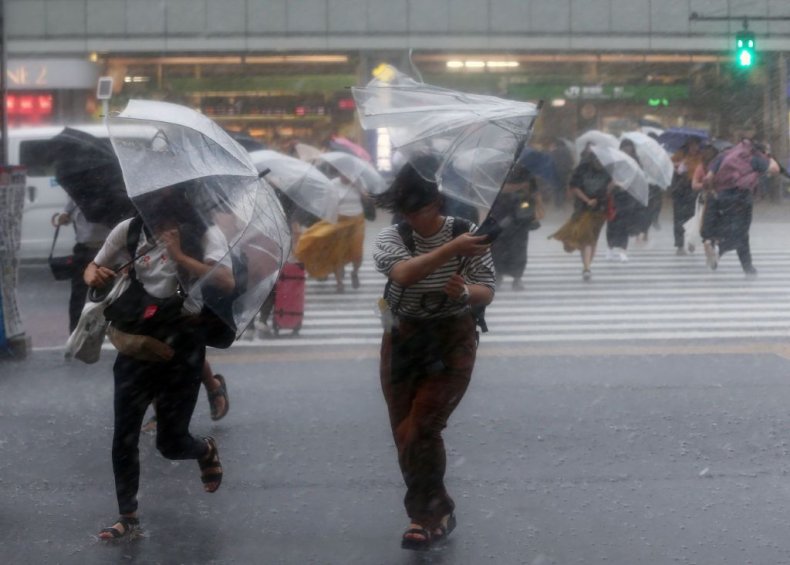 Five people were temporarily trapped in the northeastern prefecture of Yamagata after a landslide blocked a road, Japanese newspaper The Mainichi reported. In the same prefecture, the Mogamioguni River flooded past its banks, leading to the collapse of a suspension bridge.
Railway operations were also disrupted by the torrential downpour. Transport between Yamagata and Shinjo stations was suspended, as were Thunderbird and Shirasagi limited express trains to and from Kanazawa Station in Ishikawa.
Although Jebi isn't expected to be nearly as strong when it reaches Japan, it is still predicted to arrive in the country at typhoon intensity on Tuesday. Continuing into Wednesday, the storm will likely sweep north-northeast as far as Hokkaido, becoming a tropical storm.
Already on Friday morning, 77 millimeters (3 inches) of rain was recorded within a single hour in the city of Wajima, Ishikawa, Japanese media reported. Fifty-six mm (2.2 in) in Kaneyam, located in Yamagata, were also recorded within an hour. Up to 180 mm (7 in) are expected through Saturday in northeastern and central regions of Japan, with up to 120 mm (4.7 in) in the western part of the country.
As Jebi hits Japan early next week, significantly more rainfall flooding, high winds, battering waves and coastal flooding are expected in parts of the country.