Super Typhoon Jebi Path, Track Update: When Will Typhoon Hit Japan (Kyoto, Kobe, Tokyo)?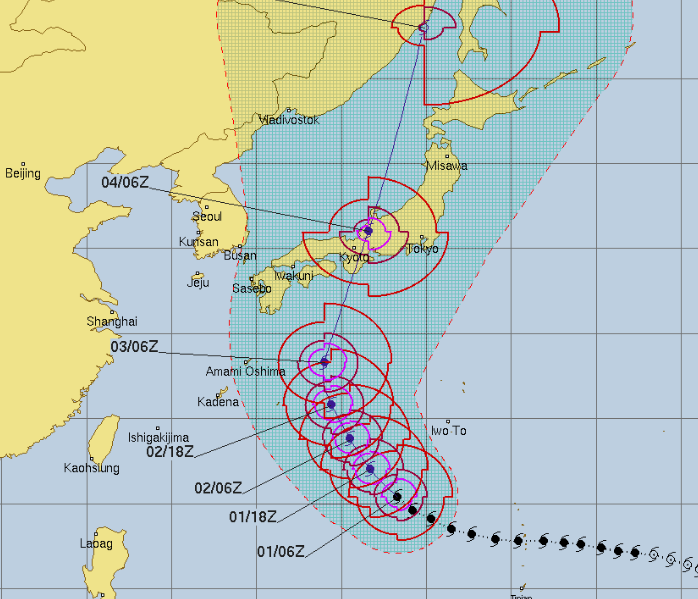 Super Typhoon Jebi, a Category 5 storm that's become the world's most powerful in 2018, is threatening Japan early next week, with threats to major cities Kyoto, Kobe, and Tokyo.
Japan's main island, Honsho, home to the country's largest cities, is at risk for up to a foot of rain from Typhoon Jebi, according to the forecast updates. "Rainfall flooding, high winds, battering waves and coastal flooding are expected as Jebi pushes ashore around Tuesday, local time," according to The Weather Channel.
Typhoon Jebi's path and track update suggests the storm will likely aprroach Japan on Monday or early Tuesday next week, but it won't be at current strength. However, warnings will likely be issued for much of Japan by late this week since Jebi is expected to strike the country at Typhoon strength -- likely category 1 or 2.
The latest forecast update for Jebi suggests that typhoon will approach Japan early Tuesday with winds of around 100 miles per hour, according to The Weather Channel. The storm is currently tracking in a northwest pattern but is expected to turn more to the north, heading straight for Japan -- likely making landfall over Honsho.
"A southward dip of the jet stream approaching from Manchuria will then accelerate Jebi to the northeast beginning Monday, likely putting the typhoon on a collision course with some part of Japan Monday or Tuesday, local time," weather.com reports.
"Jebi, as is virtually always the case, won't be nearly as strong as it currently is by the time it reaches Japan, but it is still expected to be at least of typhoon intensity at landfall Tuesday. It then could sweep north-northeast as far as Hokkaido as a tropical storm into Wednesday."
Jebi currently has winds of 155 miles per hour, weakening a bit from its peak of 175 on Friday. It remains a Super Typhoon, however, and is expected to remain at typhoon strength for days, until it passes over Japan.
The latest Jebi update from Weather Underground: " Jebi rapidly intensified on Thursday local time atop very warm SSTs of around 29°C (84°F) and deep oceanic heat content (see Figure 3 below), with wind shear on the light side (5 – 10 knots) and very healthy outflow at upper levels.
"These conditions will prevail through at least Sunday. The main factor affecting Jebi's strength over the next couple of days will be one or more hard-to-predict eyewall replacement cycles (ERCs), each of which could dent Jebi's intensity slightly for a day or so. One ERC appeared to be already under way on Friday. In addition, Jebi's upper-level outflow may become more constricted by Sunday and Monday."
Super Typhoon Jebi Path, Track Update: When Will Typhoon Hit Japan (Kyoto, Kobe, Tokyo)? | World