Super Typhoon Kong-Rey Could Hit Japan Less Than a Week After Typhoon Trami
Less than a week after Typhoon Trami injured dozens of people, Japan is facing Super Typhoon Kong-Rey, expected to hit the island on Thursday or Friday.
Kong-Rey began as a tropical depression on Saturday and after growing in strength, officially became a typhoon on Sunday at 8 p.m. HKT. Around 8 a.m. on Monday, the Hong Kong Observatory classified it as a severe typhoon. The latest report, issued at 10 p.m., said the storm had sustained winds of 185 kilometers per hour.
After rapidly intensifying over the last few days, Kong-Rey will likely threaten Japan's Ryukyu Islands and possibly Okinawa, Japan, on Thursday or Friday local time, according to The Weather Channel. Kadena Air Base is located in Okinawa, which serves as home base for members of the 18th Wing of the United States Air Force.
"Low vertical wind shear, excellent radial outflow and warm sea surface temperatures are supportive of rapid intensification," the Joint Typhoon Warning Center advised.
The forecast track is still unclear, so those in northern Taiwan, eastern China and Korea were urged to closely monitor the storm as it could hit those areas as well.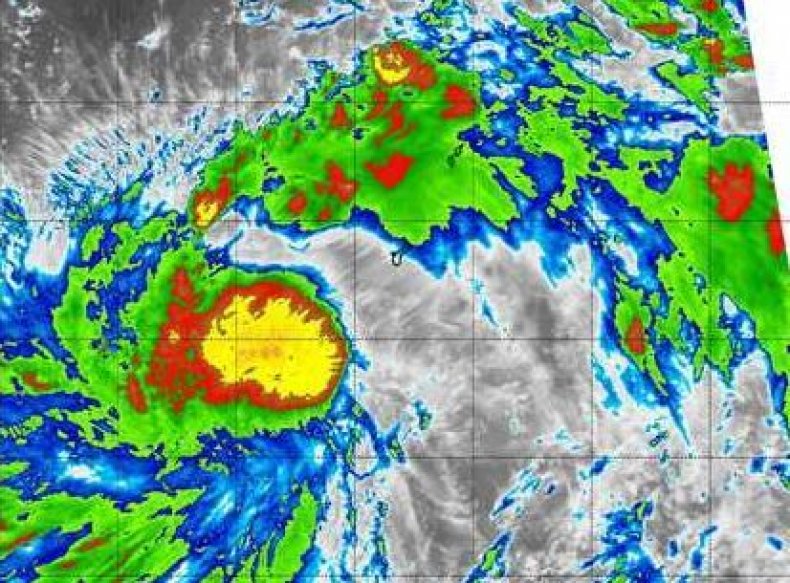 NASA reported on Sunday that Kong-Rey was about 328 miles north of Yap, an island in the Pacific Ocean, and was moving northwest. NASA's Aqua satellite captured an infrared image that showed very cold cloud tops around the center of the typhoon, which indicated "very powerful storms with the potential to generate heavy rainfall."
The Weather Channel noted that although the typhoon was expected to weaken when it approaches land, it could still be a formidable force, especially as Japan recovers from Typhoon Trami.
Trami hit Okinawa on Saturday, injuring at least 18 people. About 600 people were evacuated from the area while some 120,000 homes lost power due to the heavy winds and rain. On Monday, Trami brushed past Tokyo, located on the main island of Japan, and killed at least two people, according to Reuters.
One death was the result of a landslide in Tottori, Japan, according to BBC News, and another person drowned in floodwaters in Yamanashi, Japan. The storm was listed as a Category 1, the lowest on a five-point scale, but caused the cancellation of trains and over 230 flights.
In September, Typhoon Jebi, the strongest typhoon to hit Japan in 25 years, hit the island with a vengeance, causing the deaths of at least 10 people. During the storm, a tanker was ripped from its anchorage and rammed into the only bridge connecting Kansai Airport to the mainland.
Flights were grounded and thousands of passengers were left trapped in the airport overnight. Kyoto, Japan, was drenched with 3.9 inches of rain in one hour and an estimated 20 inches various parts of the island.
Trami was the eighth named storm to strike Japan in 2018, according to AccuWeather, setting Kong-Rey up to become the ninth storm. The record for land-falling typhoons in Japan is 10 and was set in 2004.
Philippine Atmospheric, Geophysical and Astronomical Services Administration announced that Typhoon Kong-Rey entered the Philippine Area of Responsibility on Monday afternoon. It was then given the local nickname "Queenie."