Super Typhoon Mangkhut/Ompong Track, Path Update as Massive Storm Heads Toward Philippines, China
Super Typhoon Mangkhut, also known as super Typhoon Ompong, continued on its westward path on Wednesday, threatening the Philippines and parts of China, the Philippine Atmospheric, Geophysical and Astronomical Services Administration (PAGASA) said. The storm was forecast to pass within 62 miles of Hong Kong on Sunday, the South China Morning Post reported.
Here is the latest information as of Wednesday regarding Mangkhut/Ompong's intensity, path, track and potential effects.
Intensity and Winds
The Global Disaster Alert and Coordinating System warned on Wednesday that the storm was expected to have a high humanitarian impact based on strength, affected population and path. Some 40.8 million people were expected to be affected, the GDACS said. Among the places likely to be affected were Guam, the Philippines, Hong Kong, Macau and Guangdong province.
Mangkhut/Ompong was already as strong as a Category 5 Atlantic hurricane, bringing winds of at least 157 miles per hour. The storm was expected to strengthen in the coming days before likely weakening to a Category 4 by Friday, the GDACS said.
The Philippine Red Cross confirmed it was on high alert in preparation for Manghut/Ompong.
Path/Track
The storm was expected to make landfall on the northern tip of Cagayan in the Philippines on Saturday, PAGASA said. The province of Catanduanes will likely experience peripheral effects within the next 36 hours.
It remained unclear whether the storm would hit Hong Kong straight on, as its path could change in the coming days.
"Its intensity can be reduced if it hits land on either side [of the Luzon Strait between Taiwan and the Philippines]," said Hong Kong Observatory Director Lam Chiu-ying, according to the South China Morning Post. "Since it's still so far away from Hong Kong, its path can easily deviate several hundreds of kilometers from the predicted path. But it could be very close to Hong Kong. It has a large circulation with intense winds, so even if it's not a direct hit, there could still be an impact on Hong Kong."
Even as Mangkhut slows, rainfall will still be a major factor.
"In Taiwan, while there could be locally damaging wind in the south, flooding rainfall will be the main threat across eastern and southern areas," said AccuWeather meteorologist Tony Zartman. "The more populated areas in western and northern Taiwan are not expected to see significant impacts, given our current track."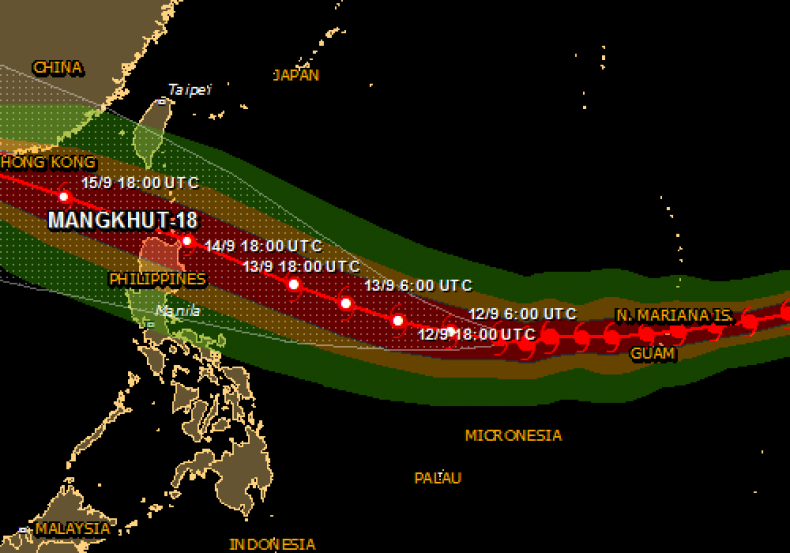 Storm Surge
The maximum storm surge height from the storm was expected to be around 3 feet in Banoa, the Philippines, the GDACS said. Storm surges could also affect parts of China.

Closures
Multiple airports were expected to be affected by the typhoon, including Hong Kong International and Shenzen airport. Ports in China and the Philippines were also likely to be affected.