Super Typhoon Trami Track, Path Update as Japan, Taiwan Brace for Storm
A super typhoon the equivalent of a Category 5 hurricane was making its way toward Japan on Tuesday, forecasts showed. Super Typhoon Trami was headed toward Japan's Ryukyu Islands and was expected to track northwestward through Thursday before moving toward Japan Friday through the weekend.
Trami was located some 565 miles east-southeast of Eluanbi, a cape in Hengchun Township, Pingtung County, Taiwan, on Tuesday morning, according to the Taiwan News. The U.S. Joint Typhoon Warning Center pegged its intensity as "high" but said the storm was "expected to continue a gradual weakening trend" over the next 72 hours.
Trami was packing winds of up to 155 mph on Tuesday, the National Oceanic and Atmospheric Administration said. The southern Ryukyu Islands will likely feel Trami's impacts by Friday and into Saturday night, according to AccuWeather.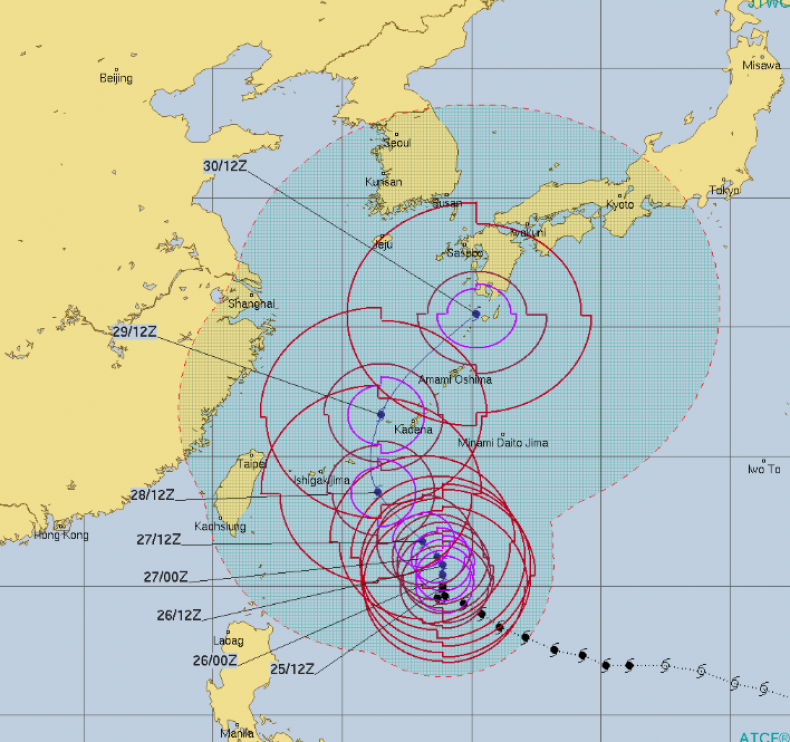 "A sharp turn toward the north and northeast will follow, causing Trami to pass near Okinawa, Amami, Tokara and Osumi over the weekend," AccuWeather's forecast said. "The potential exists for Trami to make landfall in Tokara and Osumi as the storm races northeastward late in the weekend."
Those islands would likely see severe weather from Trami, including "damaging winds" and "torrential rainfall," AccuWeather said. Extended power outages were also possible. AccuWeather said Taiwan would likely "escape the worst of Trami; however, people should remain prepared to take action if the storm tracks farther west." Trami would be closest to Taiwan on September 28 and 29, Taiwan News reported.
Another super typhoon, Mangkhut, swept through the Philippines earlier this month, killing at least 66 people, according to National Geographic. The massive storm, which brought winds of up to 165 mph, triggered deadly landslides and flash flooding. Mangkhut was one of the 10 biggest storms to hit southeast China since 1949, the country's meteorological administration said.