Super Typhoon Yutu Hits Tinian, Saipan as 'Most Intense' Tropical Cyclone Observed Worldwide
Super Typhoon Yutu directly hit the islands of Tinian and Saipan in the Pacific Ocean, a United States territory, on Wednesday as a Category 5 storm.
NASA reported that the storm hit Yutu, an island included in the Northern Mariana Islands, around 1:00 a.m. local time with wind speeds of 178 miles per hour. Also taking the brunt of the storm is the island Saipan, according to the Homeland Security and Emergency Management Agency. Winds were expected to last about two hours and the storm is considered "extremely dangerous."
"For the next 2-3 hours, residents can also anticipate lightning and flash flooding," a press release said. "[Homeland Security and Emergency Management Agency] continues to urge the community to remain indoors and brace for worst conditions lasting until 3AM."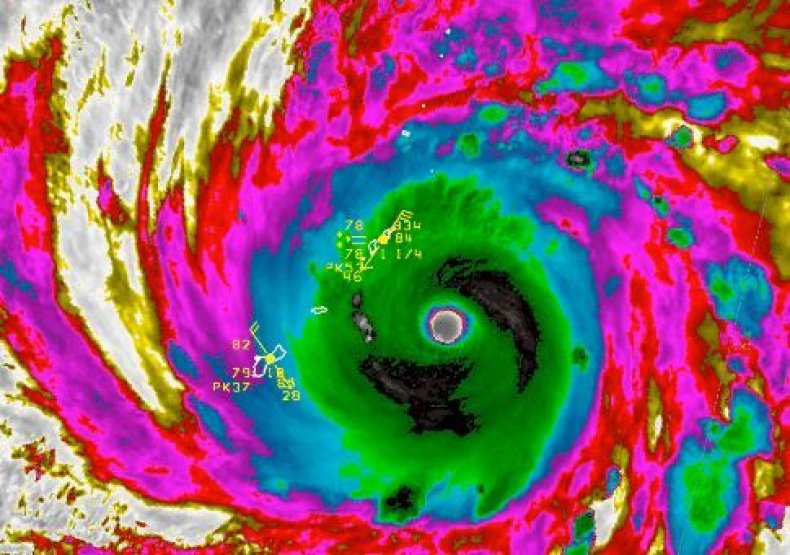 After 3:00 a.m. local time, winds are expected to decrease to tropical storm force at about 60 miles per hour, but could still pose a threat to residents and "should not be taken lightly."
An estimated four to eight inches of rain could hit Tinian and Saipan, causing potential flooding, according to AccuWeather.
The Northern Mariana Islands are a United States territory and Federal Emergency Management Agency (FEMA) strategic planner Michael Lowry tweeted that the storm is "one of the most intense tropical cyclones we've observed worldwide in the modern record."
"This is a historically significant event," Lowry added. "I know we've been saying this a lot lately, but MY GOODNESS Super Typhoon Yutu is as strong as they come. This will be a devastating strike on the U.S. Commonwealth of Saipan."
Multiple lightning strikes occurred within the eyewall of Yutu, according to The Weather Channel, which indicated the tropical cyclone is intensifying.
Impacts from the storm are expected to last through Wednesday afternoon and the National Weather Service (NWS) in Guam issued a typhoon warning for the area. The NWS forecasted that waves would reach 25 feet or higher in the area, exceeding 40 feet in places close to the center of the super typhoon.
In the western North Pacific, a storm is classified as a super typhoon if winds exceed 150 miles per hour. Yutu has wind speeds of 178 miles per hour, making it a Category 5 storm on the Saffir-Simpson Wind Scale.
During a Category 5 storm, a high percentage of framed houses will be destroyed and total roof failure and wall collapse can be expected. Downed trees and power poles will also isolate residential areas and it's possible for power outages to last for weeks or months.
Yutu rapidly strengthened from a tropical depression on Sunday into a super typhoon and AccuWeather reported it could deal a "catastrophic blow" to Tinian and Saipan. Damaging winds could also affect Guam and Rota.