Super Vaccine Effective Against All COVID Variants, Including Omicron, Created by Army
In a few weeks, scientists at the Walter Reed Army Institute of Research (WRAIR) are expected to announce a vaccine that is effective against all SARS and COVID variants, including Omicron.
The vaccine has been in the works for almost two years, Defense One reported, after the army received its first DNA sequencing of the COVID virus in early 2020. The military at an early stage attempted to make a vaccine that would be effective against different variants, the news outlet reported.
Unlike the other products, Walter Reed's is a spike ferritin nanoparticle vaccine, which has a soccer-ball shaped protein with 24 faces, allowing it to attach to the spikes of multiple COVID variants on different faces of the protein.
Dr. Kayvon Modjarrad, director of Walter Reed's infectious diseases branch, told Defense One that the vaccine has had "positive results" at the trial stage.
"Walter Reed's Spike Ferritin Nanoparticle COVID-19 vaccine, or SpFN, completed animal trials earlier this year with positive results," he said.
"Phase 1 of human trials, which tested the vaccine against Omicron and the other variants, wrapped up this month, again with positive results that are undergoing final review."
The recent vaccine development is welcome news against a growing body of early research that suggests that most of the current COVID vaccines offer far less protection against the highly contagious new Omicron variant.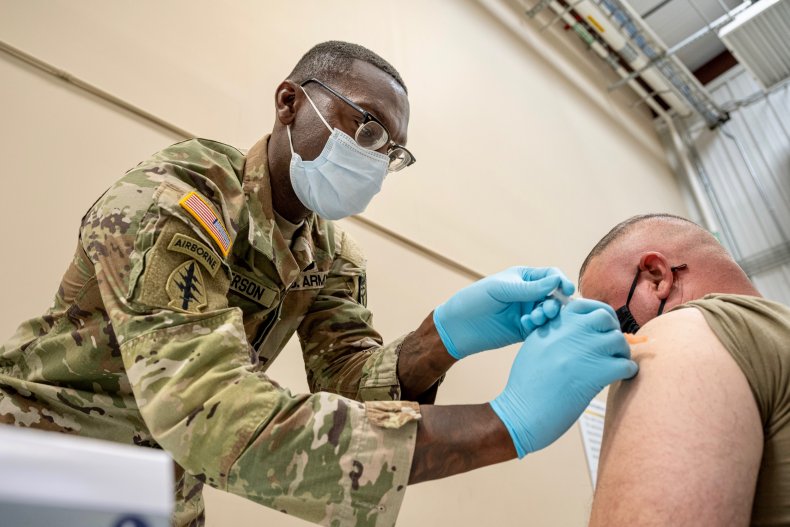 Modjarrad said the vaccine still needs to undergo phase two and three trials.
"We need to evaluate it in the real-world setting and try to understand how does the vaccine perform in much larger numbers of individuals who have already been vaccinated with something else initially...or already been sick," Modjarrad said.
Some research will focus on how the new vaccine interacts with people who were previously vaccinated with a current COVID vaccine, such as the mRNA ones by Pfizer/BionTech and Moderna or the shot by Johnson & Johnson that includes a vector virus.
Looking at the Long Term
WRAIR is working with yet-to-be-named industry partner to help it roll out the vaccine.
"We decided to take a look at the long game rather than just only focusing on the original emergence of SARS, and instead understand that viruses mutate, there will be variants that emerge, future viruses that may emerge in terms of new species. Our platform and approach will equip people to be prepared for that," Modjarrad added.
Newsweek has contacted Modjarrad for comment.
Last week, over 100 U.S. Marines were discharged for refusing to get COVID vaccines.
The Pentagon said earlier this year that the coronavirus vaccine was mandatory for all service members, including the National Guard and Reserve. Defense Secretary Lloyd Austin has said repeatedly that getting inoculated is critical to maintaining a healthy, ready force that can be prepared to defend the country. The Pentagon is also considering making the vaccine booster shots mandatory for service members.