Why Three-Time Super Bowl Champion Joe Andruzzi Needed to Finish His College Degree After 20 Years
In the basement of former New England Patriots lineman Joe Andruzzi's Massachusetts home is his sports memorabilia, including three Super Bowl rings. More than 20 years after he left school to join the NFL, he'll add proof of his academic success to the room with his college diploma.
On Monday, Andruzzi, flanked by his wife and children, received his degree from Southern Connecticut State University. A goal that the 43-year-old began working toward in 1993, it ranked "right up there with Super Bowl championships."
"I always told my grandmother when she was alive and my parents that I didn't just go to college for football and I truly didn't. For me, football was an added bonus," Andruzzi told Newsweek. "I went to college to become a teacher, I studied special education because I found it to be one of the most rewarding things that a person could do."
Now a three-time Super Bowl champion, back in college he wasn't highly recruited and received no money to play football. It wasn't until his junior and senior year that his ability took off, which he credited to possibly being a "late bloomer." Only two classes shy of graduation, he had the opportunity to play football professionally and he took it.
"My parents understood that you don't get many opportunities in life and you sure as hell don't get many opportunities in the NFL. I think they realized it was a one-shot deal and I always said I could always go back and finish my degree. I can't always go back and play football," Andruzzi explained.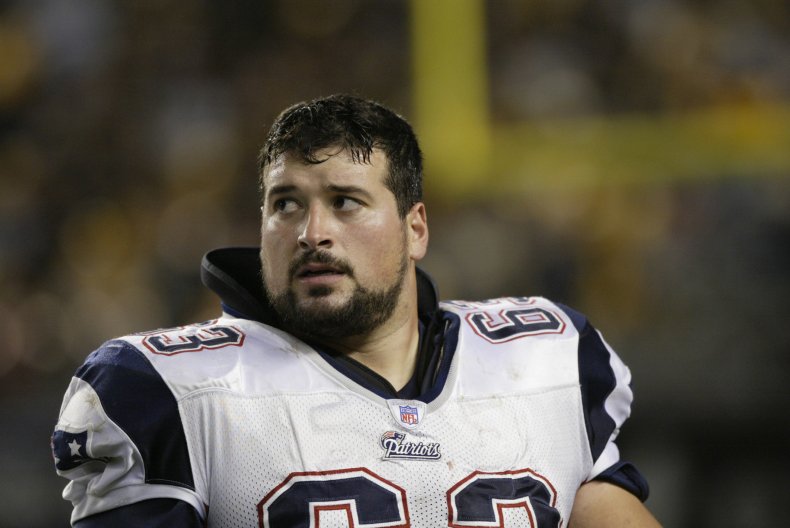 After three years with the Green Bay Packers, Andruzzi joined the New England Patriots in 2000, where he played for four years before moving to the Cleveland Browns. While preparing for his 11th NFL season, Andruzzi was diagnosed with non-Hodgkin's Burkitt's lymphoma, an aggressive form of cancer that can double in size in just 24 hours.
Relocating back to Massachusetts, Andruzzi, who, at the time, had young kids with his wife, Jen, spent more than 50 days in the hospital battling cancer. He defeated the disease and remains cancer-free, although the diagnosis meant an end to his football career.
Coming from a "loudmouth, New York, Italian family," his home growing up was filled with love and the wisdom that nothing in life would just be handed to him. His father, a New York City police officer, worked multiple jobs and his mother worked, as well, to feed a family of four boys. At the age of 10, Andruzzi started delivering newspapers to earn a few extra dollars.
At the core of Andruzzi's success is his strong work ethic. Just listening to his schedule is enough to make a person need a nap and over the years, he's immersed himself in helping others.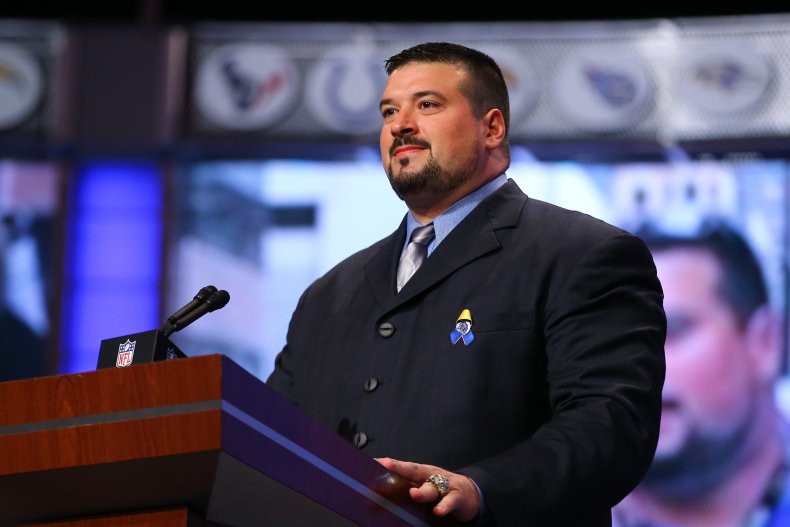 He worked with the Boston Muscular Dystrophy Association and he and Jen organized a trip for 200 inner-city kids to get toys the week before Christmas at Gillette Stadium, where the Patriots play. In 2003, he was the first recipient of the New England Patriots Ron Burton Community Service Award.
In 2008, Andruzzi and Jen created the Joe Andruzzi Foundation, which provides financial assistance to cancer patients and their families in the New England area. Money that's designed to help with household expenses, in March, the foundation wrote its 10,000th check.
"There's only so much time we have on this earth and we have to use it wisely," Andruzzi said. "To get a great big hug from a stranger with tears in their eyes gives me chills. It's amazing to be a part of and it's amazing to do what we do and we wouldn't be able to do it without all of our supporters."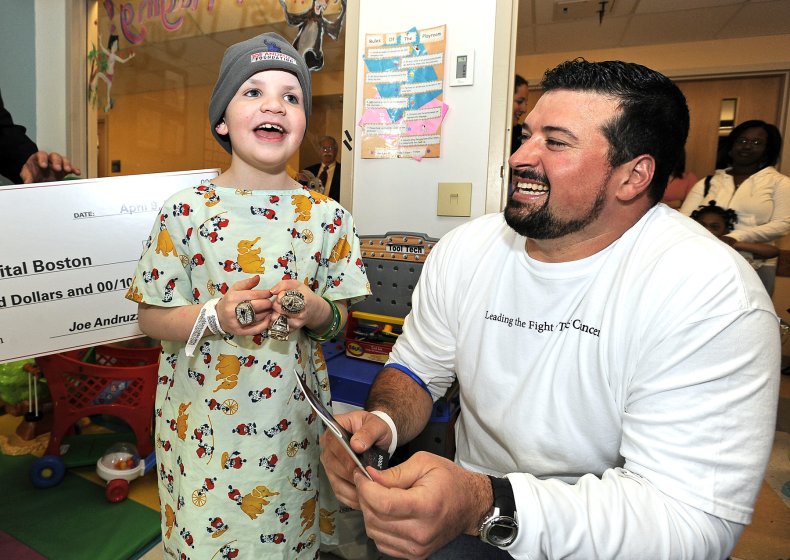 The "black sheep" of his family, Andruzzi's three brothers­–Billy Jr., Jimmy and Marc–all became firefighters in New York City. On September 11, 2001, Jimmy was in the North Tower and it was hours before Andruzzi knew his whole family was safe.
In the years since, he's been extremely involved in 9/11 fundraising efforts and on April 15, 2013, found himself at the center of another terrorist attack. When the bombs went off at the Boston Marathon, Andruzzi and his wife were near the finish line and the former Patriots player helped carry a woman to safety.
Professional football, cancer and five kids admittedly derailed his education for a bit, but after spending four years of his life on it back in the early '90s, Andruzzi never lost sight of his degree. It's his way of showing his kids and everyone else that while you might never reach all of your goals, you can accomplish some of them.
"My diploma was always on my goal list and I was able to cross that goal off my list yesterday," Andruzzi said. "That's something that I'll cherish along with all the other accomplishments I've received over the years."