Superchunk's Super Indie Cred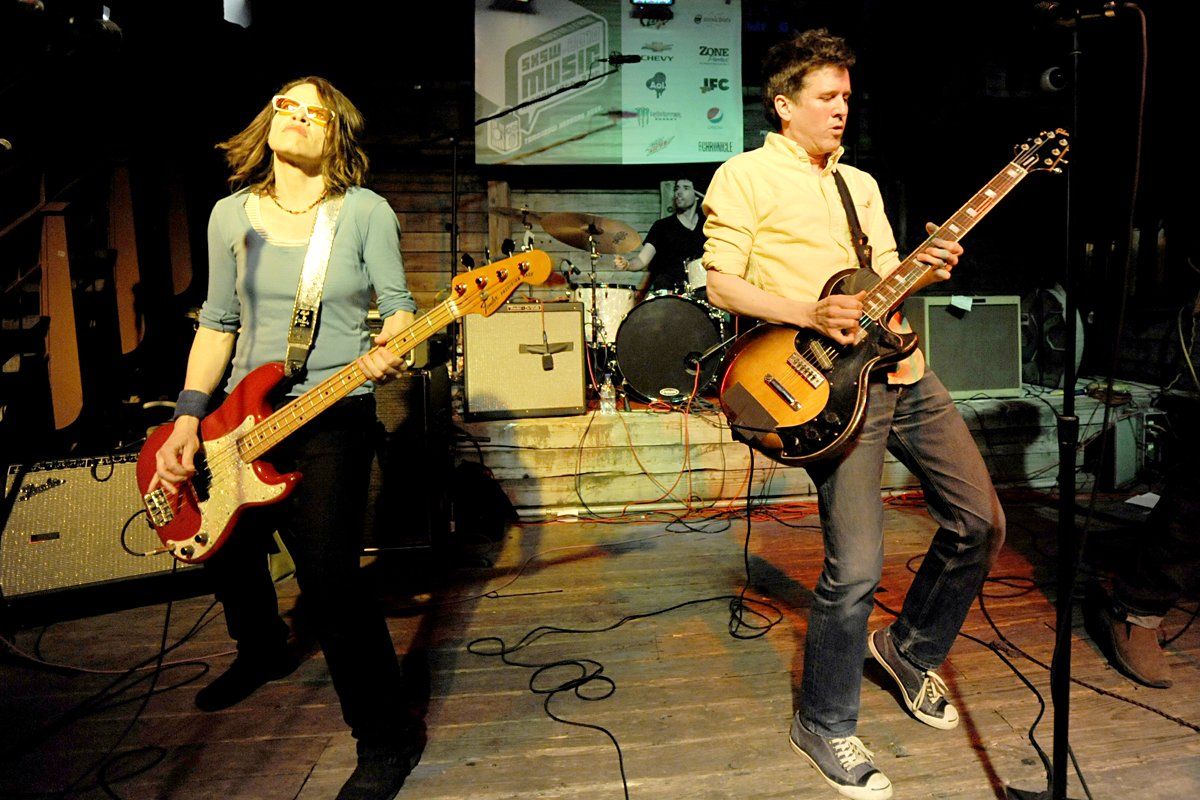 Last month, Arcade Fire's The Suburbs handed 21-year-old Merge Records its first No. 1 album on the Billboard 200. This was the cause of some high-fiving on the network of indie rock-centric blogs and Web sites, though it wasn't the first time this year that one of the label's releases made the top 10. (Volume Two, from the band She & Him, bowed at No. 6 in March. And indie acts on other labels, such as Vampire Weekend, have also staged sneak attacks on the upper reaches of Billboard's album chart this year.)
These marketplace conditions are driven by two complementary realities. First, when CD sales are down radically across genres, superstars don't automatically loom over the upstarts like they used to. But perhaps more important, indie music doesn't always sound so narrowly indie anymore. The references called to mind by an Arcade Fire song are more likely to be stadium-filling names like Springsteen or Neil Young than anything particularly underground. Thus, it's not terribly difficult to figure out how an album such as The Suburbs crossed over.
Which is why the latest release from Merge Records is such a tonic. The two members of Superchunk who founded Merge in order to put out their own music haven't recorded a full-length album since 2001, but their triumphal return isn't just an offering made on behalf of their own talents. Majesty Shredding is also a rallying cry for the non-grunge side of '90s-era indie rock—the trebly-but-catchy postpunk that never had a shot at a No. 1 Billboard debut, and seemed not to care a whit.
The video for the album's opening single, "Digging for Something," reestablishes Superchunk's proto-indie credentials by telling a fictional narrative about its reunion that also cheekily advertises an indifference to the genre's latest fashions. When leaflets advertising a "reformed" Superchunk (featuring "one original member," in singer and guitarist Mac McCaughan) are intercepted by the other members of the band, they each leave their adult pursuits (dentistry, artisan, yogi) to ambush the unschooled kids playing with McCaughan. Outfitted in American Apparel neon headbands and easily distracted by Hall & Oates vinyl (a recent hipster fetish), McCaughan's young'uns are either led off the stage (or playfully asphyxiated, via that telltale headband), allowing the original members to join McCaughan in playing the song. At the end, with the band fully reconstituted, McCaughan rips off the stylish keffiyeh that's been draped around his neck and tosses it on the ground. Though it's all done with an affectionate wink, you'd still be hard-pressed to conceive of a clearer kiss-off to the aesthetic consensus that surrounds indie in 2010.
So, despite the fact that the group's label can handle big sales campaigns, Superchunk still doesn't have a shot at that No. 1 debut—and that's still a beautiful thing. After the band's 2001 album, Here's to Shutting Up, labored a bit much to evince maturity via keyboards, country meters, and (gasp!) strings, Majesty Shredding appears to share much with the group's brisk, unassailable first three records from the early '90s (all of which have just been remastered and rereleased on Merge). But what at first looks like a staged retreat actually winds up asserting itself as a band's lived-in, late-style maturity. Instead of straining to deploy a viola line, the band can now gracefully thread one in between the shouty vocals and distorted guitar of "Fractures in Plaster."
There are half a dozen other songs on Majesty Shredding competing with "Plaster" for top honors—including the faultless, four-song sequence that opens the album—but "Plaster" is the one that reveals a band that has made the best possible use of its time in the wilderness. Having tried out every conceivable color that works from its collective palette, and even stumbled across a few that weren't so lovely, Superchunk is now able to experiment without making a big deal over how to mix the paints—a development every bit as compelling as the mashing of arena rock into indie rock's template.