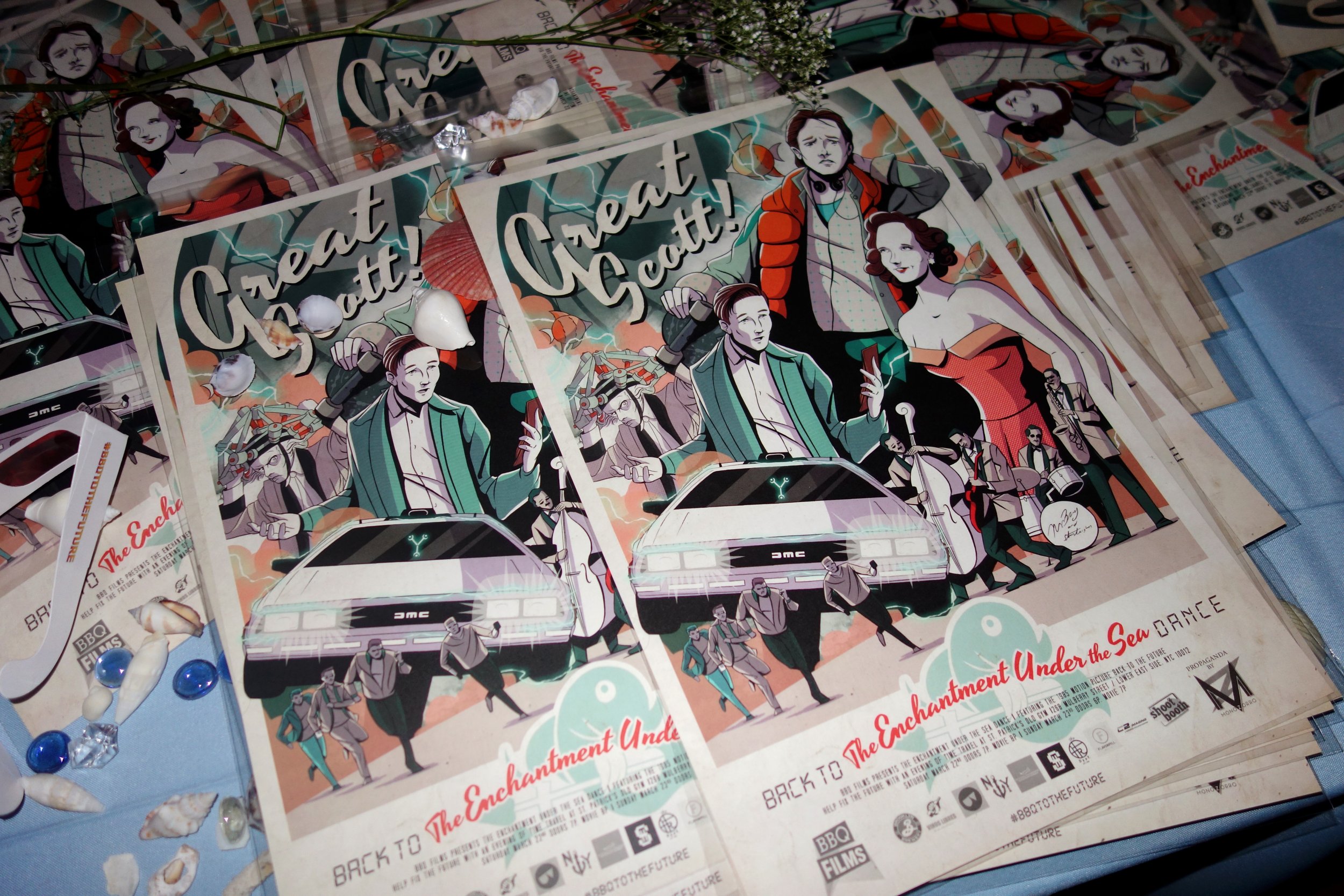 So here's what a rip in the space-time continuum looks like on a Saturday night in 2014.
Several hundred film nerds stand eagerly outside a grungy youth center in Manhattan's Nolita neighborhood. They are outfitted in campy '50s attire—poodle skirts and bow ties and greased back hair—but the music blaring from a boom box being hoisted from a modified DeLorean is metallic '80s techno, and all the texting and Snapchatting has already disturbed the mood anyway. Someone is shrieking "Save the clocktower!" up and down Mulberry Street, and someone else keeps shouting "Great Scott!" and when you catch sight of him he looks mostly as you expected him to look. He is Dr. Emmett Brown, all cloudy white hair and perturbed expressions.
This was "Back to the Enchantment Under the Sea," a screening of Back to the Future that doubled as a glittering re-enactment of that film's climactic high school dance, reimagined as a prom. It was the latest—and biggest—event by BBQ Films, a small company that constructs "immersive cinematic experiences in extraordinary locations."
This one sold out in minutes.
And on Saturday, as I shuffled through a flashy makeshift Flux Capacitor and into St. Patrick's Gymnasium, it was clear who had purchased them: Back to the Future superfans, suited up as Marty McFly or Doc Brown, armed with corsages and ready to strike a prom pose with military swiftness.
They were well-matched to the eerily rendered scene at hand. Ocean waves hugged the walls, and bubbles fluttered about the room. A modest dance floor beckoned in front of rows of seating. A small ensemble mixed oldies with doo-wop renditions of Miley Cyrus and Kesha. A flustered George McFly darted through the room asking if anyone had seen Lorraine. There was also a Marty McFly lookalike, who stepped out of costume long enough to tell me that he writes music for Vanilla Ice. This was a dream floated down from some pop culture wonderland, and if the props were cheap and campy—well, have you been to a high school dance?
I wondered if I should have compensated for my inadequate costuming by bringing my mom as a date. I also wondered why BBQ Films had not waited until 2015, the setting of the sequel, to strike.
"The idea is to capture something just before it's supposed to hit the public imagination again, when it's just about to crest," Gabriel Rhoads, the company's co-founder and owner, told me. "When we did 'Party at the Moon Tower,' which was for Dazed and Confused, we did it 17 years after it was released because the movie was made about going to high school 17 years before then."
But not all films work. A screening of Sid and Nancy, the 1986 Sid Vicious biopic, was too bleak to inspire much audience interaction.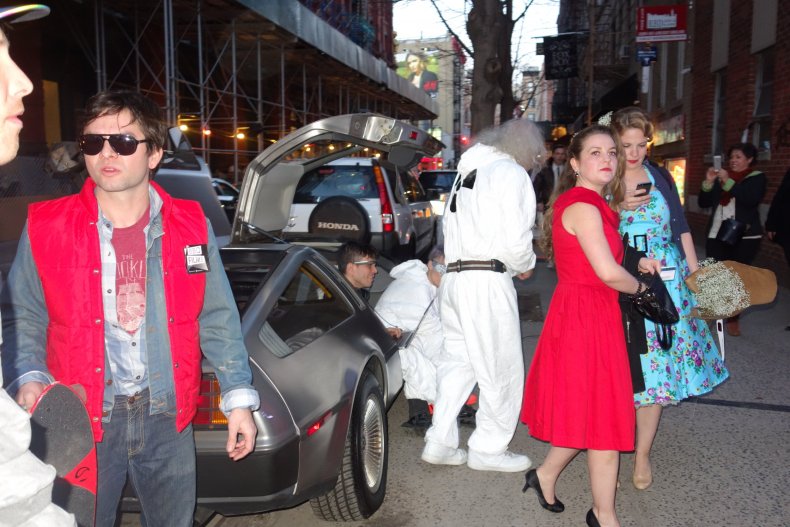 "It's a certain type of movie," Rhoads said. "It has to have some kind of great pro-social cue—a way to dress, way to act, way to behave."
In other words, Back to the Future, with its dusty high school tropes flipped on their head and shuffled through time, was perfect.
* * *
It is difficult to interview anybody at an event like "Back to the Enchantment Under the Sea Dance" because anybody who is anybody will invariably remain in character, and if they don't, they can hardly be worth interviewing, can they?
I did meet Kristina Lucarelli, a journalist whose Twitter bio, I would later notice, identifies her as a "professional back to the future stan." She was not on assignment. "I'm here as a civilian," she told me, flashing a pocket-sized "OUTATIME" license plate. Then she showed me a selfie Christopher Lloyd had sent her just for this occasion. He's a family friend of a co-worker, she explained. He looked wizened and distant, resembling Doc Brown far less than the Doc Brown imposters cycling through the gym.
Matt Klopfer, a commercial analyst at GE Capital, said it was his fourth BBQ Films event. His first was Gremlins, where he had gone to meet an OkCupid date in person for the first time. That relationship ended, but his fling with BBQ Films didn't—he'd brought a new girlfriend to "Enchantment Under the Sea."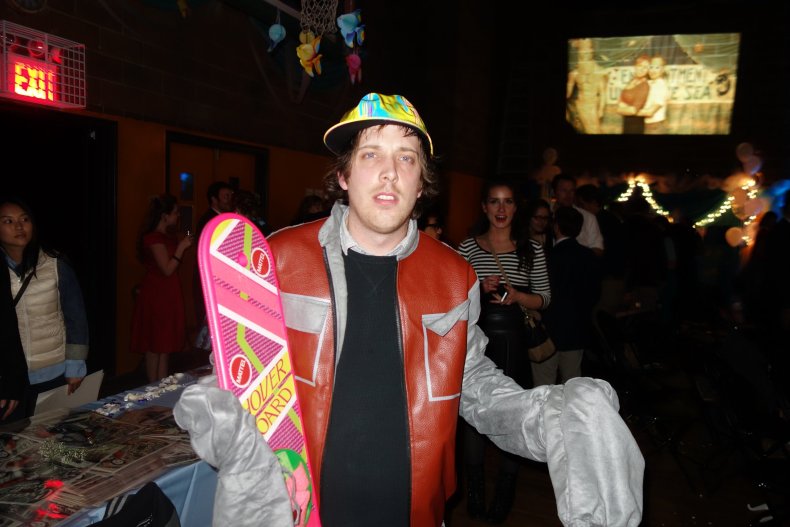 "This one goes above and beyond," he told me, outfitted in suspenders and wiry glasses that seemed caught halfway between the '50s and today. "You see a movie, but you get into a whole culture as well."
Our chat was interrupted when a stern gentleman in a bald cap—old-man Biff? No, no, it was Principal Strickland, I quickly realized—yanked me by the collar and led me and several others upstairs to a musty principal's office. I thought maybe I was being taken to a private press room. Instead, he scolded us for several minutes ("You're all slackers!") and handed out detention slips. By the time we were freed, the prom hall had been repurposed into a movie theater. Guests were seated, awaiting the feature.
I expected to be bored, squirming through a movie I have seen a dozen or more times, but I wasn't. This audience was set alight by every familiar cue—every slug to Biff's face, every "Great Scott!"—and I, in turn, was intoxicated by the crowd's palpable thrill. The dance scene was a trip, an indelible pop culture vision reflected back onto a scrappy imitation of itself. It was sort of like gathering a few dozen Labrador retrievers, painting black spots onto their fur and having them watch 101 Dalmatians.
But the film had been remixed, stuttering and interrupting itself so the organizers could bring a prom court live to the stage. George and Lorraine were on hand to lead the slow dance. Things halted again so that the real band, aided by a Marty McFly stand-in who proved to be a more skillful actor than guitarist, could re-create "Johnny B. Goode."
Those intrusions turned out to be superfluous. The movie was enough, and though we had all probably seen it enough for several lifetimes, we laughed and gasped as if it were the mid-'80s and it had just arrived on celluloid.
So there we were, stragglers from 2014 all suited up for 1955, and yet seeing Back to the Future as if we'd crash-landed in 1985. That's another rip in the space-time continuum.