Superman Goes Primal, Wonder Woman Gets Chainsaw of Truth In DC Alternate Universe Story
Dark Nights: Metal is getting a 2020 sequel and will feature new designs for DC's most iconic heroes.
Superman and Wonder Woman have both gotten the "metal" treatment in new teases released by DC Comics as the publication prepares for one of their biggest stories of the year.
Dark Nights: Metal was one of the most successful Elseworld stories for DC Comics. Throughout the latter half of 2017 and beginning of 2018, Dark Nights: Metal brought alternate universe versions of famous heroes and villains to readers. Since ending in 2018, the series had several implications for the wider DC universe. The series introduced the Batman Who Laughs, an alternate universe hybrid of Batman and Joker, who has since made several appearances.
A sequel to the series has been in development with the same creative leads in Scott Snyder and Greg Capullo. Snyder shared a look at Wonder Woman featuring what the writer has dubbed the "chainsaw of truth."
On Monday, DC Comics teased a look at a new metal version of the Man of Steel himself, Superman. Whereas Metal fans are familiar with various designs for the Dark Knight, the reveal of Wonder Woman and Superman adds a new dimension to the DC Metal universe. Each character is given the full metal treatment, with over-the-top weapons, designs and rock-star style poster teases.
Superman's redesign features a battered down, primal version of the hero. With most of his suit in shreds as his red cape wraps around his fist, this Superman perfectly fits Snyder and Capullo's world. The hero's left arm is deformed, looking like a mix between Superman villains Doomsday and Bizzaro.
Like chainsaw-wielding Wonder Woman and scythe-wielding Batman, this primal Superman looks to be a warrior who is ready for battle or been through a few too many.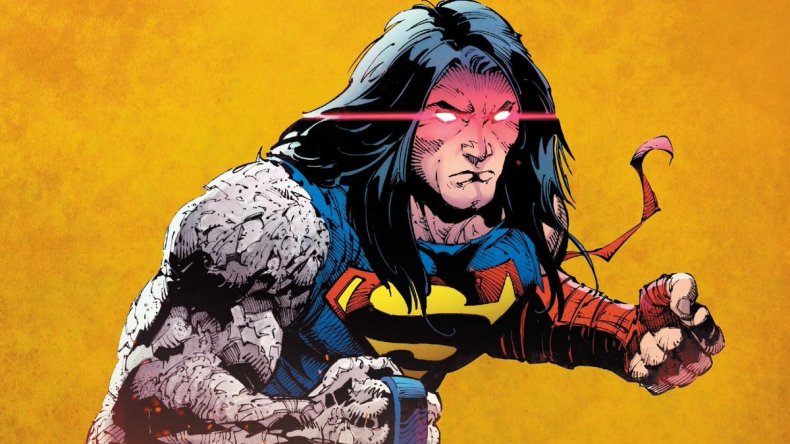 DC Comics has teased the Dark Nights: Metal sequel with the tag "Mayhem is imminent" and "Get Ready for the Encore" as Snyder and Capullo team-up once more to give DC fans a hardcore-rendition of their favorite characters.
Snyder hyped-up the project on Twitter, saying, "We just needed a bigger stage to make a final all-encompassing saga that links many DC stories, past & present, in the biggest showdown possible."