'Superman & Lois' Season 2: Will There Be Another Season of The CW Show?
Superman & Lois season one is coming to an end on August 17.
The CW show focuses on its eponymous Man of Steel, played by Tyler Hoechlin, and his wife Lois Lane (Elizabeth Tulloch) and their lives as they return to Smallville with their twin sons Jonathan (Jordan Elsass) and Jordan (Alexander Garfin).
Clark Kent's return to his hometown is less than easy, though, as he must deal with a number of villainous beings including The Stranger and Morgan Edge.
The good news is the series was given an early renewal by The CW, who announced in March that it would be back for a second season.
Superman & Lois was renewed just a week after its first episode debuted, and it marks one of the fastest to happen on The CW.
At the time, Mark Pedowitz, chairman and CEO of The CW Network, announced the news in a statement revealed by Deadline.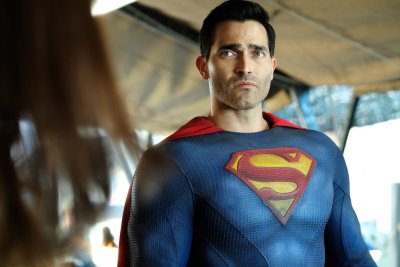 He said: "The phenomenal multiplatform debut of Superman & Lois, which delivered for us in a big way on both a linear and streaming basis, is a testament to the creativity, hard work and dedication of the talented people who worked tirelessly in front of and behind the camera, especially in this challenging environment.
"We are thrilled to now have two brand-new bonafide hits in Superman and Walker, both of which have been renewed for next season along with 11 other of our shows, further positioning us for continued strength and stability for next season."
Superman & Lois had the best primetime premiere The CW has had since January 29, 2019, according to Nielsen as reported by Deadline, and it also had the best day-one streaming performance of a new series on the channel.
The show's first season was split into two, with episodes one to five airing from February 23 to March 23, and episodes six to 15 being released from May 18.
Season 6 of Supergirl aired its first seven episodes in the timeslot that was left open by Superman & Lois, and it will return from Tuesday, August 24.
Hoechlin and Tulloch first appeared as their characters in Supergirl, which Superman & Lois is a spin-off of, with the former making his debut in season two of The CW show.
As well as its two leads, Elsass and Grafin, the series stars Erik Valdez in the role of Kyle Cushing, Inde Navarrette as Sarah Cushing, and Wolé Parks portrays The Stranger.
Other cast members include Adam Rayner as Morgan Edge, while Dylan Walsh portrays General Samuel Lane and Emmanuelle Chriqui plays Lana Lang Cushing.
The finale of Superman & Lois season one airs on The CW on August 17.