Clark Kent and Lois Lane continue to get to grips with parenthood in the second season of Superman & Lois.
The DC Comics TV show, which follows the lives of Clark and Lois as they return to Smallville, was a hit when it debuted in 2021 on The CW and was renewed for Season 2 right after the first episode aired.
Tyler Hoechlin is the latest actor to take on the role of the Man of Steel, aka Superman, aka Clark Kent, aka Kal-El, while Elizabeth Tulloch plays his human wife and world-renowned journalist Lois Lane.
With new episodes starting soon, here's everything you need to know about Season 2 of the superhero drama Superman & Lois.
What Time Does 'Superman & Lois' Air?
Superman & Lois returns to The CW on Tuesday January 11, 2022. Once again, new episodes will air weekly on Tuesday nights.
The premiere episode of Superman & Lois, "What Lies Beneath" will air at 8/7c on The CW.
If you miss the latest episode on television, you can stream it for free the next day only on The CW app.
How Many Episodes of 'Superman & Lois' Season 2?
As of yet, The CW, DC Entertainment and Warner Bros. have not confirmed exactly how many episodes of Superman & Lois there will be in Season 2.
Season 1 of Superman & Lois contained 15 episodes, running from February to August (with a month-long break in April).
If Season 2 was to contain a similar episode count, Superman & Lois would run from January to April with no breaks in weekly episodes.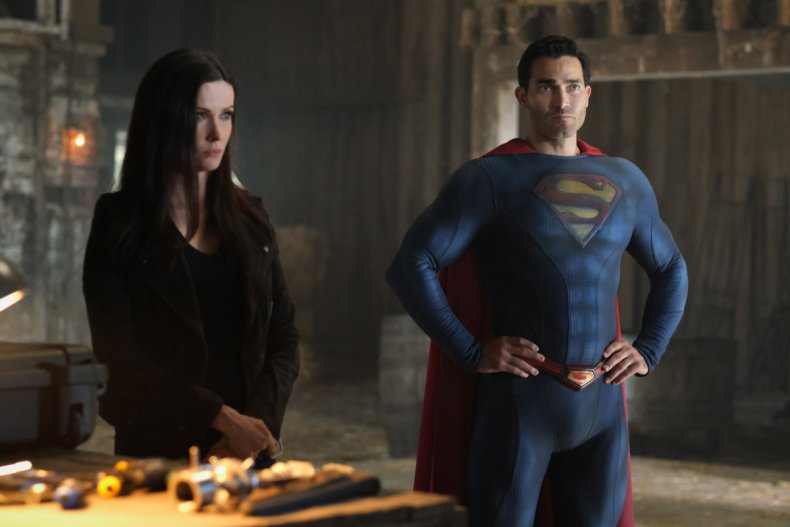 New Additions for Season 2
Hoechlin and Tulloch are definitely returning for Season 2, and Jordan Elsass and Alex Garfin, who play the Kent sons are also back.
Many of the other characters seen in Season 1 will return, including Tayler Buck as Natalie Irons, who has been promoted to a series regular. Ian Bohen will also join the cast as Lt. Mitch Anderson in Season 2.
Jenna Dewan (Step Up) is reprising her role as Lucy Lane and joining Season 2 of Superman & Lois. Dewan played Lucy across 13 episodes of the series Supergirl in 2015. Lucy's involvement suggests there could be more crossovers to follow and the character Supergirl may join too.
Other DC shows on The CW
Superman & Lois is the latest in a long line of DC Comics-based television shows appearing on The CW network.
They're all part of the Arrowverse, which started with the TV series Arrow. There are currently four ongoing shows on The CW that are part of this comic book universe: The Flash, Legends of Tomorrow, Batwoman, and Superman & Lois.
Other shows that have been and gone from the universe include Arrow, Supergirl and Black Lightning.
Superman & Lois episodes air on Tuesday nights at 8/7c on The CW.