Supermarket Customer 'in Tears' After Finding Feces Left By Alleged 'Pizza Roll Pooper'
A disturbing recent incident at an Oklahoma grocery store left one woman's hand covered in human feces—and, in a conversation with Newsweek, she has now revealed that the supermarket's owner "will not return any of [her] calls."
On Sunday, Shirley Wright-Johnson was shopping with her daughters at Crest Foods in Moore, Oklahoma. According to KFOR, Wright-Johnson was grabbing a bag of frozen pizza rolls when she felt something "smushy."
"I grabbed the bag, I felt something smushy on the bag, so I turned it over and there it was," she told the news outlet. "I was upset, I was disgusted, I feel like I was violated."
She added that she "was so disgusted [she] was almost in tears."
Wright-Johnson recorded a video of the scene's immediate aftermath, which she then shared on Facebook. In the clip, viewers can clearly see a large quantity of a brown substance sitting atop a bag of pizza rolls.
"There's literally s**t," she said. "Human s**t."
The video has gone somewhat viral, reaching 25,000 viewers since it was posted Sunday.
According to KFOR, police later confirmed that the feces were, indeed, of human origin. The perpetrator had reportedly covered the excrement with another bag of pizza rolls—the one Wright-Johnson eventually grabbed—to hide it from sight.
Lieutenant Kyle Johnson of the Moore Police Department told KFOR that this particular case is "kind of out there."
"It's a little bit disturbing...We don't see this much," said Johnson, adding that the suspect was also seen allegedly taking photos of female customers while inside the store.
The man—who has been referred to as the "Pizza Roll Pooper" in various media reports—proceeded to then defecate in one of the store's coolers. Having been caught on surveillance footage, the suspect is now in police custody, reported the Moore Police Department on Facebook.
In their update, they noted that "the person of interest...was identified, located, apprehended and was booked into the Cleveland County Detention Center on unrelated charges."
Immediately following the incident, Wright-Johnson reported the feces to store employees—and cleaned her hand thoroughly. "I bleached my hand, I disinfected my hand," she explained to KFOR. "All the way home [my kids] still were like, 'Mom, I can smell it, I can smell it.' I'm like, 'I smell it too, baby.'"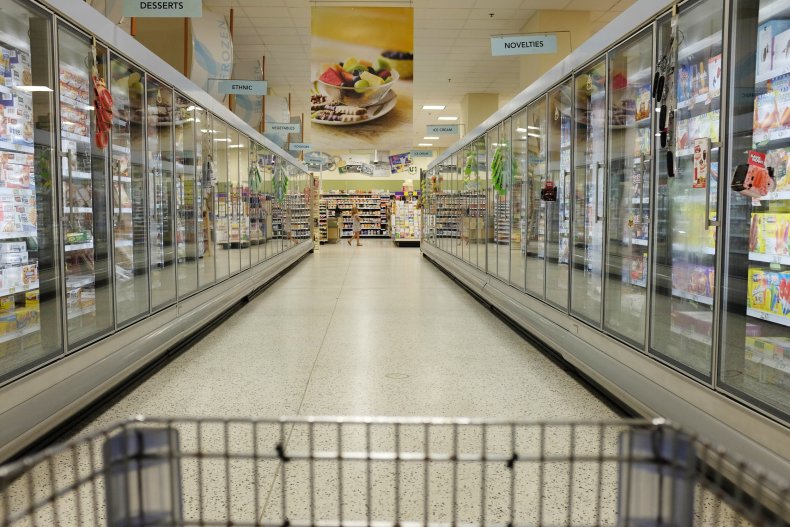 Days later, Wright-Johnson told Newsweek that she is still "upset," "disgusted," and "angry" about the incident. "I believe Crest should [pay] to get my blood work done," she said, adding that she's concerned she may have contracted something from touching the stranger's feces.
"They [apologized] and offered me steak," she said, of Crest's management. "The owner...will not return any of my calls."
However, she is "happy [the suspect] is off the streets."
Newsweek has reached out to Crest Foods and the Moore Police Department for additional comment.