'Supernatural': Did the Show Really Film An Alternate Cas Death Scene?
Supernatural may have ended, but the controversy around it definitely has not. Particularly, a scene in which Castiel (played by Misha Collins) finally declared his love to Dean (Jensen Ackles) has been hit with criticisms that it was censored in the U.S.
A bit of background (spoilers ahead): In Supernatural Season 15, Episode 18, titled "Despair," Cas sacrificed himself to save Dean, ending his final monologue by saying "I love you." To which Dean replies, "don't do this, Cas."
Or, at least, that is what he said in the English-language version of the scene. In the Spanish dub, Dean's response changes to, "and I, you, Cas." This led fans (who have clearly not seen any of the other CW shows with strong LGBTQ+ representation) to take the leap that the dub was actually the original scene, and that the American version had been changed for some nefarious reason.
There was also another strand of controversy around the scene. Many queer fans found themselves disappointed that the character could only declare his love as he was dying. Some viewers saw this as part of the "bury your gays" TV trope, in which characters who express LGBTQ+ desires are much more likely to be killed off than their heterosexual counterparts.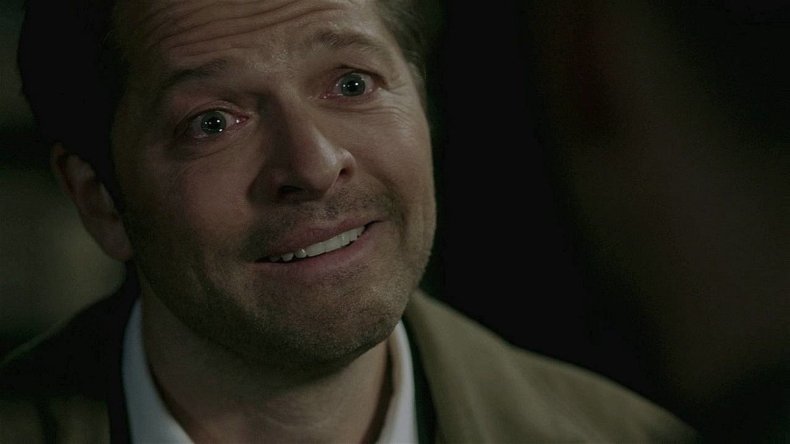 Speaking of the Spanish dub, Misha Collins said it was the fault of a "rogue translator" and that English-speaking fans got to see the scene as it was meant to be played out.
That should have been the end of the things, but as is often the cast when straight men wade into LGBTQ+-adjacent issues, Collins made everything worse with his video about the controversy.
Particularly, fans were not pleased that he essentially criticized them for caring about this possible censorship, saying he was a "little irked" by fan's focus on the scene.
He added: "I love you all, and I love your passion, and I wish we could just take a moment to celebrate the good of this show. I'm sad it's gone. It was 15 years of the forces of good triumphing over the forces of evil. Was it perfect? No. But I think the world is better off because of it. And I'm sticking to my guns."
In the video, he also seemed to brush off the comments of those displeased that Supernatural only had Cas express his love while dying. He said: "I feel proud of the ending of Supernatural. I feel like it was intentionally inclusive and a celebration of someone expressing their truth and having good things come of it.
"Castiel is not a character that plays into any insidious trope of exclusion in Hollywood. [His declaration was] done of his own volition with full knowledge of the consequences of those actions. He went on to rebuild Heaven and his action literally saved the world... And if that's not something to celebrate, I don't know what is."
This lead to a series of apologies from the actor. He tweeted: "I naively thought Cas in 15.18 was going to feel validating. But this isn't about me. I'm going to shut up and listen for a change. If it's not too much to ask, please tell me what we could have done better."
He then added: "I see lots of comments about how tone-deaf my video is. I agree and I feel sick. I want to delete it, but I think that will erase all of your important comments & I feel like I should own my ignorance. I've been wrestling with this all night & day. Don't know what to do. Sorry."
Supernatural Seasons 1 to 15 are streaming now on Netflix.