'Supernatural' Season 15: All You Need to Know About the Final Episodes
Supernatural may have run for a staggering 327 episodes, but the series is nearly over. Season 15 has just seven episodes left, which will be the final episodes of The CW show. These episodes were delayed by the coronavirus-related production shutdown but now have an October release date. The show's creators have hinted at how the adventures of Sam (played by Jared Padalecki) and Dean Winchester (Jenson Ackles), including a number of juicy details about the returning cast members and plot details.
When are the last episodes of Supernatural Season 15 out?
The season will return with Season 15, Episode 14, which will premiere on Thursday, October 8 at 9 p.m. ET / 8 p.m CT. There are seven episodes left, which are airing on The CW on the following dates in that time slot:
Episode 14, "Last Holiday": October 8
Episode 15, "Gimme Shelter": October 15
Episode 16, "Drag Me Away (From You)": October 22
Episode 17, "Unity": October 29
Episode 18, "Despair": November 5
Episode 19, "Inherit the Earth": November 12
Episode 20, "Carry On": November 19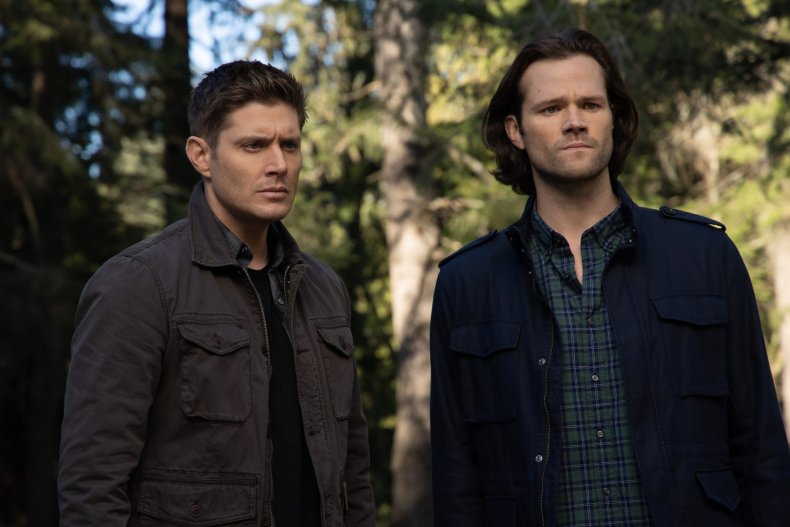 How to watch online
Though The CW does not have a live stream of the channel on its website and app, there are a number of ways to stream episodes of Supernatural live for free as they air on the network. Hulu Live TV, Fubo TV, YouTube TV and AT&T TV Now all have CW live streams, and offer free trials for new subscribers, allowing users to watch the Winchester's latest adventures live.
The CW website and app, meanwhile, allow users to catch up on an episode of Supernatural Season 15 shortly after it airs, with the last five episodes of the show also available to watch.
All episodes of the show so far are streaming in the U.S. on Netflix, DirecTV and Sling. The final episodes are expected to come to Netflix, meanwhile, eight days after the series finale airs, meaning that the show's final installments will be streaming there on Friday, November 27.
Who is in the cast of Supernatural Season 15?
Fans expecting a major reunion in the series finale are likely to be disappointed, as it seems that the coronavirus prevented them from doing so. Co-showrunner Andrew Dabb told Yahoo!: "Look, COVID was limiting, especially when it came to the last two [episodes]. And there were certainly people we would have liked to have brought back like Samantha Smith, like Jeffrey Dean Morgan...But unfortunately, because of COVID and some other things, doing a big supersized guest cast family reunion was just off the table."
However, he did hint that "everyone who is coming back is coming back for a specific reason. These are people we want."
Among the characters we know are coming back include Adam (Jake Abel), Charlie Bradbury (Felicia Day), Amara (Emily Swallow) and Uriel (Robert Wisdom), as well as the young versions of Sam and Dean (Christian Michael Cooper and Paxton Singleton).
What will happen in the final episodes of Supernatural?
The episodes begin with "Last Holiday," which sees a visitor come to the bunker to celebrate every holiday that Sam and Dean have missed. Another episode, meanwhile, will be the show's final flashback episode.
Dabb, meanwhile, hinted to Yahoo!, "Ultimately, it's gonna come down to Sam and Dean, two guys from Kansas, facing off against the Supreme Being."
Is there a trailer for Supernatural Season 15's final episode?
A promo for the seven episodes was released on August 27, which revealed the Winchester's final mission: to kill God.
Supernatural airs Thursdays at 9 p.m. ET / 8 p.m CT on The CW.