Superstore was initially due to see star America Ferrera leave at the end of the last season. After production closed down on the NBC comedy, however, the former Ugly Betty actor agreed to stay on in order for the show to give her character Amy Dubanowski a proper goodbye.
However, the actor is still set to leave after Episode 2 of Superstore Season 6. That means that that episode will be both a happy moment for fans (it is the show's 100th episode), but also a sad one as they say goodbye to the show's lead character.
In the last season, Amy received a call about a job in Palo Alto, which would send her out of the Cloud 9 in St. Louis and into a new chapter of her life.
It seems that Ferrera herself, like her character, is also leaving as she is ready to start a new chapter of her life.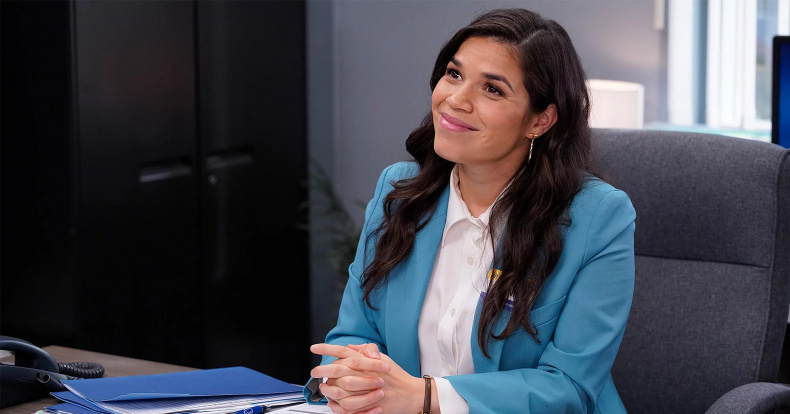 In a tweet announcing her exit, she wrote: "The last five years on Superstore have been some of the most rewarding, enriching and enjoyable years of my career. Producing, directing and acting with this wonderful cast and crew has given me opportunities to grow as a person and storyteller.
"I'm so grateful to my partners at NBC and Universal Television for the support and belief they have always placed in the show, and I'm most thankful to the brilliant Justin Spitzer for creating the funny, smart and relevant world of Superstore and inviting me to be a part of it.
"As I start the next chapter for my family and career, I wish only the best, and much continued success, to my beloved Superstore family."
Notably, she announced she was exiting the show in March 2019, just over a month before she gave birth to her second child, Lucia.
Her co-star Ben Feldman, who plays Jonah on the NBC comedy, said of her departure in a TV Line interview: "We've been doing this for a while [and] America has a lot going on, so I don't think anybody was like, 'Oh my God! She's leaving!?' But I think, timing wise, I was a little surprised. I think we all were. She was, too."
This means that the actor will be leaving after 100 episodes, the longest run she has ever had on a TV show. Ugly Betty, the show she led and won a Golden Globe for, ran for 85 episodes across four seasons.
Ferrera is set to appear in the first two episodes of Superstore this season. The first of these will air on October 29, where Ferrera will be in the rare situation of going against herself in the ratings, as she is also set to co-host Every Vote Counts: A Celebration of Democracy on CBS.
Superstore Season 6 starts on Thursday, October 29 at 8 p.m. ET / 7 p.m. CT on NBC.