'Superstore' Canceled: Why the NBC Show is Ending and How the Cast Reacted
Superstore has been canceled by NBC, with the final episodes of Season 6 airing in spring 2021 also being the last ever episodes of the comedy. The sitcom will come to an end after 113 episodes, meaning there are just 11 episodes left before Cloud 9 closes its doors for good.
Why is Superstore canceled?
It seems that the cancelation was due to how long the show has been on air and the loss of a major cast member.
Though low ratings are often behind these decisions, ratings on Superstore have been fairly consistent over the past few years. And although the show is getting half of the average viewers it got in Season 1, it is still averaging two to three million viewers an episode.
However, clearly, the show is not picking up any new viewers at this point, and the series has already had more than 100 episodes—a target that many network sitcoms try and hit to make them viable to be sold to cable networks to syndicate.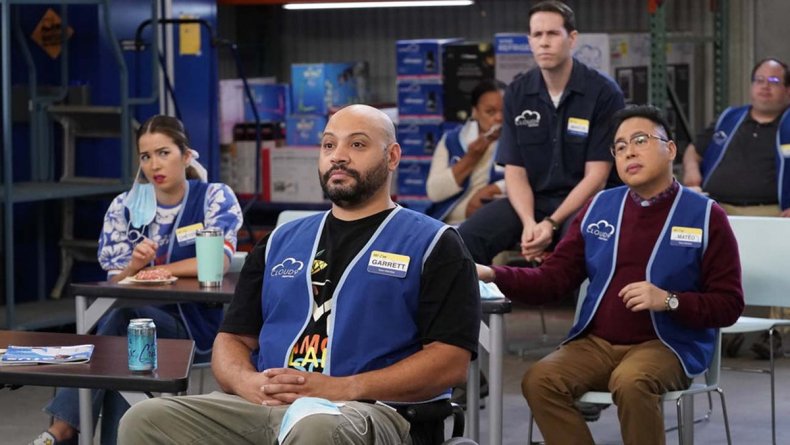 The writing may have been on the wall, however, when lead star America Ferrera left the show earlier this year. After the former Ugly Betty star exited her role of Amy, the show did not attempt the kind of Office-like cast shake-up that may have given the show a few more seasons.
NBCUniversal president of scripted content Lisa Katz said in a statement: "Superstore has always been a signature NBC series that has never failed to make us laugh while also thoughtfully examining important issues people care deeply about. This has been an amazing group of writers, producers, actors and crew to work with and we are incredibly grateful for all their contributions. This show will forever hold its place among the top workplace comedies for which we have a cherished history."
How the Superstore cast reacted to the show being canceled
The show's executive producers were the first to respond to the show ending. Justin Spitzer, Gabe Miller and Jonathan Green said in a statement: "We're grateful to Universal Television and NBC for letting us make 113 episodes of a show we're so proud of, and for giving us the chance to work with such an incredibly talented group of actors, writers and crew.
"We're thankful most of all to the viewers who've stuck with us for the past six years (or discovered us somewhere along the way). We'll do our best to go out strong and give you the satisfying ending you deserve."
Their response was followed by reactions from the cast.
"Superstore will remain to its last day the most amazing show I've had the privilege and opportunity to work on," Colton Dunn, who plays Garrett, said on Twitter. "I'm grateful for the cast and crew of amazingly talented and dedicated people. I'm thankful to the fans of the show. You are all amazing! Thanks so much for all the support! I'm sure you're bummed now. I'm bummed with ya. But chin up my homes, we still got a few more in us. Wow! SIX SEASONS!??! Good run, right? Love you all! Superstore FOREVER!"
Among the other reactions from the Superstore cast:
Lauren Ash (Dina): "Superstore was a dream every day. I made lifelong friends and helped create a show that I am beyond proud of. I am incredibly sad it's ending but also insanely grateful for all it's given me. [cloud emoji] 9 forever."
Nichole Sakura (Cheyenne): "Being a part of a show that went this long has been one of the most unexpected and formative experiences for me. I am so grateful to our creators, writers, crew, my beloved cast members, and all of YOU who watched. It's been an incredible chapter."
Nico Santos (Mateo): "Superstore has changed my life in the most profound way. So much of my growth as an artists and a person was because I was surrounded by the most talented cast and crew one could hope for. We are truly a family. I'm incredibly proud of the work we've done, the stories we've told. All the joy and laughter (and some tears) that we've brought to you. To be part of a show that didn't squelch, but rather celebrated my identity as a Filipino, LGBTQ immigrant is something that will stay with me forever. While I'm very sad that this will be our last season, I'm looking forward to what the next chapter will bring. THANK YOU for all the love and support you've given us. I hope you enjoy the rest of the season. Have a heavenly day...."
Superstore Season 6 returns to NBC on Thursday, January 14.