'Superstore' Season 3 Premiere: Only Amy and Jonah Could Make Minions Sexy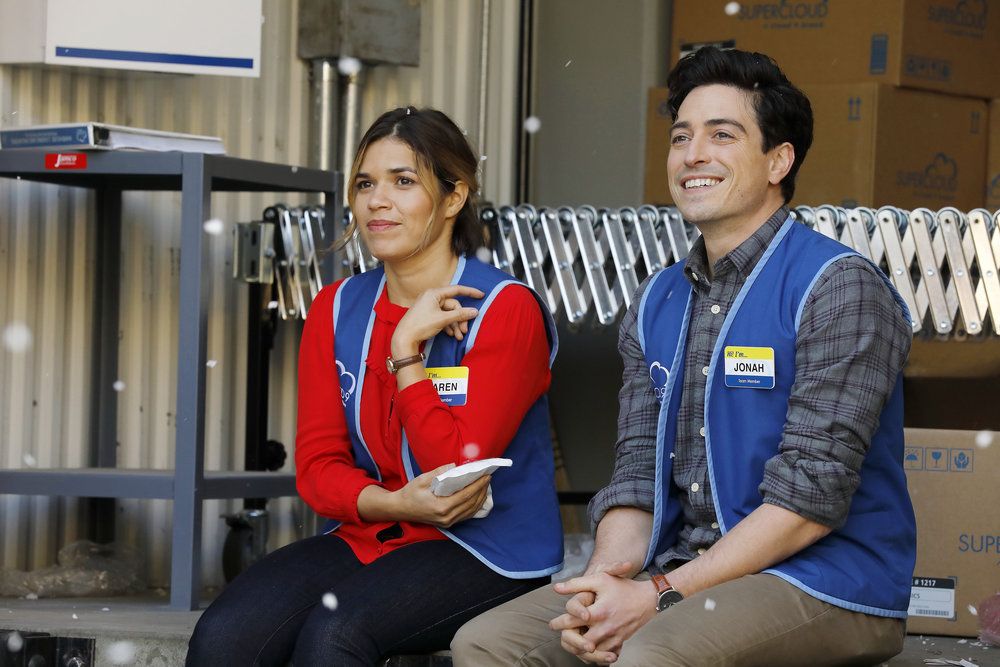 The employees of Cloud 9 did not disappoint (they so rarely do) in the Season 3 premiere of Superstore as part of NBC's new Thursday night comedy lineup. The premiere hit on everything that makes the show great: Glenn's charming naïveté, Dina's confident authoritarianism and of course, Amy and Jonah's compelling love story.
The season opens two months after that dramatic, tornado-ridden, Season 2 finale. Cloud 9 employees are back after a short vacation (well, Glenn calls it a vacation; Garrett points out it was actually "a two-month layoff without pay"). The store has been mostly rebuilt but is not ready for customers — too bad, because Glenn read the memo from corporate wrong and mixed up dates for the grand reopening. Everyone is forced to run around throwing products on shelves as quickly as they can. Carol uses the opportunity to nearly crush Sandra with a falling Crock-Pot.
While this chaos is going on, the employees have some personal problems to deal with. Glenn discovers he has a weird voice, and Mateo stresses over whether Jeff heard his love-confession voicemail. Also, Howie Mandel is there. And then there's Amy and Jonah. Two months ago, in the heat of the moment in the tornado, they kissed. Apparently they haven't talked about it since, and would both like to keep it that way. Unfortunately for them, Dina decides they are the only two people for the job of collecting Despicable Me Minions costumes and wearing them for the grand opening. Would this matter when the main goal is just to get the store open? Maybe not, but it's just the sort of ridiculous stunt a Midwest corporation would pull, so it works.
Amy and Jonah's drive to get the costumes is, predictably, painfully awkward. It's only under the safety of the full-bodied Minion suits that they can finally get real with each other. Amy confesses she and Adam are getting a divorce. Jonah manages to convey his awkward yet sincere sympathy through those goggled red eyes and asks if there's anything he can do to help. "Do… you wanna have sex?" asks Minion-Amy. The camera lingers on the static expression of Jonah's Minion, and the tension grows. He's considering it. "Joking!" Minion-Amy quickly clarifies, and they laugh, awkwardly.
Phew. Now, normally I have a strict ban on Minion jokes from anyone, but Superstore has earned my utmost respect with this one. Anyone who can build sexual tension between two romantic leads dressed in Minion costumes deserves a damn Emmy nomination. And I never would have believed that Minion-clad actors could have chemistry, but America Ferrera and Ben Feldman proved me wrong. Superstore has set itself up for another season of sweeping romance, lovable characters and smart, relevant humor that gets to the core of the modern American working class.
Some hilarious moments from the show:
Glenn's "Yeah, well, good luck in radio!" line to Dina. Mark McKinney continues to surprise with the weirdest jokes.
Mateo telling Jeff his toupee is "garbage." It really was garbage.
Dina ordering Howie Mandel to get to work. Her indiscriminately terrible treatment of everyone could solve classism.
Jonah's little moustache. Don't get me wrong, he's definitely pulling it off, but it's still funny.
Superstore airs Thursday nights at 8 p.m. ET on NBC.